NDRO is an oil and gas trust that recently dropped 20% in share price. Is there value to be had?
Recently, I considered purchasing a set of oil and gas trusts as part of a periodic portfolio update. As part of my research, I took a hard look at the numbers; I reviewed years of SEC filings and built an engineering-caliber model to forecast a trust's future distributions based on tailored forecasts of production, prices, and expenses.
This article discusses the results of the model applied to Enduro Royalty Trust (NYSE:NDRO) and includes a summary of the fair value for NDRO for various rates of return and risk. My advice for investors who own or are thinking of buying NDRO is to ask themselves: is the current return worth the risk?
A General Model for Calculating A Trust Distribution
Oil and gas trusts are a type of commodity investment in which an investor purchases the right to future net profits from a set of wells. NDRO describes itself as a trust that owns "the right to receive 80% of the net profits from the sale of oil and natural gas production from certain of Enduro Resource Partners' properties in the States of Texas, Louisiana and New Mexico." (Source: Enduro Investor Relations 11/12/13)
NDRO is one of many trusts that form the class of investments referred to as an "oil and gas trust." Similar trusts include:
Chesapeake Granite Wash Trust (NYSE:CHKR)
ECA Marcellus Trust I (NYSE:ECT)
MV Oil Trust (NYSE:MVO)
SandRidge Permian Trust (NYSE:PER)
Pacific Coast Oil Trust (NYSE:ROYT)
Sandridge Mississippian Trust II (NYSE:SDR)
Sandridge Mississippian Trust I (NYSE:SDT)
Whiting USA Trust I (NYSE:WHX)
Whiting USA Trust II (WHZ)
The value of NDRO, as with all trusts, is based entirely on the net present value, or NPV, of its distribution stream. I have seen other analyses of similar trusts use different methods, such as proven or unproven reserves and trailing yield, to estimate value. However, these other methods may significantly mislead the investor. They ignore 1) the decline in well production, 2) the cost to extract resources and uncertainty in whether reserves are economically extractable, and 3) the lack of any decision authority in the trust regarding capital investment. Only the NPV of distribution measures what matters to the investor; it's the value of the cash they will put in your hand.
Generally speaking, the calculation of a trust's distribution starts by determining the net income of the properties underlying the trust, which is the gross revenue from the sale of oil and gas (typically paid in arrears), less various proprietor-related expenses, often described as "production" and "overhead".

The total trust distribution is the net property income multiplied by the trust's ownership share less the trust's administrative costs, as shown below. The per unit distribution is the total distribution divided by the number of outstanding shares.

Of course, in the case of trusts, the devil is in the details. As discussed in my earlier article, "Tricks that Inflate the Value of Oil and Gas Trusts," trusts and well proprietors use a number of accounting and contractual techniques to manipulate net income and, indirectly, the distribution. These tricks can mislead the investor, so it is wise to be aware of them when investing in trusts. To account for these details, the generalized model must be adapted to a trust's unique circumstances in order to be able to forecast that trust's distributions.
NDRO Trust Distribution Model
To determine a value for NDRO, I adapted the general distribution model discussed above to NDRO's unique circumstances, used it to forecast future distributions, and applied an NPV calculation. The adaptations made are:
Well production
NDRO produces both oil and gas. Historical sales numbers, which are generally 2-3 months behind production, are available in NDRO's quarterly SEC 10-Q filings. NDRO sometimes provides a breakout by region, but sales are typically listed only for the trust in its entirety. The most recent 10-Q indicated that oil production declined 7% y/y, which is in line with other trusts.
To estimate future sales volumes, I generated dozens of forecasting yield curves, including best-fit straight-line and power-curve reduction models, as well as a fixed decline rate model based on historical performance. Of these, I selected three as the best, middle, and worst cases, whose results are shown below. (The middle case is a 5-period seasonal moving average assuming 7% y/y decline. The reasoning behind this choice is worth a lengthy discussion, which we can save for the comments if folks are interested.)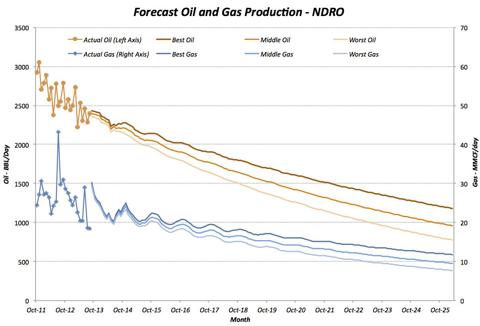 Sales Price
NDRO gas sales are largely through closed contracts whose terms are unavailable to the investor (or I couldn't find them). However, the published historical sales numbers seem to be roughly reflect historical market prices. Therefore, I set future oil and gas prices equal to the value of NYMEX futures contract prices for WTI Light Sweet Crude and the Henry Hub, respectively. As of 11/12/13, these values are similar to those for spot sales today and gradually move to long term values of $80.75/BBL for oil and $5.26/MCF for gas.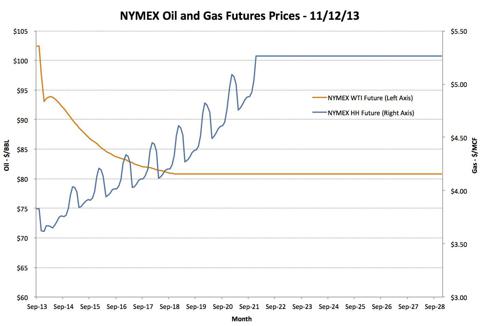 *Note: if there are better sources to use, let me know and I can rerun the analysis with results in the comments
Proprietor Expenses
NDRO reports on a set of categories of historical proprietor expenses and provides limited guidance on near-term future expenses. Although NDRO does not explicitly break out each category into its components, the names are fairly clear. For example, "transportation" probably refers to the cost of transporting the oil and gas products from the well to the point of sale. For each expense category, I developed a best-guess forecast of future expenses:
"Lease" change is proportional to the change in future gross revenues
"Compression, Gathering, and Transportation" change is proportional to the change in volume of oil and gas sales
"Production" change is proportional to the change of "Compression, Gathering, and Transport"
"Development" change is given by a linear decline from last published estimate to $0 by 2030
Hedge Settlements
Enduro previously purchased a series of gas hedges that run through 2013 at $4.90 for 8,000MCF/day and included them as part of the "net profits interest" owned by NDRO. The profits related to the settlement of the hedges are included as a separate line item in the quarterly reports. While more transparent than other trusts in this regard, it is also worth noting that the trust, itself, only owns an 80% stake in the hedges. The value of the remaining hedges is included for 2013 payouts and assumed to be $0 thereafter.
Trust Expenses
NDRO trust administration costs have averaged roughly $75,000 per month. I assume that this number remains constant, as does NDRO's 80% ownership share of the net income, and 33.0M outstanding units. I further assume that the trust is worth $0 upon termination.
NDRO Valuation
So what's NDRO worth? Well, that depends on an investor's desired NPV and risk level. Using the model, I calculated the NPV of future distributions for the best, middle, and worst cases and using a variety of possible rates of return. The results are summarized in the following table:

As I read the table, it suggests that the current market valuation of NDRO, which is $12.32 (as I write this), assumes that production declines will abate and that an appropriate annual rate of return is around 6%. While NDRO's ongoing development expenses do provide some reason for optimism in terms of production, the uncertainty in this effort would seem to suggest a much higher risk premium. Simply put, there are other alternatives investments with higher return and lower risk that are available to the investor.
A more fair valuation might assume the middle case and a return of 8-10%, which would place the value of NDRO between $8.27 and $9.42. If we take some optimism on production, the value might reach $10, still 20% short of the current market price.
Thoughts on Model Sensitivity and Accuracy
As an oil and gas trust, the value in NDRO lies in the long tail of distributions, which are recovered by the investor over time. As such, small changes in production decline rates, price, expenses, and rates of return can result in significant changes to the value of the trust as determined by the model. That said, as Enduro Resource Partners provides only limited information, all we can do is guess.
Disclosure: I am long HGT. I wrote this article myself, and it expresses my own opinions. I am not receiving compensation for it (other than from Seeking Alpha). I have no business relationship with any company whose stock is mentioned in this article.