So far 20 of the 25 BDCs that I cover have reported results and here is my latest analysis of the total returns for each of them. Total return accounts for income and capital appreciation. Income includes distributions or dividends and capital appreciation represents the change in the value of the investment. I use net asset value ("NAV") per share growth to measure the ability to create value for shareholders because stock prices are subject to macro issues. The table below shows the regular and special dividends along with NAV per share growth over the last twelve months. I have also identified the BDCs that have had troubles covering dividends with net investment income ("NII").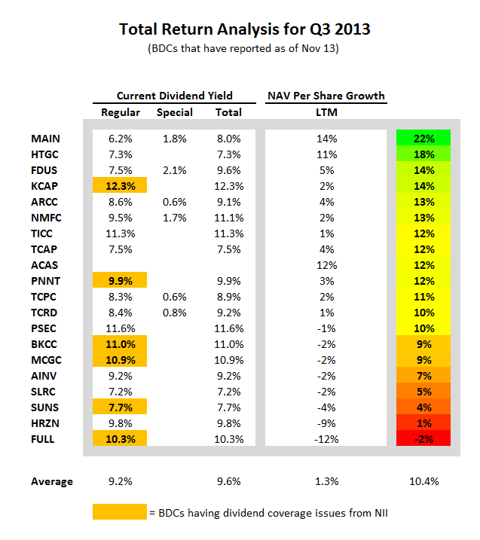 Main Street Capital (NYSE:MAIN), Hercules Technology Growth Capital (NASDAQ:HTGC), Fidus Investment (NASDAQ:FDUS), Ares Capital (NASDAQ:ARCC), and New Mountain Finance (NYSE:NMFC), are five of the top six and the components in my "Total Return BDC Portfolio" that I may be adjusting allocations after the other BDCs report. Using the table above the average return to investors is around 16% annually for these BDCs and higher than the average of 10%, mostly coming from regular dividends. This portfolio is for investors that want a blend of regular and special dividends as well as long-term capital appreciation from increased stock values. The returns from this portfolio will most likely be higher and have more favorable tax treatments while requiring less turnover.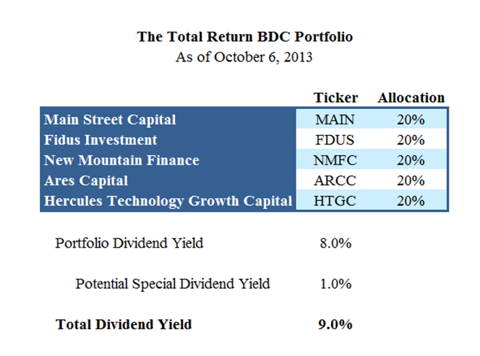 Other Highlights
The two BDCs with the highest dividends and still holding values steady are Prospect Capital (NASDAQ:PSEC) and TICC Capital (NASDAQ:TICC) both of which seem to be covering dividends or at least close to. KCAP Financial (NASDAQ:KCAP) is still having troubles covering dividends with NII and missed EPS estimates for the third quarter in a row. Its NAV per share had the second largest decline so far at 3.4% in one quarter as predicted in "KCAP: Will It Continue To Fall?" and only Full Circle Capital (FULL) has lost more value at 6.6%. American Capital (NASDAQ:ACAS) is still trending down from an average rate of growth as discussed in discussed in "American Capital: Is It Time To Get Out?" and shown in the chart below: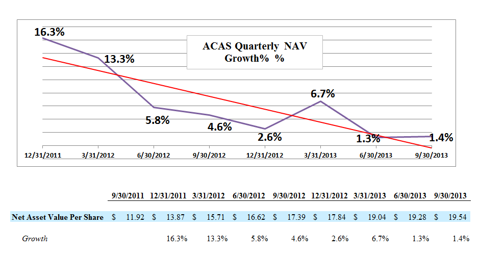 I will redo my rankings and pricing once most of the BDCs report. Investors should only use this information as a starting point for due diligence. See the following for more information:
Disclosure: I am long MAIN, PSEC, NMFC, TCRD, TCPC, ARCC. I wrote this article myself, and it expresses my own opinions. I am not receiving compensation for it (other than from Seeking Alpha). I have no business relationship with any company whose stock is mentioned in this article.