Performance was far from rosy across the majors during the calendar third quarter. BP's (NYSE:BP) performance showed a 26% fall in underlying replacement cost profit, Exxon Mobil's (NYSE:XOM) third-quarter results revealed an 18% decline in earnings, Chevron's (NYSE:CVX) quarterly earnings dropped nearly 6% during the period, and Shell's (NYSE:RDS.A) (NYSE:RDS.B) third-quarter profit (on a current cost of supplies basis) slid 31% from the same period a year ago. Only ConocoPhillips' (NYSE:COP) third-quarter results showed adjusted earnings expansion during the quarter (about 7%).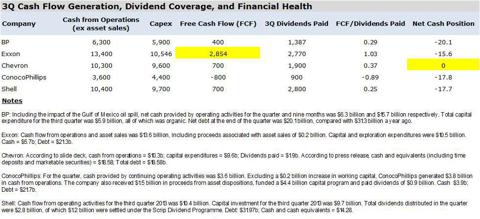 Source: Valuentum
The investment landscape in the 'Major - Oil & Gas' space remains mixed, in our view. We liked ConocoPhillips' third-quarter results, but its hefty capital investment plan and net debt position certainly don't speak of equity resiliency in the face of the next inevitable economic downturn (and/or declining liquids pricing). Exxon's free cash flow measures continue to be remarkable, but its stock price isn't yet trading at a steep enough discount to its intrinsic value for us to get excited. Chevron's third-quarter performance wasn't fantastic, but the firm boasts the strongest balance sheet by a landslide (its net debt position is practically negligible). This affords Chevron tremendous strength and flexibility during the depths of the energy cycle to continue raising its quarterly dividend payout and/or scoop up assets at depressed prices. We consider this investment environment as mixed.
Valuentum's Take
From a fundamental perspective, the global economic environment for the oil and gas majors remains constrained. Exxon Mobil perhaps best described the current trajectory of underlying trends in the industry in its third-quarter slide deck:
Moderate US economic growth
China's growth rate improved modestly
Europe's economic conditions uncertain
Higher crude oil and lower natural gas prices
Global industry refining margins deteriorated significantly
Stronger chemical commodity margins
Still, ConocoPhillips' strong quarterly performance suggests succeeding in this environment is not out of the reach of constituents. We continue to hold Chevron in the portfolio of our Dividend Growth Newsletter as a result of its unrivaled financial flexibility, which we view as a necessity for any dividend-payer in a commodity-producing industry.
Disclosure: I have no positions in any stocks mentioned, and no plans to initiate any positions within the next 72 hours. I wrote this article myself, and it expresses my own opinions. I am not receiving compensation for it (other than from Seeking Alpha). I have no business relationship with any company whose stock is mentioned in this article.
Additional disclosure: COP is included in the portfolio of our Dividend Growth Newsletter.