New York Mortgage Trust Inc. (NASDAQ:NYMT) is an internally managed hybrid mortgage REIT that acquires and manages primarily real estate related assets. These assets include: Agency ARMs, Agency Fixed Rate RMBS, Agency IOs (interest only) including TBAs, CMBS, distressed residential loans, residential securitized loans, and CLOs (collateralized loan obligations). NYMT employs RiverBanc, The Midway Group, and Headlands Asset Management to provide investment management services expertise for certain specific asset classes.
All of the above specialist management teams seem to be doing a great job for NYMT. NYMT outperformed other mortgage REITs in Q2 2013; and it has done so again in Q3 2013. While other mortgage REITs lost book value in Q3 2013, NYMT added 1%+ to its book value. It increased its net interest margin from 348 bps to 359 bps. Net interest income rose to $15.3 million for Q3 2013. This was $1.4 million more than interest income in Q2 2013.
It had net income of $0.27 per common share. This adequately covered the dividend of $0.27 per common share. A big positive for Q3 2013 was the continued higher pricing in NYMT's multi-family CMBS investments. NYMT also saw improved pricing in its net hedged Agency RMBS and IO portfolios.
NYMT covered its dividend; and it grew its book value in Q3 2013. Such performance is good for virtually any quarter. However, it is excellent for a quarter when most of NYMT's peers lost book value. When NYMT pays one of the best dividends in the industry (+16.12% annually), which appears to be stabile currently, its relative performance is that much better.
The table below gives a good idea of just how good NYMT's quarter was compared to its peers.
| | | | | | |
| --- | --- | --- | --- | --- | --- |
| Stock | Price at the close September 30, 2013 | Book Value % Gain/Loss in Q2 20132 | Book Value % Gain/Loss in Q3 20132 | Book Value as of September 30, 2013 | Dividend yield at the close November 13, 2013 |
| NYMT | $6.24 | | | $6.32 | +16.12% |
| Invesco Mortgage Capital (NYSE:IVR) | $15.39 | -12.44% | -1.34% | $17.64 | +13.33% |
| Armour Residential REIT (NYSE:ARR) | $4.20 | -18.83% | -3.13% | $5.26 | +14.93% |
| Annaly Capital Management (NYSE:NLY) | $11.58 | -14.22% | | $12.70 | +13.06% |
| Capstead Mortgage Corp. (NYSE:CMO) | $11.77 | | -3.52% | $12.35 | +10.57% |
NYMT not only has the highest dividend listed in the table above, its dividend looks more sustainable. It has been consistent for 6 straight quarters. Plus for Q2 and Q3 2013 cumulatively, NYMT had only a small book value loss. By comparison, ARR, which is a primarily fixed rate Agency RMBS investor, had a roughly -22% cumulative book value loss. The other mortgage REIT companies above that had more diversified portfolios did better; but still lagged NYMT.
NLY, which has been diversifying and de-leveraging appears to be improving its performance over time. However, its dividend does not appear to be as sustainable as NYMT's. IVR and CMO have portfolios more similar to NYMT's. However, neither of them came close to NYMT's performance over Q2 and Q3 2013. This has to encourage NYMT investors. The management team, as complex as it is, seems to be doing a great job. NYMT's overall low debt to equity ratio of 2.6x is probably one of the explanations for why its losses have been muted compared to other mortgage REITs. Yet this low leverage mark has not kept NYMT from delivering one of the highest dividends (+16.12%) in the mortgage REIT business. NYMT has also had a stable dividend for the last six quarters in a row. Over this same period most other mortgage REITs have cut their dividends dramatically.
NYMT is anticipating a rising interest rate environment longer term. Its Agency RMBS portfolio, including fixed rate ARMs and IOs (interest only), decreased from 52% of equity at the end of Q4 2012 to 34% of equity at the end of Q3 2013. During the same time NYMT's credit sensitive investments, including multi-family and distressed residential loans, increased to over 60% of invested capital from less than 45% at the end of Q4 2012. In Q3 NYMT acquired another $72.8 million in distressed residential mortgage loans; and it originated $21.3 million in mezzanine, debt, and equity investments. It also completed three residential structured financing transactions. These resulted in net proceeds of $136.6 million to NYMT. NYMT added (in its Q3 report) that its Agency ARM CPRs (constant prepayment rates) decreased from a Q2 2013 22% to 16.8%; and they decreased further in October to 7.6%. IO CPRs at about 20.3% in Q3 also dropped dramatically in October to 13.2%. These results bode well for the Q4 results.
The table below shows NYMT's portfolio breakout as of September 30, 2013. The dollar amounts in the table are in the thousands.

As investors can see, NYMT has a sizeable portion of its capital in Multi-family investments. I like this; and investors should like it too. The multi-family area is in a long term uptrend. Many of the people who have had to sell their homes are now living in apartments. The continued crop of teenagers moving away from home and college graduates finally finding a semi-permanent home provide their normal growth stream. On top of that the yuppie crowd are taking longer to buy their first home. The new financial rules make qualifications for new loans more difficult. They are living in apartments longer. On top of all of this, the huge baby boom generation are increasingly turning to multi-family housing as they grow older. Investing in apartments and apartment financing seems an extremely sound strategy in the current environment.
The distressed residential securitized loans also seem a great investment. The housing market has been improving steadily with a continued huge hand up from the Fed. The Case-Shiller 20-city home price index rose 12.8% for the 12 months ending in August. The continued rises make the distressed residential loans ever less risky. Even in default cases, the losses are less; or there can even be a profit, as NYMT is usually obtaining these loans/securities at substantial discounts to face value.
Barring a double dip recession with a concomitant drop/crash in the housing market, NYMT looks like it should continue to do well. Even in the case of a double dip recession, apartment investments should continue to do well. NYMT is a long term buy on fundamentals and on performance.
The two year chart of NYMT provides some technical direction for this trade.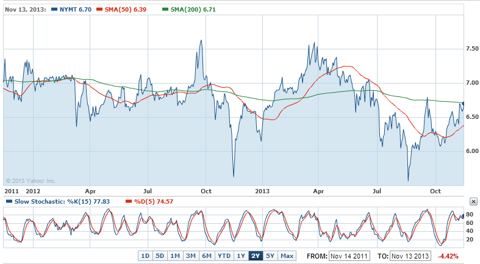 The slow stochastic sub chart shows that NYMT is near overbought levels. The main chart shows that NYMT has bottomed from a recent downtrend. It has been heading steadily upward since August 2013. Unfortunately NYMT's stock price of $6.70 per share is about +6% above its September 30, 2013 book value. It seems likely that NYMT will gain book value in Q4 2013. However, +6% is probably a stretch. Plus most mortgage REITs are currently trading at substantial discounts to their book values. Sometimes they are trading at huge discounts to book value (-20%+). For this reason I would wait to buy NYMT. It seems bound to cycle down soon. If you can buy it for its book value or less, you will probably do well with it long term. For those who can't wait to buy, consider averaging in. Then on average, you may get an overall good price on the stock. NYMT has an analysts' mean recommendation of 1.8 (a strongish buy). The current dividend is 16.12% annually; and it appears to be stable.
NOTE: some of the fundamental financial data above is from Yahoo Finance.
Good Luck Trading.
Disclosure: I have no positions in any stocks mentioned, but may initiate a long position in NYMT over the next 72 hours. I wrote this article myself, and it expresses my own opinions. I am not receiving compensation for it (other than from Seeking Alpha). I have no business relationship with any company whose stock is mentioned in this article.