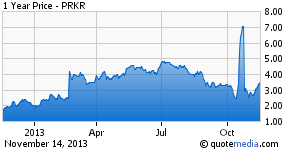 ParkerVision (NASDAQ:PRKR) successfully sued Qualcomm (NASDAQ:QCOM) for patent infringement in the Middle District of Florida, Jacksonville Division. PRKR has soared to over $7.00 per share after winning phase 1 of the suit. In Phase 1, the jury came back with a verdict of infringement and that the patents were not invalid. Phase 2 of the trial was in order to determine the amount of damages QCOM would pay PRKR for their infringement and whether the infringement was willful.
Phase 2 followed with a result where PRKR was awarded $172.7 million rather than the $432 million they were seeking and a finding that the infringement by Qualcomm was not willful. If the infringement was willful, the judge could have trebled the damages which could have lead to up to tripling the damages. CEO Jeffrey Parker stated:
"We appreciate the hard work the jury put into the case. Overall, this is a significant win for ParkerVision, proving that our technologies have a meaningful place in the wireless market."
The share price fell over 59% and closed at $2.90 after reaching a high on the day of $7.38. With the share price currently at $3.06, PRKR has a market cap of approximately $282 million. However, there is still a major damages issue that remains. The $173 million in damages was for past usage and PRKR will most likely be awarded a running royalty (with a smaller likelihood of the Judge issuing an injunction).
On Tuesday, November 12, 2013, PRKR held their conference call and I came away with an extremely positive outlook on the company. The call started with CEO Jeff Parker giving a great background of the company. Mr. Parker speaks candidly even expressing PRKR's past frustration in not being able to monetize their technology sooner. Additionally on the call, Kevin Rivette from 3LP Advisors, LLC talks about his involvement and hopes for the future. 3LP Advisors, LLC is a leading intellectual property advisory firm that will be assisting PRKR in negotiating licenses and partnership agreements. One of the more promising comments from Kevin Rivette is as follows:
"I think everybody is really wondering about what does the verdict mean for ParkerVision. So I'll give you kind of my perspective on that. Well, I've seen this before, and these types of verdicts have led to successful revenue and market capitalizations for the companies that have achieved them. I was on a board of a successful technology company that had to sue Samsung before the market realized how powerful their technology was and their patents were. The company's stock price went from $13 to $40 and achieved a $2 billion market cap after that verdict. I believe ParkerVision has even better opportunities than some of these other tech companies that have had similar successes in the courtroom because at ParkerVision, what I see is a follow-on set of technologies that most of the companies don't have."
The technology that Mr. Rivette is referring to is transmit D2P technologies. ParkerVision believes that their transit D2P technologies will become the industry standard just as the D2D technology has. PRKR continues to develop their D2P technologies and hope to play a major role in the future with their continued innovation. Something else the Mr. Rivette stated is that it takes longer than two weeks after the verdict for the market to realize the true potential, but that the market will catch up in the end.
Cash
One major concern among investors is cash in this type of business. ParkerVision revealed that they had $23 million at the end of the third quarter and are in a strong financial position. PRKR expects their cash burn rate to decrease back to pre-litigation levels and does not see the need for additional funding from the equity markets. This is great news for investors in PRKR.
Samsung (OTC:SSNLF) and Microsoft (NASDAQ:MSFT)
During the question segment of the conference call, one analyst asks about activity with Samsung and Microsoft. Apparently, when Jeff Parker was on the stand and under oath, he referenced conversations with Samsung and Microsoft. Unfortunately Mr. Parker could not and cannot go into further detail about these discussions because of non-disclosure agreements. However, I have a firm belief that conversations can now continue with the trial behind us. I am not saying a deal with either company is imminent, but it is certainly a positive turn of events and a possible future catalyst.
Future Royalties
As mentioned above, the Qualcomm suit is not complete because the court will still most likely award royalties for future infringing products. First, we know that the patents in suit have expiration dates extending to mid-2022 leading to years of eligibility. Second, it is known that Qualcomm shipped about 128 million infringing units in the first half of 2013 in the United States. Estimating that over the course of one year and no growth (there should be growth making this number even larger) equates to over 250 million units per year. PRKR will ask the court to raise the royalty rate for post-verdict infringement because post verdict infringement changes the negotiating position of the parties and post-verdict infringement is certainly willful. However, even if the court awards the same $0.23 cent per unit royalty as infringement pre-verdict, PRKR is set to receive nearly $60 million per year on just the United States shipments alone. I believe there is a strong likelihood for the royalty rate to be increased based on the case law and for Qualcomm to continue with its growth.
Conclusion
While the trial against Qualcomm is now behind us, I believe there are still many positive catalysts in the future. With a jury verdict in hand of nearly $173 million, PRKR can now go out and properly license their technologies to many different parties. With all of the possible positive catalysts that may be ahead, I would not be short this stock. Also, with such a high short interest, a positive catalyst could make this stock shoot back up. If you got into this stock before the trial, you have had many opportunities to turn a profit, but I would say to keep an eye on PRKR for future opportunities. When a pullback occurs, it may be a great time to get into this stock.
Disclosure: I am long PRKR. I wrote this article myself, and it expresses my own opinions. I am not receiving compensation for it (other than from Seeking Alpha). I have no business relationship with any company whose stock is mentioned in this article. The information contained herein is for informational purposes only. Before buying or selling any stock you should do your own research and reach your own conclusion or consult a financial advisor. Investing includes risks, including loss of principal.