After closing on the purchase of Market Leader back in August, did Trulia (TRLA) turn into the market leader in the online real estate sector? The company competes in the highly competitive online real estate marketplace for home buyers, sellers, renters and real estate agents against the likes of fellow online operator Zillow (NASDAQ:Z) and legacy leader Move (NASDAQ:MOVE), which runs realtor.com. The fragmented market is ripe for a market-leading, go-to website for real estate transactions. The move by Trulia puts it in place to lead on the professional side, but it still lacks the consumer audience of Zillow.
The marketplace for real estate transactions is rebounding solidly and provides plenty of opportunities for the replacement of legacy services that have shifted after the housing crisis. Lenders involved in the mortgage process have exited the business and demand for housing has moved from owning to renting. The market remains wide open for Trulia to grab though it must first overcome better known Zillow. Ultimately, the company that overcomes legacy issues of multiple listing systems (MLS) around the country, professionals tied to the print versions of advertising, and word of mouth connections with potential home buyers will become the dominant real estate marketplace.
Housing Market Recovery
The one part that Trulia can't control is whether the housing market recovers over the next five years as expected. The primary revenue generator for the industry that these stocks currently serve is the sales of existing homes. The number peaked at over 7 million transactions back in 2006 and is headed towards a rebound to 5 million this year. According to a Zillow presentation, analysts forecast existing homes sales volumes to jump to nearly 7 million in 2018. On top of that, home prices are expected to continue rising each year providing for higher sales prices. Higher sales prices equal higher commissions. Higher commissions equal sales agents with more money to spend on advertising.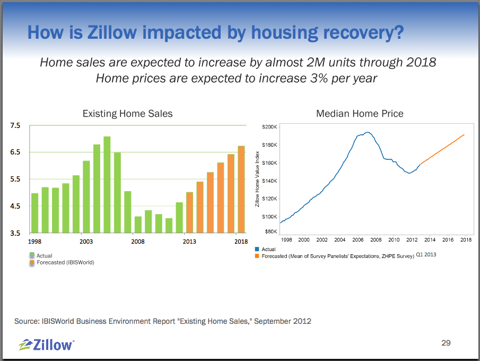 According to the National Association of Realtors, the September existing homes sales came in at a 5.29 million annual pace. The number was down 1.9% from the August pace, but it exceeded the year ago levels by 10.7%. The activity levels have now exceeded the prior year levels for 27 consecutive months now. Maybe as important, the median existing home price jumped 11.7% from the September of 2012. The combination of higher sales transactions and higher home prices equals much higher commissions for real estate agents.
Q313 Details
The Q3 results were slightly confusing with the inclusion of Market Leader numbers into the earnings with both the contribution from acquisition date and full quarter pro forma numbers. Ultimately investors want to see the full quarter contribution on a pro forma basis. Based on those numbers, the highlights are below:
Total revenue for the third quarter of 2013 was $48.1 million, an increase of 59% year-over-year.

Marketplace revenue of $24.8 million, up 96% year-over-year.
Media revenue of $9.0 million, up 52% year-over-year.
Market Leader revenue of $14.3 million, up 22% year-over-year.

Consolidated net loss attributable to common stockholders for the quarter was $5.4 million.
Adjusted EBITDA for the quarter was $5.7 million. Excluding the contribution from Market Leader, Adjusted EBITDA for the quarter was $4.7 million.
The Market Leader segment only generated 22% growth, which isn't what investors in Trulia want to see. The company hasn't done a good enough job convincing investors that agents will automatically advertise on Trulia due to the connection with Market Leader software that powers their agent websites. If Zillow has more user traffic, the fear has to be that agents will move business to that online marketplace regardless of the connection.
Based on updated analyst estimates, Trulia trades at 52x forward earnings estimates and 5.5x forward revenue. Zillow trades at higher multiples of 154x forward revenues and over 10x forward revenue estimates. Move trades at much lower multiples considering analysts only forecast 11% revenue growth next year. The valuation differences aren't surprising, as investors are willing to pay up for the leading consumer real estate platform.
Consumer Metrics
The most important numbers continue to be the lower visitors to the Trulia properties and the average revenue per user (ARPU), both of which are lower than Zillow. While Trulia will tout the higher subscriber totals, the real keys are the consumers coming to the websites that will attract the real estate agents.
The ultimate consumer metric of total average monthly unique users was 42 million for Trulia when including 6 million from Market Leader. The Trulia business only saw flat sequential growth, though 42% growth over last year. It was the slowest growth in nearly a year. The below slide highlights the visitors, both total and mobile along with the user contributions: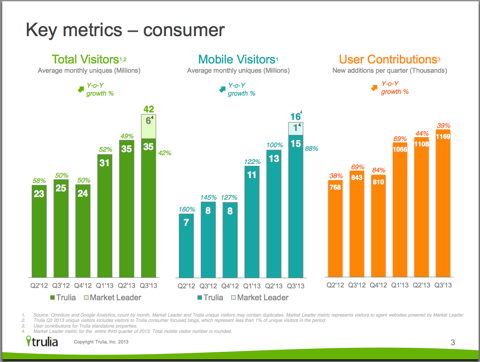 Zillow swamped these audience metrics with August traffic of 63.7 million monthly unique users (MUUs), an increase of 75% year-over-year. For the quarter, MUUs were 61.1 million, up 69% year-over-year. Not only does Zillow have a substantial lead, but it is also seeing higher growth rates. Zillow went as far to say that comScore reported its desktop market share gained from nearly 27% last year to 34% during Q3. Move saw solid user growth of 22%, but it remains a distant third place. At only 28 million MUUs, it continues to fall further behind market leader Zillow.
Average Revenue Per User
A key metric for any business is always finding out ways to get existing users to spend more money. Naturally all business want new users, but the business already has the attention of existing users and having them spend more can be an easier way to grow revenue and more importantly the bottom line.
In this area, Trulia is starting to max out with geographic expansion and lower ARPU from Market Leader. The company continued to forecast a goal of reaching $450 per user each month. The goal will be even more impressive if it can also reach the target of 225,000 subscribers. With the current subscriber base of only 56,000 following the substantial increase of 25,000 new subscribers from Market Leader, it sits far from the ultimate goal. At the same time, it is only achieving ARPU of $186, with that figure falling $8 sequentially. The Market Leader segment is even lower at $155. While Zillow only has 45,000 subscribers, it does obtain a higher $264 a month per agent. Depending how an investor views the Market Leader subscribers at the lower rates, Zillow still appears to have more important subscribers and clearly the larger spenders. Below are the quarterly ARPU stats for Trulia: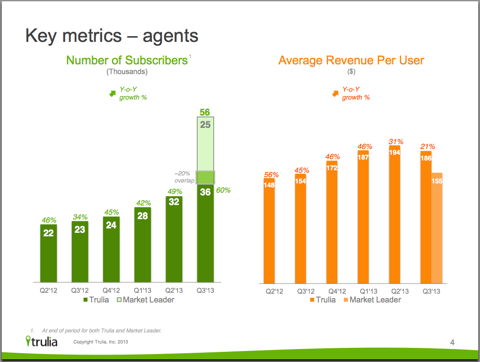 Stock Chart
The below yearly chart for Trulia shows a chart in a general uptrend facing some downside risks. The nearly 10% jump on November 13 from rumors of a buyout offer helped provide a large bounce off the 200 ema.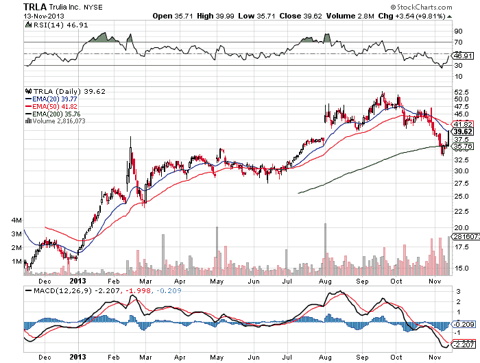 Conclusion
While Trulia has taken a big step to being a market leader in the professional side of the real estate business, it has moved even further away from attracting consumers. The online real estate marketplace is one where consumers are increasingly driving the equation and Zillow continues to pull away from the pack. The business should continue shifting towards a model where the market leader commands 80% of the market leaving 20% for the remaining players. In that manner, the stocks are already aligning towards a higher value for the real market leader. Unfortunately, this divide will widen if consumers continue to flock to all of the marketplace offerings of Zillow.
Ultimately, the number two player in any industry won't be able to maintain premium valuations while the leader will continue showing substantial growth and higher profits. The lower valuation of Trulia at 5.5x forward sales isn't a bargain while Zillow at roughly 10x forward sales could be the better investment.
Disclosure: I have no positions in any stocks mentioned, and no plans to initiate any positions within the next 72 hours. I wrote this article myself, and it expresses my own opinions. I am not receiving compensation for it (other than from Seeking Alpha). I have no business relationship with any company whose stock is mentioned in this article.
Additional disclosure: The information contained herein is for informational purposes only. Nothing in this article should be taken as a solicitation to purchase or sell securities. Before buying or selling any stock you should do your own research and reach your own conclusion or consult a financial advisor. Investing includes risks, including loss of principal.