It has come to my attention that after the stock market's recent strong advance, many investors now believe that the market (and most stocks for that matter) is overvalued. Based on extensive research, I disagree. On the other hand, I do acknowledge that many common stocks today are more highly valued than they were at the beginning of 2011. However, the market, in the general sense (at least as measured by the S&P 500), is perhaps fully valued or even moderately overvalued. But valuations today are nowhere near a "bubble level" as many believe or would like us to believe.
Yes, the market (S&P 500) has delivered powerful and above-average returns since the beginning of 2011. I think that is good, even great. However, for some strange reason many investors (people) being the emotional beings that they are, seem prone to want to put a negative spin on these good results. Perhaps, still traumatized by the Great Recession of 2008, many are simply unwilling to believe the prosperity that has ensued ever since. And even more importantly, that it can continue into the future. To my way of thinking, turning such a good thing into seemingly something bad is somehow tragic.
Although the primary objective of this article will be to provide a list of Dividend Champions (companies that have increased their dividend every year for 25 consecutive years) that I believe are fairly valued in today's market, I would first like to address the current valuation of the general market (the S&P 500). Personally, I rarely pay much attention to the overall level of the stock market in general, because I believe that it is a market of stocks. However, I simultaneously recognize that many investors are quite focused on the market. Consequently, I felt it would be useful to address concerns about the overall market's current valuation with the goal of hopefully putting some of those concerns to rest.
The following is a two-year Earnings and Price Correlated F.A.S.T. Graphs™ on the S&P 500. The orange line on the graph plots earnings at the market's historical fair value P/E ratio of 15. There are a couple of takeaways that I believe are worthy of the reader's focus. First of all, notice that the price of the market (the black line) was below fair value as we entered 2012. However, since that time notice how the price of the market has closely tracked and correlated with earnings. Finally, notice that the price (PE ratio 16.5) is now only modestly above fair value (the orange line).
To put this into a clearer perspective, I offer the following graph of the S&P 500's P/E ratio. Clearly, the S&P 500 started out in 2012 with a P/E ratio of 13 (the dark blue line plots the S&P 500's P/E ratio), slightly below its normal P/E ratio of 15. By the end of 2012 or the beginning of 2013, the S&P 500's P/E ratio was at 14.73 or approximately fair value. As the price of the S&P 500 continued to advance throughout this year the S&P 500's P/E ratio has expanded to approximately 16.5 based on the current Standard & Poor's estimate for $109.30 of earnings for 2013 (see the graphic above). Therefore, the S&P 500's performance, as I will next illustrate, has been extraordinary and above-average since the beginning of 2011 due to earnings growth coupled with P/E ratio expansion.
As a result of beginning undervaluation, which has led to moderate P/E expansion along the way, the S&P 500 returned an almost 22% per annum compounded annual return (including dividends). Considering that the S&P 500's average return over the past 2 decades (since 1994) has only averaged an 8% per annum total return, these recent results are truly extraordinary. However, as I previously stated, these great results are seemingly creating more worry than joy today.
To conclude my discussion of the stock market (S&P 500) in general, I offer the following 20-year Earnings and Price Correlated graph for perspective. One of the most interesting aspects of the following graph is how it clearly reveals the true S&P 500 "bubble valuation" that existed and culminated in calendar years 1999 and 2000.
Ironically, calendar years 1999 and 2000 were also times of great investor enthusiasm and confidence in the market. In other words, at precisely a time when investors should have been justifiably scared, they were overconfident instead. Readers might remember how many postulated this to be a new paradigm, there would never be another recession, and fundamentals and valuation did not matter anymore. Of course they were wrong on all counts; investor psychology is a most fascinating phenomenon and subject.
But most importantly, I hope that the following graph places the S&P 500's current valuation into a better perspective. The S&P 500 is certainly not undervalued or cheap today, but nor is its valuation excessive or anywhere close to a bubble based on historical norms.
The following graph plotting the S&P 500's P/E ratio since 1994 clearly illustrates how the S&P 500's P/E ratio reverted to the mean following the calendar year 1999 to 2002 true bubble valuation periods. When the stock market's valuation is truly in bubble territory, price-earnings ratio contraction towards the P/E ratio 15 average is sure to occur. And of course, poor performance will follow when that happens. Importantly, this principle also applies to individual companies in the same manner it does to the market.
As I previously stated, the primary objective of this article will be to provide a list of Dividend Champions (companies that have increased their dividend every year for 25 consecutive years) that I believe are fairly valued in today's market. However, I feel this introductory discussion about the state of the general market was critically important because of the potential damage that investor misconceptions about the market can cause.
Far too often I read comments by readers in the comment stream of my articles, and other articles I read, where investors are frozen based on their misguided beliefs that the market must or will soon fall. Many of them will base their beliefs on studies or alleged research by academics that often seem to take great glee in promulgating doomsday scenarios about the stock market and its future. Furthermore, an exaggerated belief, at least in my opinion, about the importance and impact that government has on the economy and corporate profits are another often touted concern. To these prognosticators and their followers, I offer the following truth. No one can predict the stock market, the economy or interest rates - no one!
Almost all of the greatest investors that ever walked the planet have preached and cajoled us to accept this absolute fact. Warren Buffett and his partner Charlie Munger, along with Ben Graham and Phil Fisher and many others too numerous to mention, all advocate this important lesson. The venerable Peter Lynch's Best-selling book One Up On Wall Street had this to say regarding forecasting the stock market on page 78: "What stock market? The stock market ought to be irrelevant. If I could convince you of this one thing, I feel this book has done its job. "As far as I'm concerned," Buffett has written, "the stock market doesn't exist. It is only there is a reference to see if anybody is offering to do anything foolish."
In his second best-selling book, Beating the Street, Peter Lynch additionally offered the following as one of his 20 Golden Rules: "Nobody can predict interest rates, the future direction of the economy, or the stock market. Dismiss all such forecasts and concentrate on what is actually happening to the companies in which you have invested." (Here I would like to thank mbkelly75 a loyal reader of my Seeking Alpha articles for reminding me of Peter's 20 Golden Rules).
It breaks my heart to see so many investors fail to heed such wise and sage advice. Please dear readers don't be one of them. It is a market of stocks, focus on the companies that you actually do own and please ignore all the nonsense about the stock market and especially economic forecasts.
20 Dividend Champions Currently At (Or Close) To Fair Value
The one thing that all of us can certainly agree on is that the stock market has experienced a strong, and even remarkable advance since the Great Recession ended. Of course, logic might also dictate that the valuations on many stocks have become extended as a result. However, that logic draws only a partially correct conclusion. Many stocks have, in fact, become overvalued; some have even entered true bubble territory. Nevertheless, there are still attractive stocks to be found as long as market or economic bias doesn't get in the way.
I learned a long time ago that in every market, whether it is a bear market or a bull market like now, it will always be comprised of some individual companies that are fairly valued, some that are overvalued and even some that are undervalued. Today's stock market is no different. Naturally, it also logically follows that there will be fewer fairly valued or undervalued stocks in a bull market than there will be in a bear market. Once again, today's market is no different, and I offer the following fairly valued Dividend Champions for your consideration and further due diligence.
However, before I present my list, there are a few important caveats, acknowledgments and considerations that must be recognized and understood. First and foremost, in order to create this list, I simply scanned the preloaded Dividend Champions provided by David Fish via my Premium subscription to F.A.S.T. Graphs™. Although I have a great deal of confidence in all 19 of the names comprising my "Champions In Value Portfolio" below, I have not thoroughly conducted research and due diligence on all of them. Therefore, I offer these 19 Dividend Champions as potential candidates that appear fairly valued. Therefore, the reader should conduct their own due diligence on any that might strike their fancy.
Moreover, I only included companies with current P/E ratios of 20 or below, with my greatest confidence resting within a P/E ratio range up to a maximum of 16. However, I believe a P/E ratio of 15 represents a sweet spot of valuation because it indicates an earnings yield of approximately 6.67%. However, by scanning the portfolio review below you will notice a few select exceptions. I included Johnson & Johnson (NYSE:JNJ) because its current P/E ratio at just above 17 is significantly below its normal premium P/E ratio of approximately 20. In other words, I afforded it a modest premium above my preferred P/E 15 for quality. Mine Safety Appliances Company (NYSE:MSA) was included because of its strong forecast for a future earnings growth rate of 18%.
As an aside to the general theme of this article, in the comment stream of my most recent article, I was asked the following question by regular reader and fellow Seeking Alpha author Bob Johnson: "I have a question regarding how to apply the article's principles to a typical situation today's market. Let us say that a just retired Baby Boomer walks into your office and says, "I have $500,000 I'd like you to assist me in investing in Dividend Growth Stocks. Perhaps 25 stocks and $20,000 in each."
However, since I am a fervent believer that a portfolio should be custom designed based on the investor's unique individual goals, objectives and risk tolerances, I cannot provide a one-size-fits-all specific answer to Bob's important question. On the other hand, I submit that the following list of Dividend Champions offers enough diversification and opportunities to provide the nucleus of a well constructed dividend growth portfolio that could meet any dividend growth investor's unique situation.
Additionally, I will add that I believe in diversification but in a concentrated form. Therefore, I would embrace a portfolio containing 20 to 25 stocks. I want enough diversification for protection purposes, but also endorse concentration on my belief that it's important to know as much as you can about every company in your portfolio. Too many stocks, and your knowledge becomes diluted, too few and the risks become too great. In this context, I organized the following "Portfolio Review" by sector in order to illustrate the diversification potential available to provide the nucleus of a fully and properly diversified portfolio (Note: in Part 2 of this series I will provide additional candidates from David Fish's Dividend Contenders list).
My Personal Favorites For High Current Income, Growth and Income, or Total Return
Although I consider all of the above Dividend Champion candidates to be fairly valued or close to it, I do not consider all of them appropriate for every dividend growth investor. In other words, not all Dividend Champions will possess the appropriate characteristics that fit each individual investor's specific and unique goals, objectives and risk tolerances.
Some dividend growth investors, especially those that are already in retirement, might require high current income over growth. Other dividend growth investors may be more interested in total return. On the other hand, I believe there are solid candidates within the group that can appropriately meet each investor's unique needs. Therefore, I offer the following more detailed look at specific fairly valued Dividend Champion candidates that possess differing characteristics of growth, yield and quality.
Consolidated Edison Inc. (NYSE:ED) For High Current Income
For the conservative investor, or retiree, most interested in high yield and quality, I offer Consolidated Edison Inc., a fairly valued Dividend Champion with a current dividend yield of 4.3%. Although this blue-chip utility has raised its dividend for 39 consecutive years, its growth yield (yield on cost) has been very low. Consequently, this candidate represents a high quality high yield investment opportunity.
Even though Consolidated Edison has a legacy of consistent dividend increases, the growth of those dividends has been meager, barely averaging slightly over 1% per annum. On the other hand, because of its high current yield, the company has also generated significantly more total dividend income than the S&P 500 or the average company.
I believe that Consolidated Edison is a stable utility stock as evidenced by its ability to consistently grow book value each year. Once again, the growth rate has not been high, but it has been very consistent as seen in the FUN Graph (Fundamental Underlying Numbers) below.
As a result of its consistent increase in book value, coupled with its recent return to fair value, Consolidated Edison can be purchased at a mere 1.4 times book value based on its most recently reported quarter (MRQ). I believe this supports my fair value contention.
Moreover, since dividends are the primary attraction for investing in Consolidated Edison, I felt it was prudent to evaluate the company's operating cash flows. The following FUN Graph plots operating cash flows per share (ocflps) and dividends since 1998. Clearly, cash flow supports the dividend. Even during the Great Recession of 2008, Consolidated Edison's operating cash flow covered their dividend.
As I previously pointed out, Consolidated Edison is a yield opportunity with low growth. Consequently, it's imperative that it should only be invested in when valuations are reasonable, as they are currently. Even slightly overpaying for a low growth utility can eliminate the benefits of investing in them.
As a bonus recommendation, I would also include AT&T Inc (NYSE:T) as a second high income option. For a more detailed look at my views on AT&T, here is a link to an article I recently published on The Street. Note that I have only provided an Earnings and Price Correlated graph which is since SBC Communications acquired the rights to the iconic AT&T brand and name.
Moreover, I think it's important to point out that AT&T is more of a cash flow story than an earnings story. Therefore, I offer the following graph on AT&T utilizing the FFO (Funds From Operations) option, which is a close cousin to operating cash flow. Clearly since AT&T is offered as an income selection, their dividend is well-protected by their prodigious cash flow generation.
Stanley Black & Decker Inc. (NYSE:SWK): For Growth and Income
Stanley Black & Decker represents my choice for growth and income. Earlier this summer, the company's stock price had become moderately overvalued. However, it has subsequently come back to fair value, and therefore, I consider it once again attractive. Additionally, I ask the reader to note that earnings growth has accelerated since the Great Recession of 2008.
From a historical perspective, Stanley Black & Decker has produced above-average long-term returns for its shareholders. Moreover, even though there has been a moderate amount of cyclicality with their earnings, dividend growth since calendar year 2000 has averaged just less than 6% per annum.
The primary reason I selected Stanley Black & Decker as my growth and income selection was based on consensus estimates for high future growth. The following Estimated Earnings and Return Calculator is based on the consensus of 16 analysts reporting to Standard & Poor's Capital IQ. I cross-checked these estimates with the consensus estimates of approximately 13 analysts reporting to Zacks, who forecast the next 5 years earnings growth at 10.7%. If either of these consensus estimates are correct, or even reasonably so, then I would consider Stanley Black & Decker an excellent long-term investment for the dividend growth investor seeking both growth and growth of dividend income.
Wal-Mart stores Inc. (NYSE:WMT): For High-Quality Growth and Income
After a long period when Wal-Mart's stock was overvalued, price inevitably moved into fair value range by 2007. Since that time price has tracked earnings. I have included Wal-Mart as a blue-chip high quality stalwart with an above-market yield and above-average potential for growth of capital and an increasing dividend. Note how Wal-Mart generated strong earnings growth during and after the Great Recession (gray shaded area).
Since Wal-Mart's stock moved into sound valuation territory, shareholders have once again been rewarded by the company's consistent above-average earnings and dividend growth. Both capital appreciation and cumulative dividend income has surpassed the average company.
Wal-Mart is a widely-followed stalwart. The consensus of 28 analysts forecast Wal-Mart to grow earnings at 9% per annum over the next 5 years. This is consistent with what the company has achieved since 2007, and therefore, appears reasonably plausible.
Aflac Inc. (NYSE:AFL): For Income Growth and Total Return
I believe that Aflac Inc. continues to represent extraordinary value for the prudent dividend investor in spite of its strong performance since the beginning of 2011. My purpose in pointing this out is to illustrate an example of a stock price that has risen sharply while the company continues to be fairly valued. One of the common misconceptions that I often hear from investors is how they believe that a common stock has become overvalued solely because the price has recently advanced.
Because Aflac is a financial, I contend that Mr. Market has held a biased and negative view of the company. Therefore, this represents an example of a company that I believe has been grossly undervalued since the financial debacle that is credited with creating the Great Recession of 2008. Even in today's perceived overheated market, Aflac shares can be purchased at a P/E ratio of 10.7, which is significantly below its historical and more appropriate P/E ratio of 15 or better. Consequently, I continue to see leverage opportunity in their shares.
One of the important fundamental metrics that I believe Mr. Market is missing is Aflac's strong cash flow generation. The following Earnings and Price Correlated graph includes an overlay of operating cash flows. Clearly, Aflac is a cash flow generating machine, and therefore, I contend their dividend is well-protected and poised for continued growth.
To elaborate more on Aflac's cash flow, the following FUN Graph plots free cash flow per share (fcflps) and dividends. FUN Graphs calculates free cash flow after dividends have been paid. Clearly, Aflac has a lot of cash left over after dividends have been paid.
In spite of Aflac's chronic undervaluation by Mr. Market, long-term shareholders have been well-rewarded. Dividend growth has been extraordinary, averaging 18.9% since fiscal year-end 1999, resulting in total dividends paid that are almost twice what the S&P 500 has generated over the same timeframe. Capital appreciation has been more than three times greater than the S&P 500.
The consensus of 21 analysts reporting to Capital IQ estimate Aflac to continue growing earnings at 8% per annum. This growth, coupled with the stock's current low valuation represents what I believe to be a conservative dividend growth opportunity with above-average potential for growing income and capital appreciation.
Honorable Mentions
In addition to the Dividend Champions that I feel are currently fairly valued, I offer the following 9 Dividend Champions that I will call Honorable Mentions. These names are included because each has a legacy of being awarded a premium valuation by the market. Therefore, even though they are not fairly valued in the strictest sense, they are all currently being valued near their historical normal premiums. I wrote about this concept in a recent article found here. Consequently, based on the impeccable quality of each, I felt they were worth inclusion in this article.
I have highlighted the current P/E ratio column next to the historical normal P/E for each company in the following portfolio review. Therefore, even though each of these Honorable Mentions are currently trading above a P/E ratio of 15, which I consider fair value, they could all be purchased today by prudent investors willing to pay a quality premium to own them.
3M Company (NYSE:MMM): Historical Premium Valuation
I offer the following Earnings and Price Correlated graph on 3M Company to illustrate one example of a company with a legacy of premium valuation. Note that the Great Recession did bring 3M Company's shares down to and below my strictest definition of fair value, and remained there until the beginning of 2013. Since that time price has steadily moved back into a more typical premium valuation range.
When reviewing the performance associated with the above graph, we see evidence of how paying a premium for companies of impeccable quality can still be rewarding long-term investments. I leave it up to the reader to determine whether or not they are willing to take the risk of paying a premium.
I have added the overlay P/E ratio of 19.3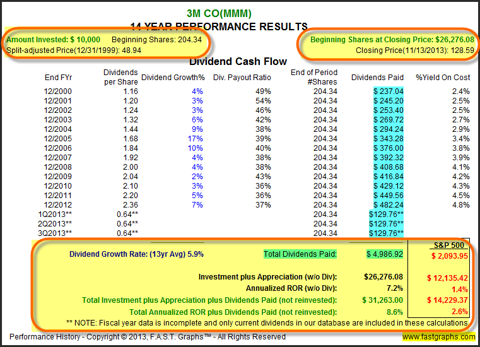 (3M's normal premium valuation) to the following Estimated Earnings and Return Calculator. Therefore, the magenta overlay line illustrates the normal premium valuation level that the market has typically placed on 3M's stock price.
Summary and Conclusions
I will not argue with those who contend that finding sound value in today's market is not more difficult than it has been in recent years. However, I will argue against the idea that there are no soundly-valued dividend growth stocks to be found. With this article, I have exclusively reviewed David Fish's Dividend Champion list searching for fairly valued dividend stalwarts. Since this prestigious list represents what I believe to be the crème de la crème of dividend growth stocks, I felt it was the best place to start searching for fair value.
Admittedly, I only found 19 out of 105 Champions on the list that were fairly valued in the strictest sense. I believe this speaks to the flight to quality behavior that many suspect is happening in today's market. On the other hand, I believe this also supports my long contention that it is not only a market of stocks, but also that there will be value to be found in all markets, whether they be bull or bear. My research on the constituents on this list supports the notion that many quality dividend growth stocks have become expensive. However, as this article supports, not all blue-chips are overvalued.
In addition to my search for value, a secondary objective of this article is to point out what I consider to be the folly of focusing on "the market" instead of focusing exclusively on the individual companies that you own, or would like to own. To support this thesis, I once again turn to one of Peter Lynch's 20 Golden Rules: "There is always something to worry about. Avoid weekend thinking and the dire predictions of newscasters. Sell a stock because the fundamentals deteriorate, not because the sky is falling."
However, there is an additional fact that I believe supports the idea of not worrying too much about how the market is currently valued. The fear of an overall market decline should not preclude you from investing. I believe in the old adage that it is "time in, not timing of the market" that is most important. Peter Lynch offers another of his 20 Golden Rules that support this point: "A stock-market decline is as routine as a January blizzard in Colorado. If you are prepared, it cannot hurt you. A decline is a great opportunity to pick up the bargains left behind by investors who are fleeing the storm in panic."
The key take away from this Golden Rule is that you do not have to take the market's bid. It's always a choice. If you own quality dividend growth stocks that are financially strong where their dividends continue to grow even in a falling market, you can ignore short-run price volatility. You can do this on the basis of trusting that fundamental strength trumps short-run fear. I elaborated on this more fully in a recent article found here.
In Part 2 of this series, I will search for fair value in David Fish's Dividends Contenders' list, and in Part 3, I will look for fair value in David's Challengers' list. As a preview, I have discovered a higher percentage of fairly valued Dividend Contenders than I did in the Champions' list.
Disclaimer: The opinions in this document are for informational and educational purposes only and should not be construed as a recommendation to buy or sell the stocks mentioned or to solicit transactions or clients. Past performance of the companies discussed may not continue and the companies may not achieve the earnings growth as predicted. The information in this document is believed to be accurate, but under no circumstances should a person act upon the information contained within. We do not recommend that anyone act upon any investment information without first consulting an investment advisor as to the suitability of such investments for his specific situation.
Disclosure: Long CVX, TGT, MO, WMT, JNJ, MDT, AFL, T, ED, SYY, MCD, EMR, DOV, PG, KO, PEP at the time of writing. I am long CVX, TGT, MO, WMT, JNJ, MDT, AFL, T, ED, SYY, MCD, EMR, DOV, PG, KO, PEP. I wrote this article myself, and it expresses my own opinions. I am not receiving compensation for it (other than from Seeking Alpha). I have no business relationship with any company whose stock is mentioned in this article.