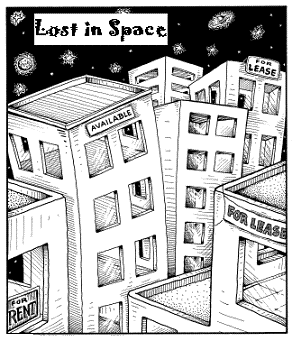 CEF Weekly Review: The 13 closed end fund (CEF) types on average posted a 0.9% decrease for the week ending 1/22/10. On an aggregate, unweighted basis, the weekly average price change for the 515 CEFs was down 1.0%.
The weighted 49 CEFs comprising the Claymore CEF Index registered a decrease of 2.7% for the week and it is down 3.3% YTD. The S&P 500 decreased 3.9% for the week.
(Click here for YTD CEF performance. The table is based on a 276 CEF sample size as all the data fields are not available for the CEF universe.)
It was a tough week for global equities.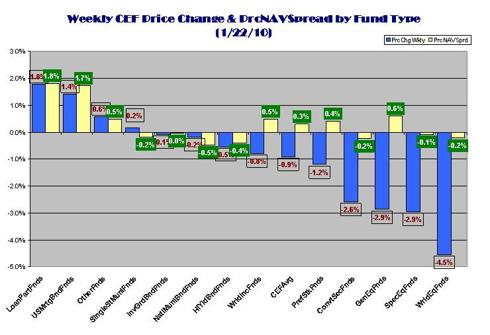 The Eqcome CEF Fear Index exhibited a wave of anxiety. Unweighted CEF share prices dropped on average 1.0% while related NAVs remained essentially unchanged due to the heavier weighting of debt-oriented CEFs. The CBOE Volatility Index (VIX), which typically moves inversely with the stock market, spiked 50% for the week—the highest since November of last year. The last three sessions of the week were the biggest 3 day consecutive gain since February 2007—6 months prior to the previous stock market peak. S&P 500 average daily volume spiked 30%. Both Thursday and Friday each saw volume of over 6 billion shares. So there was selling with conviction.
CEF Weekly Fund Type Performance: The week started off on a positive tone. However, things quickly deteriorated on both negative political and economic news. The defensive posture CEF investors took the previous week and extended it into this week.
The average price performance for the CEF fund types was down 0.9%. The strength of the fixed-income CEFs weren't enough to compensate for the extreme weakness in equity-oriented funds. WrldEqFnds took a nose dive as concern surfaced with regards to China's attempt to slow its economy by curtailing bank lending and its implications for the global economies.
LoanPartFnds and USMrtgBndFnds led the fund types: 1.8% and 1.4%, respectively. PrefStkFnds suffered as banks were led to the political woodshed.
The PrcNAVSprds[1], which typically move in the direction of the stock prices, saw little change in the NAV of the debt-oriented CEFs. Being beneficiaries of the "fear trade", these fund types posted strong share price gains that resulted in positive PrcNAVSprds.
Interestingly, most of the steep price declines in some of the equity-oriented CEFs were accompanied by a similar drop in NAVs. This confirmed the downward revaluation of these stocks movements. There was little meaningful fund type divergence between share price and NAV.
CEF Winners and Losers: One of the CEFs with the greatest positive PrcNAVSprd for the week was PIMCO Floating Rate Income Fund (NYSE:PFL). PFL price increased 7.6% while its NAV only increased 0.6% generating a positive PrcNAVSprd of 7.0%. PFL currently sells at a premium of 16% with a monthly annualized distribution of 6.2%. Since March of '09 it has reduced its monthly distribution twice. PFL was a member of the LoanPartFnds that led the CEF fund types.
This week's CEF with the greatest negative PrcNAVSprd was Cushing MLP Total Return Fund (NYSE:SRV). SRV generated a negative PrcNAVSprd of 6.7% as a result of a 2.1% price decline and a 4.6% increase in NAV. SRV is selling at a 36% premium with a quarterly annualized yield of 9.6%. The average PrcNAVSprd for its comps was -1.5%.
Economic & Earnings Outlook: (Click here for next week's economic calendar; click here for earnings announcements and estimates.)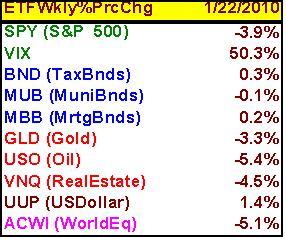 ETFs: (Click here for ETF YTD sector performance.)
Insider Trading: The Horejsi Group continued its inexorable insider buying in Boulder Growth & Income Fund (NYSE:BIF) adding an additional 166,739 shares with a market value of $975,098. Its cumulative acquisitions for the initial three weeks of the month are 456,858 shares with a value of $2,663,938. Horejsi has accumulated a 7,433,050 share position in the stock which is currently valued at $43.5 million. Its holdings represent 29.2% of the outstanding shares.
While the S&P 500 dropped 3.9% this week, BIF's share price held steady. Part of this performance may be attributable to the 7.7% advances this week in its Berkshire Hathaway's "A" shares holdings (NYSE:BRK.A). BRK.A represents approximately 25% of BIF's investment portfolio. BRK.A may have benefited from the 50 to 1 split of the "B" shares to facilitate its acquisition of Burlington Northern.
Horejsi also continued its insider buying of Denali Fund (DNY) where its stake is now over 75% of the outstanding shares (3,132,320 shares). Horejsi acquired an additional 12,444 shares at $14.26 per share for a capital outlay of $177,075.
There were two new significant purchases this week. One was a 20,000 share purchase of Gabelli Dividend & Income Trust (NYSE:GDV) by Gamco Investors, Inc. (Mario J. Gabelli is the reporting person). This was an expenditure of $270,000. It is probably worthwhile to note that GDV is trading at a 15% discount to its NAV. This is in sharp contrast to a 70% premium for Gabelli Utility Trust (NYSE:GUT), a sister CEF managed by the Gabelli organization. There was no insider buying of GUT.
Another meaningful insider transaction was James C Baker, an officer of Kayne Anderson MLP Investment Co (NYSE:KYN), who purchased 7,500 shares at $23.61 in what appears to be part of its recent $124 million equity follow-on offering.
There was other insider buying; most of a deminimous nature. (Click here for a hyperlink to the Joe Eqcome CEF Weekly Insider Report.)
CEF Distribution Announcements This Week: The following is a link to a table of CEF distribution announcements this week as well as the previous week's with yet expired ex-dividend dates. The list is not intended to be inclusive. (Click Here for Weekly CEF Distribution Announcements.)
CEF Corporate Events: Kayne Anderson MLP's (KYN) underwriters exercised their option to purchase an additional 791,000 shares at $23.61 per share adding an additional $18.7 million in proceeds above the $124 million it recently raised in a 5.5 million follow-on offering
Three of the Nuveen Muni CEFs (NMT, NNC & NTC) reported the at-par redemption of its remaining $56.4 million of its auction market preferred securities (NYSEARCA:AMPS) with a February 17th redemption date. The redemption is being funded by the issuance of a like amount MuniFund Term Preferred (NYSE:MTP) shares.
Claymore Dividend & Income Fund (NYSE:DCS) announced final results of "In-Kind Tender Offer" and "Schedule of In-Kind Proceeds" to be distributed. Approximately 45% of the outstanding shares were tendered.
General American Investors (NYSE:GAM) announced the authorization of 800,000 shares repurchase program when shares are trading at a discount of at least 8%. The repurchase amount represents 2.5% of outstanding shares. GAM is currently trading at a 16% discount to NAV.
Several CEFs announced investment policy changes expanding their investment mandate: SNF GCS. TAI reported a change in its investment manager to Martin Currie.
CEFs Focus for the Week: The focus stock of the week is Adams Express (NYSE:ADX). On the face of it, ADX seems to be undervalued. Trading at a persistent discount in the teens, it has consistently been able to outperform its benchmark returns. Currently trading at 16% discount to its portfolio of large cap stocks (including a meaningful position in its sister natural resource CEF, Petroleum & Resources (NYSE:PEO)) it has one of the lowest expense ratios in the CEF market sector. It would appear to be a good proxy for a large cap index.
In a recent CEF study, ADX appeared to generate the best return per unit of management expense. (See article entitled: "Eqcome CEF Value Added Management Rankings: ADX & PEO Top Ranked" (1/21/19).)
2010 should be a year when the board addresses the persistent discount. The options are an "In-kind distribution", a managed distribution policy, a conversion to an actively managed distribution policy or the removal of the board.
Consider it food for discussion.
Disclosures: Author owns a diversified portfolio of CEFs including a long position in BIF and ADX.

---
[1] A positive PrcNAVSprd can be interpreted as negative because it typically signals a share price movement less favorable than the NAV. All things being equal, price and NAV should move in tandem. A price movement greater than the NAV may indicate the stock is overvalued relative to its NAV which in theory is the stock's intrinsic value. The opposite would be true for a negative PrcNAVSprd.