I just finished reading an interesting article by a new SA contributor. Kevin Wrotenbery penned an offering titled "1993's 100 Best Stocks: How They Fared" and it was like a walk down memory lane. Of interest was the company ranked seventh best for Annual IRR at 15.5% over this 20-year period - Donaldson Company (NYSE:DCI).
Donaldson is a mid-cap stock with a market capitalization of $5.8 billion and is a component of the S&P Mid-Cap 400.
I had an interesting relationship with this company back in the late 1990s. While researching dividend re-investment programs, Donaldson showed up on several of my screens. With a name like Donaldson, one might assume an appropriate ticker symbol would be DON, and I spend quite a while researching DON. I was intrigued by the financial results and the then-current valuation for DON. As I was about to place an order to buy a few shares of DON, I discovered that this was the symbol for Donnelly Corporation, not Donaldson Company. DON was the largest manufacturer of automotive rearview mirrors in the US with a 95% market penetration and second largest globally. In 2003, Magna International (NYSE:MGA), the Canadian auto parts supplier, acquired DON. I added DON to my portfolio back in the late 90's and have followed DCI off and on since.
I decided my trip down memory lane needed a bit of updating.
Donaldson Company is a very well-managed company that has created consistent returns on shareholder capital and carries very little debt. The company is a cyclical industrial manufacturer of filtration systems. Their filters are used in both air and liquid applications and comprise engine air and oil filters, dust collection filters, and gas turbine air-inlet filters. Uses of these filters include off-road mining equipment engines, airplane jet engines and over-the-road large truck engines. Industrial applications include gas-fired electric power generation, oil and gas industries, and computer disc drive filters and seals. Pictures from investor presentations of products and applications at the end of the article may help some investors visualize DCI's products. More information on DCI products can be found at their website found here.
According to the 2013 10-K, DCI Fiscal Year July 2013 revenues were generated as follows:
51% Original Equipment Manufacturers OEM, 49% Replacement Parts
40% North America, 30% Europe, 22% Asia Pacific
62% Engine Applications, 38% Industrial Applications
Management has offered guidance for FY2014:
Revenues: $2.45 to $2.55 billion
Net Operating Margins: 14% to 17%
EPS $1.65 to $1.85
According to management, DCI serves various industries with a combined filtration market potential of $20 billion. The entire global filtration market is estimated at $50 billion. Based on these numbers, DCI has a 12.5% market share of their target markets. From their investors presentation: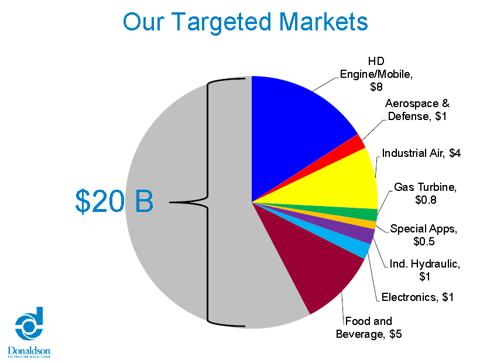 Management is targeting a 9% to 10% revenue growth rate based on a 3% growth in global GDP, a 2% growth in the filtration market, 3% to 4% greater market share gains, and 1% to 3% from potential acquisitions.
Over the past few years, revenues and earnings have been a bit stagnating. Revenues in FY 2013 were just 10% above their previous peak of $2.2 billion in FY2008. However, net income increased from $172 million in FY2008 to $247 million, a growth of 43%. With a lower number of shares outstanding, earnings per share increased 54%. Below is a table from the 2013 annual report:

FY2013 sales declined by 2.3% from FY2012 and net earnings per share declined by 6.4% to $1.64. Based on the middle of the guidance offered by management, FY2014 EPS should be $1.77 a share on revenues of $2.5 billion. FY2015 EPS could reach $1.99 a share on $2.66 billion in revenues.
DCI management has reliably generated an S&P Equity Ranking of "A" for 10-year consistency in dividend and earnings growth. These are the two most coveted ratios in fundamental analysis. In addition, an "A" or "A+" should be a strong consideration for dividend growth investors. In 1997, DCI had a ranking of "A" as it still does today (best is A+ and average is B+). This implies DCI has excelled in generating consistent growth since at least 1987 and this 26-year period would span several management teams.
DCI has a history of increasing their dividend and reducing shares outstanding. Below is a graphic of dividend growth dating back to 1990: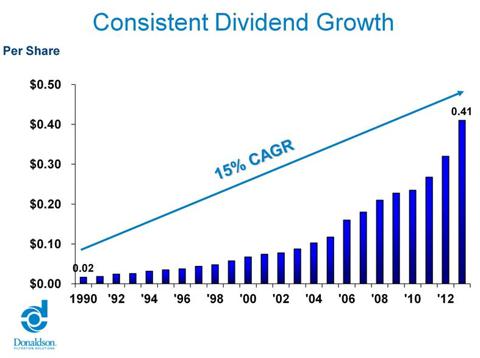 Although the current yield is 1.3%, the company has a strong history of 15% CAGR dividend growth. Dividend growth investors should salivate over a 15% CAGR going back to 1990. With the June 2013 increase and dividend payment, the current annual rate is $0.52.
Since 1990, management has reduced shares outstanding by an average of 2% a year. Shares outstanding have declined from 231 million in 1990 to 146 million in 2013 - without a large increase in debt. In 2004, long-term debt stood at $72 million with $100 million in cash. Currently l-t debt stands at $102 million with $254 million in cash. Management has also completed two stock splits; one in 2004 for a 2:1 split and another in 2012 also for 2:1.
Increasing earnings per share, increasing dividends, and very manageable long-term debt has been a great recipe for DCI stock to outperform the markets. Below is a 10-year history of total returns, per Morningstar.com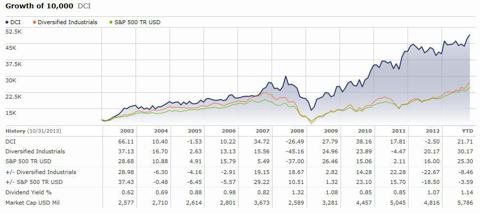 A $10,000 investment in DCI in 2003 would be worth around $50,000 today versus a similar investment in SPY with a value of around $25,000. Over the past 5-years, DCI continued to outperform the SPY, but more in line with their peers. Below is a graph of 5-yr comparable returns from the 10-K: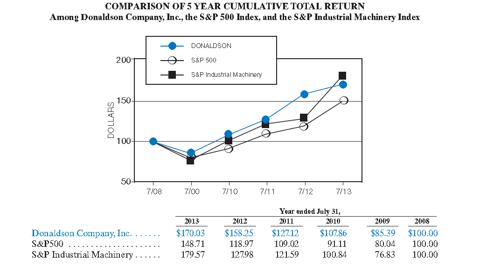 Driving earnings and dividend growth is a hefty long-term return on invested capital. Below is a graph from fastgraph.com of ROIC dating back to 1999:
Management has generated excellent ROIC with a 15-yr average of 18.4% and a 5-yr average of 18.5%.
Driving a continued turnaround in revenues and earnings will be improving economic conditions in Europe and better market conditions in some of their end user markets, such as heavy equipment used in mining. Currently, DCI is running at low factory utilization of around 60%. While net margins are currently in the 14% to 17% range, incremental sales creating higher factory utilization could increase incremental margins from these added revenues. Management has been a bit too aggressive in the past with their guidance and has had to reduce guidance in six out the last ten years. As unpleasant as guidance reductions are, management may be a bit conservative with the current forecast. If factory utilization increases from its current 60% and management has been conservative, results going forward may pleasantly exceed street expectations.
The dividend payout ratio has grown from 17% in 1999 to 27% today and management has targeted a 30% to 40% payout ratio. If DCI generates $1.77 in earnings in FY2014 and increases the payout ratio to 33%, the dividend could increase from the current annual rate of $0.52 to over $0.58 a share, maintaining a 15% dividend growth rate. It would seem that if earnings grow at a rate of 10% and the payout ratio continues to slowly expand to the higher end of management's projections, maintaining a 15% annual average dividend growth rate seems quite plausible.
With a nice cash balance and very manageable debt on the books, DCI should either expand via acquisitions or continue to buy back more shares. This should also continue to drive share prices higher.
However, current valuation is a bit rich, especially for value investors. The following is a current valuation table from Morningstar.com comparing current valuations with peers and SPY:

On the other hand, DCI is one of those stock that has a history of almost perpetual overvaluation. Below is the same chart going back 10-years: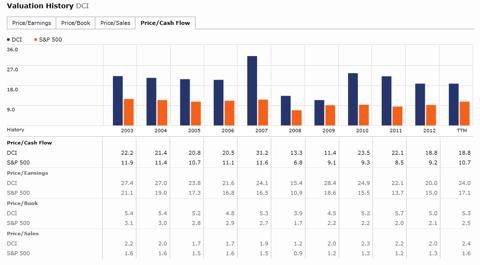 Morningstar.com
The 1-year chart shows market resistance at $41.50 and support at $35.75. The 200-day MA is right at $37.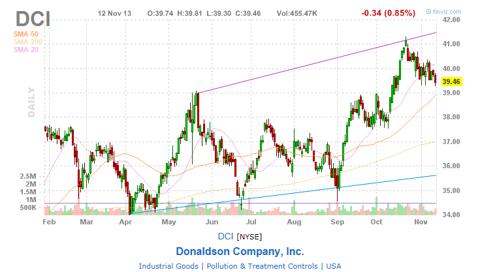 More information can be found in the investor presentation here (registration required).
Donaldson has offered above market returns for long-term investors through consistent earnings and dividend growth driven by management's ability to generate excellent returns on invested capital. While DCI stock is expensive by most measures, if management continues their 15- to 20-year performance streak, new and patient investors should be well rewarded over time. Dividend growth investors should definitely put DCI on their radar screen.
Pictures of their products and application are below: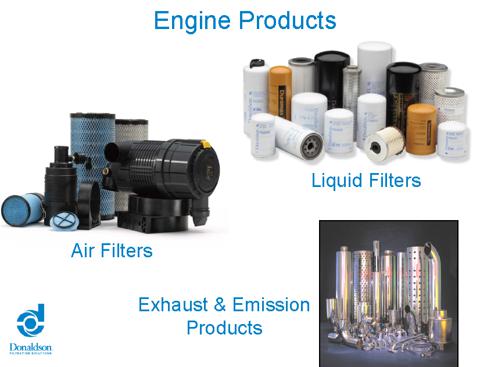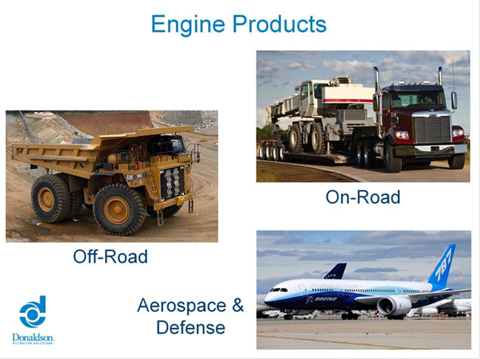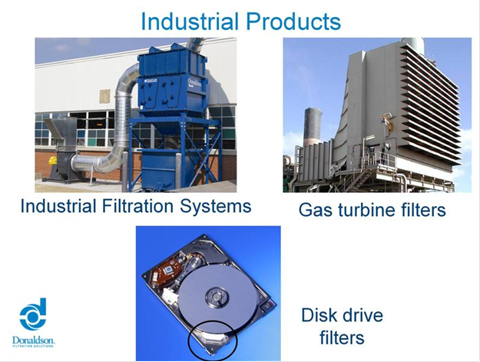 Author's Note: Please review important disclaimer in author's profile.
Disclosure: I have no positions in any stocks mentioned, and no plans to initiate any positions within the next 72 hours. I wrote this article myself, and it expresses my own opinions. I am not receiving compensation for it (other than from Seeking Alpha). I have no business relationship with any company whose stock is mentioned in this article.