This week appears to be a "do or die" week for U.S. markets and the ongoing rally that started last March.
We have a slew of earnings reports, economic reports, the State of the Union message and a Fed meeting all coming after the worst week for U.S. markets in nearly a year.
We'll discuss all of this in detail in a moment but first will take a look at our current positions and signals.
With last week's sell-off, our major market signals have returned to "Yellow Flag" mode, indicating caution and choppy prices ahead. The major uptrend remains in place; however, last week's action put some major indicators on "sell" signals and also the key 50 day moving average was broken by the S&P 500 as well as the Dow.
Our individual positions in the Standard Portfolio remain on Point and Figure "buy" signals but several are approaching lower limits so Standard members should be alert for impending "sell" signals.
The 2X Portfolio closed two USD, ProShares Ultra Semiconductors positions this week, one for a -1.1% loss and the other for a +2.4% gain for a net gain of +1.3% on the two position trade that covered 8 calendar days.
We currently have one 2X position in play and will be managing that this week so Pro members need to watch for changes, as well.
The View from 35,000 Feet
Investors voted with their feet last week in response to news widely viewed as unfavorable on the earnings, economic and political fronts.
The major indexes took some sharp and repeated losses and Friday's decline added to the malaise and left all major markets very oversold.
The bad news is that the S&P 500 has declined through its 50 day moving average, the first time since the November correction, and a convincing and sustained dip below that level could generate more selling as seen in the chart below.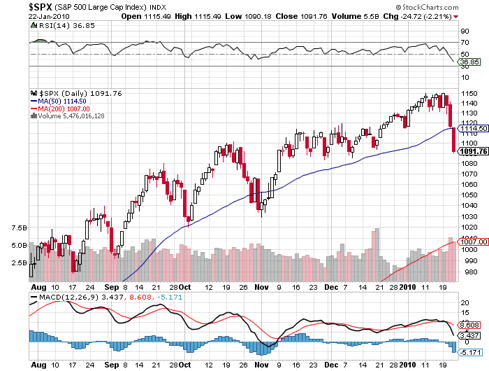 Chart courtesy of StockCharts.com
The good news is that, although the Point and Figure Chart has reverted to a column of Os which indicates that supply is temporarily in control, we're still quite some distance, approximately 6%, from generating a "sell" signal at approximately the 1040 level.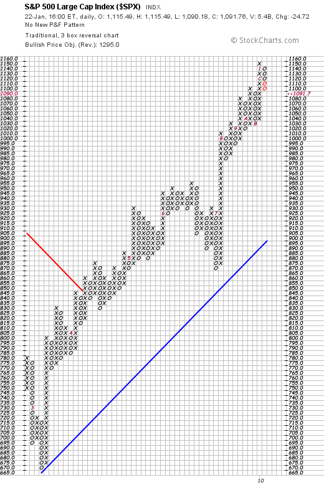 Chart courtesy of StockCharts.com
On a sector basis, most sectors were weak with none of the major sectors able to post a gain for the week.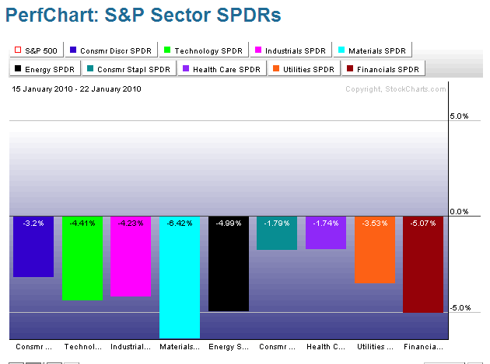 Chart courtesy of StockCharts.com
In political news, President Obama made no friends on Wall Street when he announced his plans to place new restrictions on banks and their trading abilities and reintroduce some elements of the Depression Era Glass Steagall Act which was designed to separate banking from brokerage activities.
Last Thursday's sell off was the worst one day drop in 3 months even as American Express (NYSE:AXP) reported a tripling in its quarterly profit year over year and Google (NASDAQ:GOOG) and AMD beat expectations. Profits were also better than expected at railroads Burlington Northern (BNI) and Union Pacific (NYSE:UNP) along with Xerox (NYSE:XRX) and General Electric (NYSE:GE) said they see "encouraging signs."
However, all of these bright reports were viewed by investors as perhaps being not good enough as perhaps we "have come too far, too fast."
Economic reports were mixed with initial jobless claims rising, continuing claims declining and December leading economic indicators rising 1.1%.
The Week Ahead
Next week we'll see reports detailing Home Sales for January and Consumer Confidence for December, along with a heavy dose of earnings reports and so things going forward will likely become clearer as the week progresses.
On Friday we'll reach the end of the trading month for January, and the monthly results will be carefully watched due to the predictive reliability of the old saying, "as goes January, so goes the year."
Major Earnings Reports
Twelve Dow components and 130 S&P 500 companies report earnings this week. Closely watched will be:
Monday: Apple, Texas Instruments
Tuesday: DuPont, EMC, Johnson and Johnson, Verizon, Yahoo
Wednesday: Boeing, Caterpillar
Thursday: Ford Motor, Motorola, Proctor and Gamble, Amazon, Microsoft
Friday: Chevron
Major Economic Reports
Monday: December Existing Home Sales
Tuesday: November Case/Shiller Housing Index, January Consumer Confidence
Wednesday: December New Home Sales, Federal Reserve Meeting
Thursday: Weekly Jobless Claims, Continuing Claims, December Durable Goods
Friday: 4th Quarter GDP, January Chicago Purchasing Manufacturers Index, University of Michigan January Consumer Sentiment
Sector Spotlight
Leaders: Short Financials, Short Dow, Short S&P
Laggards: Clean Energy, Coal, Oil