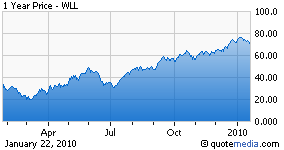 Seeing the pending disappearance of Encore Acquisition Company (NASDAQ:EAC), we add Whiting Petroleum (NYSE:WLL) to our coverage. The company is a leading driller and producer in the North Dakota Bakken Shale Oil trend, perhaps the most rapidly growing new U.S. onshore oil play. A McDep Ratio of 0.93 implies attractive value with 83% concentration on oil, 17% on natural gas.
After new issues of stock and convertible preferred in the first half of 2009, Whiting's ratio of Debt to Present Value is half that of oil-concentrated peers, EAC and Berry Petroleum (BRY). WLL's low unlevered multiples of cash flow, PV/Ebitda and EV/Ebitda, are in line with reserve life index that we label Adjusted Reserves/Production.
Until 2003, Whiting was wholly owned by Alliant Energy, a public utility holding company serving Iowa, Minnesota and Wisconsin. While WLL stock has done well already in 2009, the trend in oil price and stock price continues to be positive.
In contrast, the stock selling at the lowest ratio to 52-week high by a wide margin is San Juan Basin Royalty Trust (NYSE:SJT). As a result, our natural gas buy recommendation appears to be a particularly good candidate for catching up in 2010.
Originally published on December 31, 2009.