Primer
A Price-to-earnings (P/E) ratio of 2.48, a dividend yield in excess of 30% while showing sophistication in the sense of being quoted on the NYSE and having active options traded. On first sight, Whiting USA Trust I (NYSE:WHX) seems like a dividend stock from heaven, but buyer beware. Unfortunately many investors have fallen prey to this trust. As the name clearly states, we are dealing with a "Trust," which depends solely on net profits interest (NPI) of its underlying oil and natural gas properties located in the Rocky Mountains, Mid-Content, Permian Basin and Gulf Coast regions. WHX was formed to acquire and garner NPI for the benefit of holders of WHX. The NPI entitles the trust to receive 90% of the proceeds after costs from the sale of 9.11 million barrel of oil equivalent (MMBOE) of production from the underlying properties.
The stock itself currently stands at a stock price of $5.79, which as I shall explain in this article, is a gross overvaluation. Now I realize that this is not a unique case, since many stocks are and stay overvalued for prolonged periods. Not the case for WHX as I shall point out. I sincerely expect this stock to implode as it converges to its intrinsic value, as it has done before. What's most important in situations like these is to find a catalyst which drives the stock price to its intrinsic value. Well, that catalyst is almost upon us, providing speculators with an excellent opportunity for a big short. Taking a short position in this specific period poses a significant asymmetric risk-return profile.
Fundamentals
One of the first questions a critical trust investor may ask is: "How much oil and natural gas is left?" Let me quote the latest earnings release (8-K) of WHX:
"As of September 30, 2013, on a cumulative accrual basis, 6.86 MMBOE (84%) of the Trust's total 8.20 MMBOE have been produced and sold. Based on the Trust's reserve report for the underlying properties as of December 31, 2012, the 9.11 MMBOE of reserves (8.20 MMBOE to the 90% net profits interest) are projected to be produced from the underlying properties by June 30, 2015, which reflects expected year over year decline rates ranging from approximately 9% to 13% between 2013 and 2015. However, the rate of future production cannot be predicted with certainty, and 9.11 MMBOE (8.20 MMBOE to the 90% net profits interest) may be produced before or after the currently projected date. In addition, cash distributions to unitholders may decline at a faster rate than the rate of production due to fixed and semi-variable costs attributable to the underlying properties."
In short, we know that (1) already 84% of WHX's endowment has been produced and distributed among shareholders, (2) production is expected to decline by 9%-13% year over year and (3) cash distributions may decline even faster due to fixed and semi-variable costs.
Since we know how much MMBOE the trust is able to produce, we can easily identify a range for future dividends. If we then add to that the termination value, presto! Consequently, the next questions investors should ask is: "What is the termination value?". Zero (source: http://www.whiting.com/whiting-usa-trust-i/faqs/), nada. This is where a lot of investors have previously been misdirected. Somehow they believe there may be some bullet payment waiting for them when the trust terminates. This is simply not going to happen, as Whiting states on their website.
As the misguidance on the terminal value of the trust is out of the way, we can start by analyzing past dividend history and come up with a forecast of dividends. Let's first take a look at historical dividends: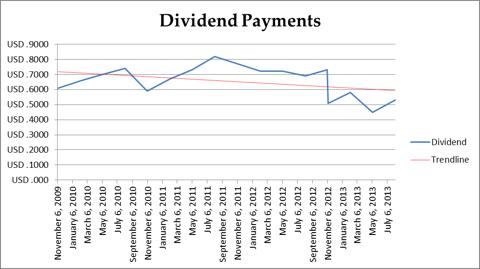 This downtrend is further signified by the forecasts of WHX saying they expect year-over-year decline rates ranging from approximately 9% to 13% between 2013 and 2015. In addition, there are significant fixed and semi-variable costs associated with oil and natural gas production. As these costs will be attributed to WHX, this will further diminish the cash distribution to investors. In addition, the U.S. Energy Information Administration forecasts that oil prices will decrease over the course of 2013 and 2014. While nobody can be absolutely sure on the spot prices in the future, there seems to be no identifiable "upside risks" when it comes to spot prices.
Even if we assume that WHX would last through June 2015 under the following assumptions:
The spot oil and natural gas prices stay constant over time
Fixed and semi-variable costs do not increase
Which are all obviously unrealistic and would provide us with an upwards biased estimate then still the stock is highly overvalued. Using the leftover NPI we can calculate a forecasted dividend based on the cash distribution in the last earnings release (Link to 8-K). We observe that 288,341 BOE has been sold in the last quarter, leading to cash distribution per Trust unit of $0.592. Based on the difference between the total endowment of 8.20 MMBOE and the already produced proportion of 6.86 MMBOE we can calculate the forecasted total dividends, which come in at a "grand" total of $2.75. This is at a 0% discount rate. Consequently, any long-term investor in the stock is grossly overpaying. Even at a zero discount, the fundamental downside is over 50% based on the current stock price.
So is this reflected in the stock price? We will find out in section 3: Key Observations.
Key Observations
What we observe in the chart below is a run-up starting one to two weeks before the ex-dividend date, after which the stock usually falls. On 31 Jan '13, the stock closed at $5.32, to run up to $6.53 (+22.7%) on 13 Feb '13, after which it collapsed to $5.22 after a $0.58 dividend which comes down to a -20.1% return after dividends if you held the stock from 13 Feb '13 through 20 Feb '13. This initial move struck me as highly methodic as it can be modeled completely as expectations of dividend-oriented investors.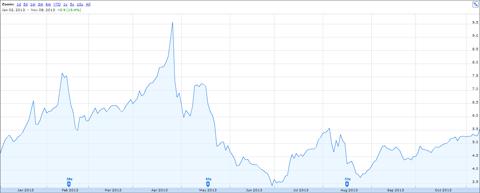 As such, it is interesting to look if this is a frequently occurring phenomenon. WHX closed at $5.6 on 1 May '13 to run up to $6.7 (+19.6%) on 15 May '13 after which it collapsed to $4.9 after a $0.45 dividend. This implies that the stock returned -26.9% if held from 15 May '13 through 22 May '13. The stock continued to tumble further into June '13 as it became clear the intrinsic value of the stock was much less than its implied market capitalization. Eventually WHX hit rock bottom at a price of $3.41 on 27 June '13, implying a crash of -49% from 15 May '13, which was one day before the ex-dividend date. The latest version of WHX's crash-city happened after the last ex-dividend date, 15 Aug '13. One week after the ex-dividend date, the stock stood at $3.85, dropping -19.7% from $5 (adjusted for dividends). Clearly we are on to something here.
So after an initial intuition behind the stock running up towards its ex-dividend date as the dividend yield makes WHX so appealing and collapsing at the ex-dividend date as WHX goes ex-dividend, this was confirmed in the last two instances. And to put it even to larger extremes, WHX seems to exhibit this behavior repetitively as the same results (albeit less profound) were found for the ex-dividend dates 16 Aug '12 and 15 Nov '12. What this implies is that there is large evidence for massive herd behavior in this stock. Those who blindly chase dividend yields will find WHX highly attractive, only to be crushed by the fact that its intrinsic value is far less than its market capitalization.
Strategies
I guess most people will agree with me that WHX is a mixed bag. The evidence is striking; this stock is not worth its market price. As many experienced investors Mr. Market seems irrational at times though. Many people are effectively paying $2 for $1, which would strike many as delusional in the "real world." This divergence of intrinsic value with respect to the price tag Mr. Market.
As such, I propose setting up a strategy which would profit from the price of the stock going down after the ex-dividend date. The stock price seems to run up towards the ex-dividend date, only to collapse after declaration of dividend. So investors take note. For maximum return on investment I suggest taking a short position as soon as possible, as the ex-dividend date is impending on 15 Nov '13.
There are several ways to take a position which profits from the stock going down:
Short stock
Short (write) calls
Long puts
Shorting the stock is possible with Interactive Brokers, which has 65,000 shares available. I must admit though that the current annualized rebate rate is high at -46.375%. Thus shorting the stock is only interesting if applied for a very short period, such as from 14 Nov '13 through 21 Nov '13 as this would imply borrowing costs of ~0.9% over that period. Another possibility, for the somewhat more risk-bearing individuals, is to use options to take a position in WHX. If you are not proficient in the use of options, please steer clear of this section as the margin of error is a lot smaller here.
First we have to analyze the timeframe of this strategy. As the stock market is looming around all-time highs, I will take this into account when it comes to option pricing. As the stock is probably going down after the ex-dividend date, we want to be short Delta (sensitivity of the option price with regard to movement of the underlying), neutral Gamma (sensitivity of delta with regard to the underlying) and long Vega (sensitivity of the option price with regard to change in implied volatility). The latter may come to some as a surprise but option implied volatility (IV), which is the main price gauge of an option, often rises when the stock price shatters down.
Thus, to summarize:
Short Delta
Neutral Gamma
Long Vega
The most effective way to maximize the expected return is to buy a mixture of 15 Nov '13 and 20 Dec '13 puts at the $5 strike price. These currently have acceptable (IV) prices. The delta-elasticity is also quite high for these options, implying that a significant profit can be realized if the stock goes down significantly, which I wholeheartedly expect.
Another possibility is to go short (write) calls. I don't need to point this out to experienced option shorters (writers), but this strategy has unlimited risk and limited profit. This does however ignore the fact that these strategies carry a theoretical edge. The problem with WHX however is that shorting calls is very hard, as market makers are seemingly uninterested in offering any serious bid price. The Time Value (measured by the bid price) and bid-IV of many calls are negative and N/A respectively, implying negative intrinsic value. I view this as another danger sign that there a stock price implosion is impending.
Identifiable Risks
Mr. Market is irrational in some cases in certain periods of time. This poses the greatest risk to any position undertaken in WHX. The intrinsic value of the stock is nowhere near the stock price is trading at. Blinded by the dividend yield, this stock still attracts investors alike honey does bees. The greatest risk is that investors ignore the obvious danger sign and radically buy WHX as a result of the high declared dividend. Certainly in this low-interest rate environment, investors are sometimes driven to extremes.
The general stock market experiences a radical bull market in the period after the ex-dividend date. Since we are still in an upwards trend and have recently touched all-time highs, this is a possibility. However, one must ask how highly correlated is WHX with the general stock market. The graph below explains that WHX moves largely on its own fundamentals, as it has experienced violent volatility during periods of steady rises in the S&P 500: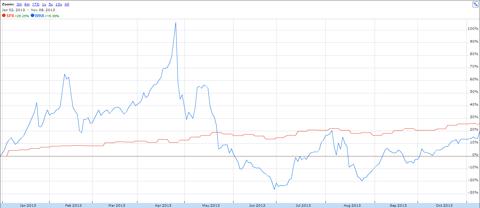 The above risks are, in my opinion, outweighed by the fact that (I) WHX is significantly overvalued; (ii) history shows a stock price implosion following the ex-dividend date and (III) low correlation of WHX with the S&P 500, implying a highly asymmetric risk-return profile.
Disclosure: I am short WHX. I wrote this article myself, and it expresses my own opinions. I am not receiving compensation for it (other than from Seeking Alpha). I have no business relationship with any company whose stock is mentioned in this article.