So what's with the selling?
Readers familiar with our methods know how much we scoff at over-analysis and excessive technical scrutiny. Simply put, the market sold off last week because more investors were eager to flee holdings than buy them. Given the rise of sell-volume over the past month we had plenty of warning here. Volume usually precludes price action. We hoisted our Red Flag Sell Bias to adjust for Distribution Days, where volume comes in higher than the previous day. It happened a total of four times on the Nasdaq and Dow over the last month. With the S&P 500 it happened three times. These Distribution Days tell us that institutions are unloading their positions. When we collect a string of them it's time to look out.
But what's more important is where we're headed next.
The fact that most stock sectors have been notching in 52-week highs is something to recognize in the strength of this dominant Bull leg since March. But only the market knows when, or if, it will turn up again. Until we see sell-volume dry up and Leadership resume we're in correction mode. Most of the major stock indexes and sectors are grappling with their 50-day moving averages. How well they hold them will be telling of future action. Being smack in the middle of earnings season also threatens to shake things up. Market leaders such as Google, Inc. (NASDAQ:GOOG) and Apple, Inc. (NASDAQ:AAPL) have already convincingly sold below their 50-day averages on heavy volume.
We also take note that a steep climb from last March's lows suggests a heavy correction could be in the cards as market players clamor for the exits while they can still count profits. No one wants to see their portfolios drop to last year's lows again.
Technically Speaking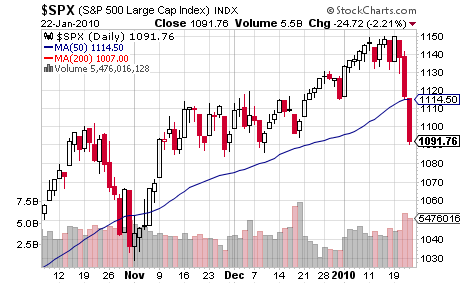 MAJOR INDEX BIAS & PERFORMANCE FOR WEEK


BIAS

Index

Chg.

%

Action

+

DJIA

-437


-4.1%

Crashed below 50-day SMA

+

Nasdaq

-83

-3.6%

Crashed below 50-day SMA

+

S&P 500

-44

-3.9%

Crashed below 50-day SMA

+

Russ. 2K

-21

-3.3%

Held above 50-day SMA

or =

Above

or Below 40-week exponential moving average. + = 50-day SMA is above the 200-day MA
FOUR-WEEK VOLUME INDICATOR BIAS

Accumulation

Distribution

BIAS

Index

Major

Minor

Major

Minor

DJIA

1

2

4

1

Nasdaq

1

1

4

0

S&P 500

2

2

3

1

Russ. 2K

1

0

4

1

Accumulation: index up with more volume than previous day. Distribution: index down with more volume than previous day. Major: > 60-day average, Minor: <.
SECTOR BIAS & PERFORMANCE FOR WEEK

BIAS

Sector

%
Action

U.S. Dollar, $DXC


+1.4%

Hits resistance of 40-wk EMA

+

Gold & Silver Miners, $XAU


-8.1%

Finds support at 40-wk EMA

+
Commodities, $DJAIG


-2.3%

Sells off below 50-day SMA

+

Consumers, $CMR

-2.0%

Sells off below 50-day SMA

+

Cyclicals, $CYC

-6.5%

Sells off to 50-day SMA


+

Technology, $DJUSTC


-4.8%

Sells off below 50-day SMA

+

Semiconductors, $SOX

-4.4%

Sells off below 50-day SMA

+

Software, $GSO

-4.2%

Sells off below 50-day SMA

+

Telecoms, $XTC

-3.5%

Sells off below 50-day SMA

+

Banks, $BKX

-0.7%

Holds above 50-day SMA


+

Broker Dealers, $XBD

-2.7%

Finds support at 50-day SMA

+

Retail, $RLX

-3.1%

Sells off below 50-day SMA

+

Healthcare, $HCX

-1.9%

Holds above 50-day SMA

+

Biotechnology, $BKX

-2.2%

Holds above 50-day SMA

+

Pharmaceutical, $DRG

-1.8%

Finds support at 50-day SMA

+

REITs, $DJR


-4.4%

Sells off below 50-day SMA

+

Homebuilders, $DJUSHB

-5.1%

Holds above 50-day SMA

+

Transportation, $TRAN

-4.2%

Sells off below 50-day SMA

+

Airlines, $XAL


-2.7%

Holds above 50-day SMA

+

Defense, $DFX

-3.9%

Sells off below 50-day SMA

+

Energy Index, $IXE

-5.1%

Sells off below 50-day SMA

or =

Above

or Below 40-week exponential moving average. + = 50-day MA is above the 200-day MA
News To Watch This Week

Earnings:
Economic:
MONDAY: Existing Home Sales

TUESDAY:

Case-Shiller 20-city Index, Consumer Confidence, FHFA Home Price Index

WEDNESDAY: New Home Sales, Crude Inventories, FOMC Rate Decision

THURSDAY:

Initial Claims, Continuing Claims, Durable Orders

FRIDAY:

Chain Deflator-Adv, Employment Cost Index, GDP-Adv., Chicago PMI, University of Michigan Sentiment
This Week's Work On Discipline
"It's not the work that's hard, it's the discipline." — Anonymous