Google (NASDAQ:GOOG) is planning to enter the online video rental market by making selected content available on YouTube for rent. YouTube's selection of quality content like TV shows and movies is currently limited due to restrictions from studios that do not want their content distributed for free or monetized solely from advertising. Google's new rental service could entice studios to distribute more of their content through YouTube.
Large YouTube Audience
YouTube competitors Apple (iTunes) (NASDAQ:AAPL) and Netflix (NASDAQ:NFLX) have been much more successful in monetizing premium content compared to YouTube. However, YouTube's natural advantage is its large reach of consisting more than 430 million internet visitors.
Improving YouTube Monetization
Despite YouTube's large reach, its monetization rates are low compared to Google search. YouTube earns about $1 from advertising for every 1,000 page views on YouTube.com compared to nearly $34 earned by Google from advertising for every 1,000 searches. If successful, YouTube's rental service can help drive up monetization rates which can impact YouTube's value.
If 1% of YouTube's 420 million users rent videos through YouTube once a month on average at a rental price of $3 per video, it would increase YouTube's annual revenues by about $150 million and increase the implied revenue per page view by 15 cents for every 1,000 page views.
Higher rental conversion would be even more signficant revenue per page view - 30 cents at 2% conversion and 75 cents at 5% conversion. With 5% monthly rental conversion, YouTube would have about 21 million paying customers or 50% more than the 14 million subcribers of Netflix where the average subscriber spends $13 per month and rents 6 DVDs per month.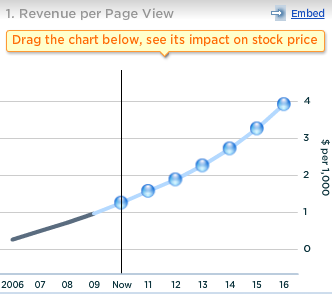 We estimate that YouTube currently constitutes about 2%.of Google's stock price. You can modify our forecast for YouTube's Revenue per Page View to see how its significance can change if monetization improves.
Disclosure: No positions