This article analyzes the most recent quarterly and the trailing twelve months ("TTM") results of Enterprise Products Partners L.P. (NYSE:EPD) and looks "under the hood" to properly ascertain sustainability of Distributable Cash Flow ("DCF"). The task is not easy because the definitions of DCF and "Adjusted EBITDA", the primary measures typically used by master limited partnerships ("MLPs") to evaluate their operating results, are complex and differ from one MLP to another. But it is an exercise that must be undertaken, in conjunction with evaluating an MLP's growth prospects, because Sustainable distributions coverage provides some protection in a downside scenario. When faced with such a scenario, MLPs that cannot maintain their distributions, or are totally reliant on debt and equity to finance growth capital, are likely to suffer significantly greater price deterioration.
EPD is a leading North American provider of midstream energy services to producers and consumers of natural gas, natural gas liquids ("NGLs"), crude oil, refined products and petrochemicals. Its integrated midstream energy asset network links producers of natural gas, NGLs and crude oil from some of the largest supply basins in the U.S., Canada and Gulf of Mexico with domestic consumers and international markets. EPD's business segments are:
NGL Pipelines & Services: This segment includes EPD's natural gas processing plants and related NGL marketing activities, ~16,700 miles of NGL pipelines, NGL and related product storage facilities, 14 NGL fractionators and NGL import and export terminal operations.
Onshore Natural Gas Pipelines & Services: This segment includes approximately 19,900 miles of onshore natural gas pipeline systems that provide for the gathering, transportation and marketing of natural gas in Colorado, Louisiana, New Mexico, Texas and Wyoming. It also includes leased (Texas and Louisiana) and owned (Texas) underground salt dome natural gas storage.
Onshore Crude Oil Pipelines & Services: This segment includes approximately 5,100 miles of onshore crude oil pipelines, crude oil storage terminals located in Oklahoma and Texas, and crude oil marketing activities.
Offshore Pipelines & Services: This segment includes approximately 2,300 miles of offshore natural gas and crude oil pipelines and six offshore hub platforms. It serves some of the most active drilling and development regions, including deep-water production fields, in the northern Gulf of Mexico offshore Texas, Louisiana, Mississippi and Alabama.
Petrochemical & Refined Products Services: This segment includes a) propylene fractionation and related operations; b) a butane isomerization facility and related pipeline system; c) octane enhancement and high purity isobutylene production facilities; d) refined products pipelines and related marketing activities; and e) marine transportation and other services.
Revenues, operating income, net income and earnings before interest, depreciation & amortization and income tax expenses (EBITDA), and DCF for the periods under review are presented in Table 1 below. Given quarterly fluctuations in revenues, working capital needs and other items, a review of TTM numbers tends to be more meaningful than quarterly numbers for the purpose of analyzing changes in reported and sustainable distributable cash flows. However, I present both: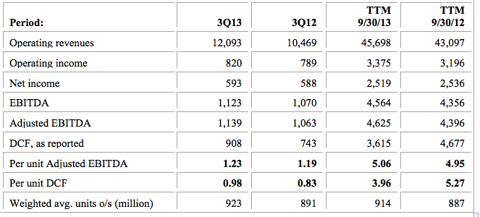 Table 1: Figures in $ Millions, except units outstanding and per unit amounts
Fluctuations in revenues and cost of sales amounts are explained in part by changes in energy commodity prices, especially those for NGLs, natural gas and crude oil. Energy commodity prices in 2012 were lower than they were in 2011 (by ~23% for NGLs, by ~31% for natural gas, and by ~1% for crude oil). In 2013 the picture is mixed. Compared to its average price in the first 9 months of 2012, year-to-date (through 9/30/13) natural gas is up ~42%, West Texas Intermediate crude is up ~2%, Louisiana Light Sweet crude is down ~2.7%, and the weighted average indicative NGL market price is down ~13.6% ($0.99 vs. $1.15 per gallon). Commodity price fluctuations impact both revenues and the associated cost of sales. Hence EPD's focus is on operating margins rather than revenues.
Ethane accounts for the largest volume of NGLs extracted from the natural gas stream (~35% of NGLs produced from natural gas processing and fractionation operations) and its production has increased more rapidly than the ethylene industry's current capability to consume the increase in supplies. This oversupply situation has resulted in a 40% increase in the 9 months ended 9/30/13 vs. the prior year period, ethane rejection by producers and natural gas processors in an effort to balance supply and demand, lower the value of EPD's equity NGL production, and to reduced volumes that would otherwise be handled by EPD's NGL fractionators and pipelines.
All this caused sharp declines in operating margins generated by natural gas processing within the NGL Pipelines & Services segment. However, these declines were largely offset by higher operating margins generated by NGLs (pipelines, storage and fractionation) reflecting increased demand for NGL (propane) export related services and for NGL transportation associated with higher NGL volumes produced in the Eagle Ford shale formation. The placing into service of EPD's sixth and seventh NGL fractionators (in October 2012 and September 2013, respectively) also offset poor results from natural gas processing. Overall, this segment's performance was roughly flat.
Total segment gross operating margin is defined by EPD as operating income before: (1) depreciation, amortization and accretion expenses; (2) non−cash asset impairment charges; (3) operating lease expenses for which it did not have the payment obligation; (4) gains and losses from sales of assets and investments; and (5) general and administrative costs. Segment gross operating margins are summarized in Table 2 below:

Table 2: Figures in $ Millions
Much of the improvement in EPD's total gross margins in 3Q13 and the TTM ended 9/30/13 is attributed to Onshore Natural Gas Pipelines Services and Onshore Crude Oil Pipelines Services. The former benefited from higher volumes of natural gas produced and transported from the Eagle Ford shale formation. The latter benefited from increased crude oil production and transportation volumes from the Eagle Ford, Permian Basin and Rocky Mountains regions.
The gross operating margin decline in Petrochemical Refined Products Services reflects lower propylene sales margins as well as a $24 million 3Q12 gain recorded in connection with a legal settlement.
In an article titled "Distributable Cash Flow" I present EPD's definition of DCF and also provide definitions used by other MLPs. Based on this definition, EPD's DCF for the TTM ended 9/30/13 was $3,615 million ($3.96 per unit), down from $4,677 million ($5.27 per unit) in the prior year period. The generic reasons why DCF as reported by an MLP may differ from what I call sustainable DCF are reviewed in an article titled "Estimating sustainable DCF-why and how". A comparison between reported and sustainable DCF is presented in Table 3 below: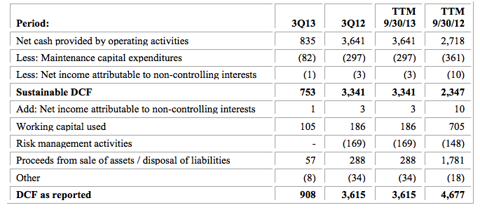 Table 3: Figures in $ Millions
The principal differences between reported DCF and sustainable DCF relate to working capital, to risk management activities and to proceeds from asset sales.
Reported DCF for the TTM ending 9/30/13 includes $186 million of cash consumed by working capital. Under EPD's definition, reported DCF always excludes working capital changes, whether positive or negative. In contrast, as detailed in my prior articles, in deriving sustainable DCF I generally do not add back working capital used but, on the other hand, I exclude working capital generated. Despite appearing to be inconsistent, this makes sense because in order to meet my definition of sustainability, the master limited partnerships should, on the one hand, generate enough capital to cover normal working capital needs. On the other hand, cash generated from working capital is not a sustainable source and I therefore ignore it. Over reasonably lengthy measurement periods, working capital generated tends to be offset by needs to invest in working capital. I therefore do not add working capital consumed to net cash provided by operating activities in deriving sustainable DCF.
Another principal difference between reported DCF and sustainable DCF relates to risk management activities. The $169 million downward adjustment for the TTM ended 9/30/13 reflects monetization of interest rate derivative instruments. I generally ignore cash generated or consumed by interest rate hedging activities in calculating sustainable DCF. EPD accounts for gains and losses related to these activities for the most part as a component of "accumulated other comprehensive income" and amortizes them to earnings (as an increase or decrease in interest expense) over ten years.
Finally, the largest component of the differences between reported and sustainable DCF relates to EPD's proceeds from asset sales ($288 million in the TTM ended 9/30/13 vs. $1,781 million in the prior year period). The bulk of the prior year amount is accounted for by the sale of EPD's ownership interests in the Crystal natural gas storage facilities (located in Petal and Hattiesburg, Mississippi) for ~$548 million and the sale of 36 million Energy Transfer Partners, LP (NYSE:ETE) units for ~$1,351 million. As readers of my prior articles are aware, I do not include proceeds from asset sales in my calculation of sustainable DCF. As shown in Table 4, sustainable DCF increased significantly in the periods under review.
TTM numbers tends to be more meaningful than quarterly numbers for the purpose of coverage ratios. However, I present both. As indicated in Table 4 below, sustainable DCF coverage ratios appear strong:
Table 5 below presents a simplified cash flow statement that nets certain items (e.g., acquisitions against dispositions, debt incurred vs. repaid) and separates cash generation from cash consumption in order to get a clear picture of how distributions have been funded:
Simplified Sources and Uses of Funds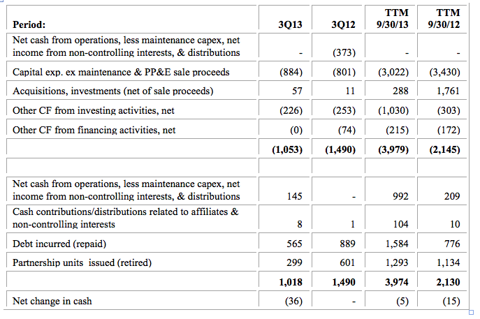 Table 5: Figures in $ Millions
Net cash from operations, less maintenance capital expenditures, less cash related to net income attributable to non-controlling interests exceeded distributions by $992 million in the TTM ending 9/30/13 and by $209 million in the comparable prior year period. EPD is not using cash raised from issuance of debt and equity to fund distributions. On the contrary, the excess cash it generates enables EPD to reduce reliance on the issuance of additional partnership units or debt to fund expansion projects. In its conference call discussing 2Q13 results management stated that, absent an acquisition, it does not expect to be issuing additional partnership units in 2013. Internal cash generation and the balance sheet's debt capacity should be sufficient to fund growth capital expenditure requirements. But in November 2013, EPD issued 9.2 million units at $62.05 per unit, generating net proceeds of $553.4 million. I would therefore not be surprised to see EPD announce an acquisition fairly soon.
Of the $104 million capital contribution from non-controlling interests in the TTM ending 9/30/13, ~$90 million reflects the amount paid in 2Q13 by Western Gas Partners, LP (an affiliate of Anadarko Petroleum) for a 25% stake in a joint venture EPD (75% stake) that will own 2 new NGL fractionators (the seventh and eighth) at Mont Belvieu.
EPD recently announced its 37th consecutive quarterly cash distribution increase to $0.69 per unit ($2.76 per annum), a 1.5% and 6.1% increase over the distribution declared with respect to 2Q13 and 3Q12, respectively. EPD's current yield is at the low end of the MLPs I follow:
| | | | |
| --- | --- | --- | --- |
| | | Quarterly | |
| As of: 11/12/2013 | Price | Distribution | Yield |
| Magellan Midstream Partners (NYSE:MMP) | $61.30 | $0.55750 | 3.64% |
| Enterprise Products Partners | $61.15 | $0.69000 | 4.51% |
| Plains All American Pipeline (NYSE:PAA) | $50.61 | $0.60000 | 4.74% |
| Targa Resources Partners (NYSE:NGLS) | $49.61 | $0.73250 | 5.91% |
| El Paso Pipeline Partners (NYSE:EPB) | $39.95 | $0.65000 | 6.51% |
| Buckeye Partners (NYSE:BPL) | $65.59 | $1.07500 | 6.56% |
| Kinder Morgan Energy Partners (NYSE:KMP) | $80.60 | $1.35000 | 6.70% |
| Energy Transfer Partners (NYSE:ETP) | $52.51 | $0.90500 | 6.89% |
| Williams Partners (NYSE:WPZ) | $49.45 | $0.87750 | 7.10% |
| Suburban Propane Partners (NYSE:SPH) | $46.15 | $0.87500 | 7.58% |
| Regency Energy Partners (NYSE:RGP) | $24.55 | $0.47000 | 7.66% |
| Boardwalk Pipeline Partners (NYSE:BWP) | $27.72 | $0.53250 | 7.68% |
Table 6
Overall, major capital projects in which EPD had invested $2.9 billion were completed and put into service in 2012 (i.e., started generating fee-based cash flows). In 2013 management expects to invest ~$4.2 billion in growth capital projects and to place into service another $2.4 billion of projects, of which $1.5 billion was completed through 9/30/13 and $0.9 billion is to be completed in 4Q13. Management expects an additional $4.5 billion of projects under construction to be completed in 2014 (~$3 billion will be placed in service in 1Q14) and ~$3 billion will be placed in service in 2015. The revenues from these projects will be predominantly fee-based and supported by long-term contracts.
EPD's breadth of operations and diversification is expressed through an asset portfolio that includes ~50,000 miles of onshore and offshore pipelines, 200 MMBls of storage capacity for NGLs, petrochemicals, refined products and crude oil, 14 billion cubic feet of natural gas storage capacity, 24 natural gas processing plants, 21 NGL and propylene fractionators, six offshore hub platforms located in the Gulf of Mexico, a butane isomerization complex, NGL import and export terminals, and octane enhancement and high-purity isobutylene production facilities.
I think EPD's premium price is justified on a risk-reward basis given this breadth, as well as EPD's size, strong management team, portfolio of growth projects, structure (no general partner incentive distributions), relatively low leverage, excess cash from operations, history of minimizing limited partner dilution and performance track record. I consider EPD to be a core MLP holding and would continue to accumulate on weakness.
Disclosure: I am long EPB, EPD, ETP, ETE, PAA, SPH, WPZ. I wrote this article myself, and it expresses my own opinions. I am not receiving compensation for it (other than from Seeking Alpha). I have no business relationship with any company whose stock is mentioned in this article.