We launched a new series of articles last month with the premise of building a dividend portfolio from scratch by leveraging the collective knowledge and opinions of the Seeking Alpha community. In parts 1 and 2, we highlighted the investment plan and strategy for the portfolio and parts 3-13 will highlight each sector in the S&P 500, including high-rated stocks within each sector to consider for the portfolio. Readers can either vote on the stocks we suggested for the portfolio or "write in" their own stocks to vote on. Majority will rule.
Below is a schedule of the entire series. Please make sure to "follow" us so that you will be notified when each new article is published.
Technology
The Technology sector as a whole has performed relatively well over the past 5 years, with a total return of 158.3% (which is the 2nd highest among the nine S&P 500 sectors). Of all the sectors, Technology has the highest weighting (~16%) in the index and Technology stocks tend to lead the market higher in a bull market.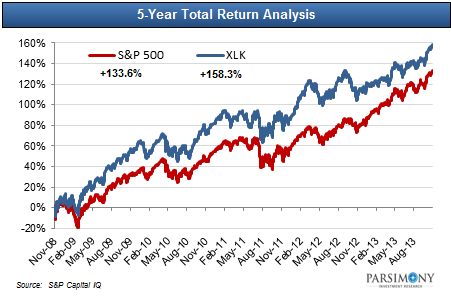 Although the Technology industry is considered cyclical in nature, the sector as a whole has beta below 1.0 (0.93) and many stocks in the sector are relatively stable.
Given the characteristics above (higher relative total return and below average relative beta), the Technology sector is another sector that we suggest an "overweight" allocation in (10%-15% of total portfolio).
That said, below are several high-rated Technology stocks to consider. Please vote in the comment section below for your 3 or 4 favorites. Feel free to "write-in" your own votes... remember that this is a democracy!
CA Technologies (NASDAQ:CA)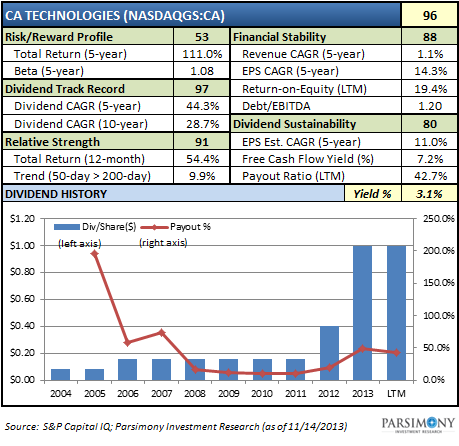 CA has paid a dividend to shareholders (without a decrease) for 23 consecutive years now, but until recently the stock was probably off the radar of most dividend investors. Since 2011, CA has increased its dividend 525%! Does that have your attention? The company has very good ratings for Financial Stability (88) and Dividend Sustainability (80) and we expect CA to be a solid dividend growth stock for years to come.
Seagate Technology (NASDAQ:STX)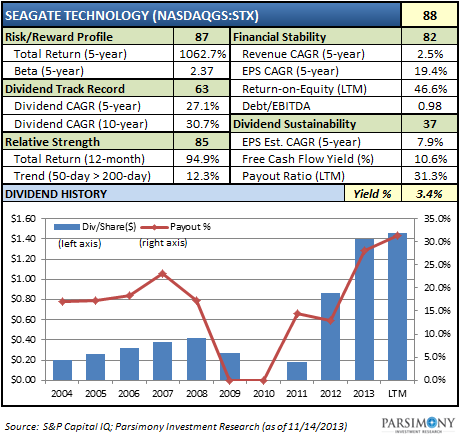 STX had some issues during the recession and the company was forced to cut its dividend. That said, the Company hired a new CEO in early 2009 and we believe that Seagate is back on track. The new management team has clearly made its dividend policy a priority. Seagate has a great rating for Financial Stability (82) it has a very nice dividend yield (3.4%). STX has delivered shareholders a whopping 1,062% total return over the past five years, and it has increased its dividend at a compound annual rate of 27.1% over that period. This is definitely a stock to keep on your radar.
Verizon Communications (NYSE:VZ)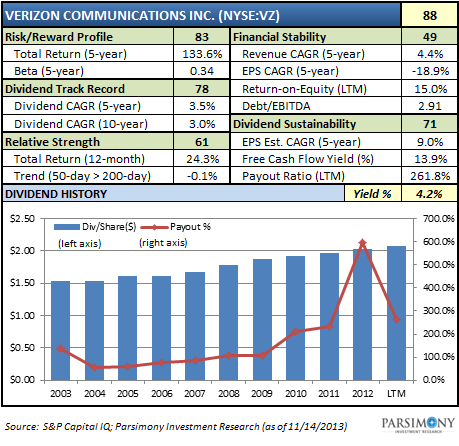 VZ recently increased its dividend for the 7th consecutive year in 2013 and we believe that this trend will continue for the company. Telecommunication providers like VZ tend to rate relatively low in Financial Stability and Dividend Sustainability due to the capital intensive nature of their business model. However, VZ generates a very consistent level of free cash flow every year, which is extremely attractive to long-term dividend investors. Also, VZ has a relatively low beta (0.34) and we think that its cash flows are very "utility-like."
Apple Inc. (NASDAQ:AAPL)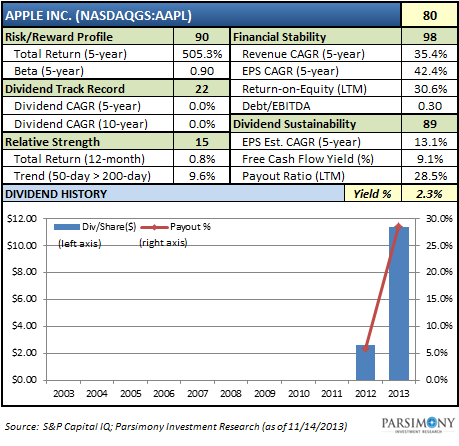 Yes, AAPL just started paying a dividend last year, but we think the company has the potential to be the greatest dividend stock of all time. Apple carries very high ratings for Financial Stability (98) and Dividend Sustainability (89). Unfortunately, AAPL can't do anything about its short Dividend History, but dividend growth investors should be able to look past this short history given the Company's financial stability and future dividend potential. AAPL's current dividend yield is lower than we like (2.3%), but we think their is a lot of room for growth here.
Microsoft Corp. (NASDAQ:MSFT)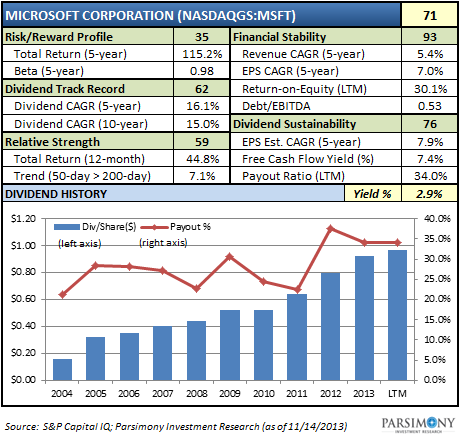 MSFT has been paying a dividend for 10 consecutive years now and it has been a great dividend growth stock. MSFT has grown its dividend at a compound annual rate of 15% over the past 10 years and we expect this growth to continue in the future. MSFT still has a relatively low payout ratio (34%) and the company generates a ton of cash flow every year. What more could you ask for out of a dividend stock?
Summary
Any DIY Dividend Portfolio should include several stocks from the Technology sector. Many stocks in this sector have offered investors great risk-adjusted returns.
FEEDBACK REQUEST: Please vote for your favorite Technology stocks in the comments section below. If you don't like any of the suggestions above, please feel free to "write-in" a vote of your own. Remember ... majority rules!
In Part 9b of this series, we will highlight our specific "Buy Zones" for each of these stocks, which will help us determine whether or not to pull the trigger on any of the stocks that we choose to put on our watch list. Please make sure to "follow" us so that you can participate in the entire process.
Disclosure: I am long AAPL, CA, VZ. I wrote this article myself, and it expresses my own opinions. I am not receiving compensation for it (other than from Seeking Alpha). I have no business relationship with any company whose stock is mentioned in this article.