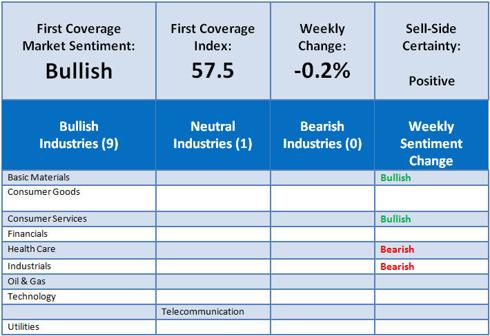 Sell-Side Find Itself At Odds With Itself
Data continues to support anything you want…for now
Another week into 2010 and the rift between sell-side professionals who think we're fine and those who feel we're not continues to grow. For every stock that has a sentiment move up, there's one that moves down. For each bullish industry, there's a bearish one during the past week. While overall market sentiment stays fairly static, there's an immense amount of movement underneath the surface.
While neither side can yet point to irrefutable data that backs them up, both sides can point to question marks that weaken the other's position. And before the sell-side get accused of being reckless, it's not that professionals within our industry are taking uninformed positions about future market direction; rather it's the fact that the information is so ambiguous right now that it can support either side.
Health Care reform: dead or slowed? Ben Bernanke: in or out? Volcker Plan: real or rhetoric? Double Dip recession: valid or paranoia? China: able to engineer a soft landing or not? Last week's market drop: blip or bear?
All these uncertainties have created an environment where for the first time in over a year and a half market participants are desperately trying to convince others of the merit of their arguments. It's almost like how one imagines a real market should work instead of everybody spinning data first one way and then the other.
In the context of this debate, as each new piece of data emerges, it is scrutinized and analyzed by both sides to determine if it stands a chance of being "The Piece" that unifies The Street and sends this market in to its next leg, up or down.
Over the years that we've been tracking sentiment, we have occasionally found ourselves with markets that have divided the sell-side. Typically, in that environment of uncertainty, the market stays range bound even as it undergoes periods of sharp moves. Rapid and quick movements occur and revert to current index levels until eventually a data points convince one side or the other to defer. When that occurs, sentiment then shifts as a precursor of a sustained market move. Until that occurs it is likely there will be lots of noise and lots of static in the market movements, but not much in the way of a valid signal.
Good isn't good enough when you're expecting better.
As we start 2010, market reactions to corporate earnings are demonstrating that today's bulls are like 2009's bulls. There are no simple market optimists in rose-colored glasses to be found; there are just realistic bulls and realistic bears. Current sell-side professionals might differ over whether the market can be supported at these levels by fundamental underpinnings, but they are all aware that the only thing that can and should continue to take us higher is much better than expected data.
So, without anyone knowing how good is good enough, (clearly better than consensus, clearly better than whisper numbers), it's no surprise that amongst all this confusion of what's to come, the VIX as a proxy for uncertainty had a mighty resurgence, rallying itself into the high 20s for the first time in ages.
At the very least, this divided market has come together on one thing. Whatever position they are advocating to their buy-side clients, they recognize that that risk is back in fashion and must be respected.
Stocks to Watch
Over the last week the following stocks had the largest bullish and bearish sentiment shifts amongst the sell-side.
Bullish:
| | | | |
| --- | --- | --- | --- |
| | | | |
| | Quanta Services | Industrials | NYSE |
| | Neutral Tandem | Technology | NASDAQ |
| | Huntington Bancshares | Financials | NASDAQ |
| | Exxon Mobil | Oil & Gas | NYSE |
| | Freeport McMoRan Copper | Basic Materials | NYSE |
Bearish:
| | | | |
| --- | --- | --- | --- |
| | | | |
| | Correct Cp Amer | Industrials | NYSE |
| | Petrohawk Energy | Oil & Gas | NYSE |
| POT | Potash Corporation of Saskatchewan | Basic Materials | NYSE |
| | Johnson & Johnson | Healthcare | NYSE |
| | Westamerica Banc | Financials | NASDAQ |
Until next week …
Disclosure: No positions