Cameco (NYSE:CCJ) is the go to name in the uranium space. Uranium prices have been in the dumps since the Fukushima disaster in Japan, their decline exacerbated by the addition of military uranium finding its way into the market as part of agreements by nuclear capable countries to convert a portion of the uranium in their nuclear weapons to peacetime uses under the "megatons to megawatts" program. That program is scheduled to end this year.
Forecasts vary but the general consensus is for uranium demand to keep growing in line with world electricity usage with nuclear reactors having about a 12% share of total supply. Reactor construction has resumed after a bit of a lull and today there are 62 reactors under construction worldwide, with China, Russia and India having the largest programs.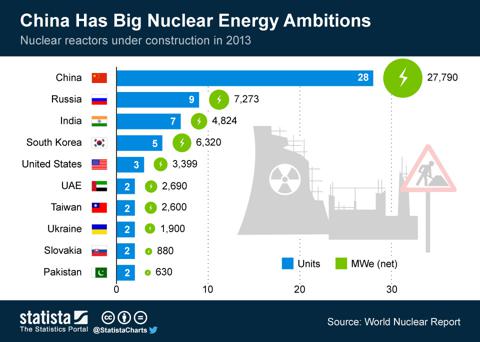 The end of the military supply combined with construction of new reactors in excess of those being decommissioned points to modest growth for the next decade or more. Raymond James sees a shortage developing by about 2020.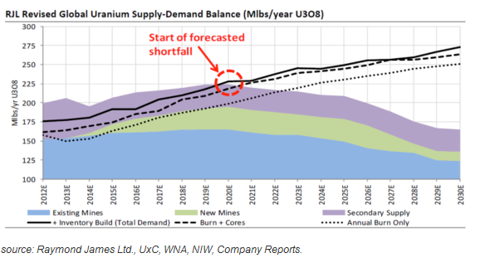 Uranium spot prices have been under pressure for at least the past year, and many potential mines await financing. Paladin Energy, Bannerman and European Uranium Resources are examples of juniors with promising projects currently on hold waiting for some firming in prices. The delay in new mines is likely to bring forward or exacerbate the forecast supply shortages.
The carnage in uranium prices has been brutal. From prices that exceeded $100 a pound in 2007-2008, uranium prices fell sharply and now the spot market prices appears to be about $36 to $38 a pound. Raymond James forecasts uranium prices to gradually increase over several years, reaching the $70 per pound range in the 2017 time frame

The spot price may be near a bottom. Long term contract prices tend to be higher than the spot price and have not been as badly affected by the depressed market state since 2010.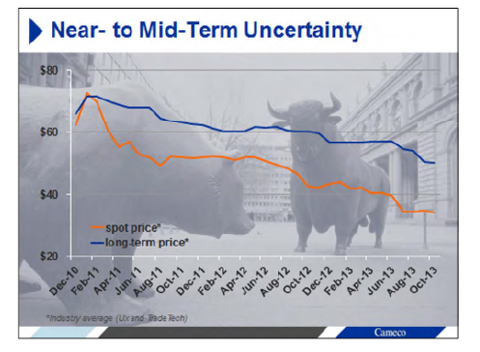 With almost 1 billion pounds of uranium reserves and resources and all in cash costs of less than $30 per pound of uranium, Cameco will be a major beneficiary of higher prices.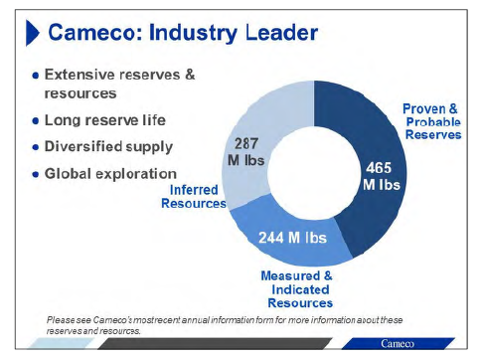 Cameco sees a net increase of 22 reactors online by 2022 leading to steady growth in uranium demand.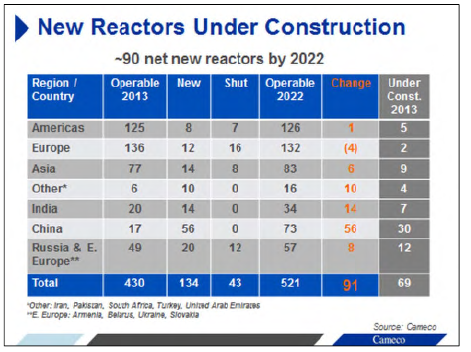 By Cameco's estimates about 20% of this growth in demand will need to be filled by new supply sources.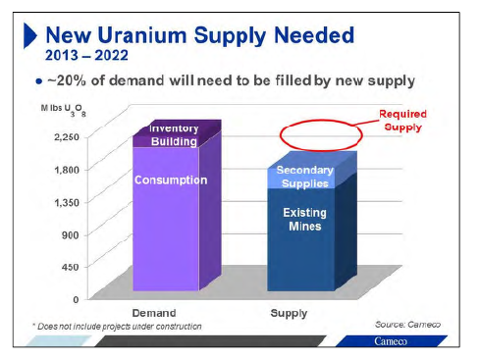 Cameco plans to increase its own output to meet the growth in demand.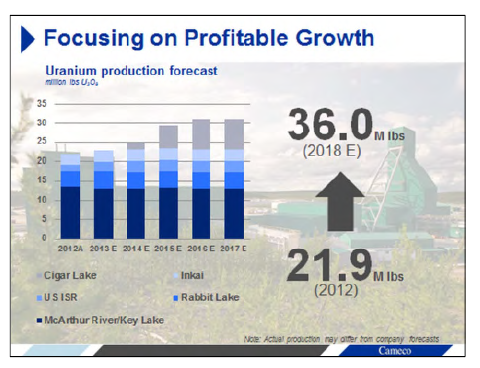 If prices do reach the $70 per pound level and Cameco reaches its 36 million pounds output level by 2018 with costs of less than $30 per pound, Cameco profit from uranium sales could reach $1.4 billion dollars, up rough 70% from current levels. Add in Cameco's other income sources such as nuclear fuel services and electricity, and Cameco could reasonably earn $2.50 to $3.00 per share within 3 or 4 years. At that income level, the stock should trade in the range of $30 to $40 per share.
I am long calls on 10,000 Cameco shares.
Disclosure: I am long CCJ. I wrote this article myself, and it expresses my own opinions. I am not receiving compensation for it (other than from Seeking Alpha). I have no business relationship with any company whose stock is mentioned in this article.