The refinery sector has had a rough go of it for much of 2013. However, the sector is behaving much better recently as the price between West Texas Intermediate and Brent crude has once again started to diverge. The largest North American refiner, Valero (NYSE:VLO), is up more than 15% in the last month after being a laggard most of the year. Other stocks within the sector have followed suit.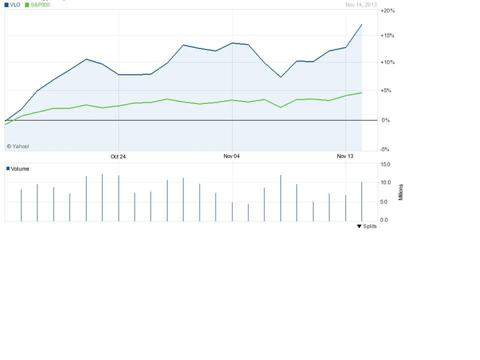 I think this trend can go for awhile as valuations in the sector based on peak earnings are low and the spread between Brent and WTI (West Texas Intermediate) now stands at more than $10/bbl which is positive for refinery margins. Barron's got into the act this morning by profiling two of the larger refiners it finds attractive at current levels. I think both can move higher.
HollyFrontier (NYSE:HFC) operates as an independent petroleum refiner and marketer in the United States. The company operates 5 refineries with a combined crude oil processing capacity of 443,000 barrels per day. Barron's noted HollyFrontier will continue to see cost benefits from its proximity to plentiful shale oil, which can be even cheaper than WTI.
The company has a very solid balance sheet with almost $1B in net cash on the books. In addition, the stock pays an almost three percent dividend (2.7%). After falling in the low double digits this year, revenue growth should return in FY2014 with analysts calling for ~5% sales gains next year.
In addition to Barron's, HollyFrontier was also recently singled out by analyst firm Howard Weill as significantly undervalued. HFC sells for just over 5x its 2012's earnings. The company also beat estimates on the top and the bottom line in its last reported quarter earlier this month.
Tesoro (TSO) is one of the largest refiners in North America and also operates some 2,200 retail gas stations. In the report from Credit Suisse in Barron's, the analyst firm states Tesoro has the best-positioned facilities in U.S. refining. In addition, Tesoro's valuation may not reflect the benefits that will result as it moves pipeline, storage and other assets into its Tesoro Logistics (TLLP), a Master Limited Partnership (MLP).
After posting earnings of almost $7 a share, profits this year will be down ~50% this fiscal year. However, analysts believe earnings will pop back to over $5.50 a share in FY2014. The company has a solid balance sheet with net cash on the books and pays a slightly over a two percent dividend yield. An insider bought over $400,000 in new shares two months ago. It was the largest insider purchase in at least two years. The stock sells ~15% below its highs of earlier this year.
One final note. The EPA is proposing (now open for comment) lower renewable fuel mandates for 2014. Rising costs for renewable fuel credits along with declining crack spreads earlier in the year were two of the biggest headwinds to refinery earnings in 2013. This would be a significant win for the sector and looks like it has a high probability of happening.
Disclosure: I am long VLO. I wrote this article myself, and it expresses my own opinions. I am not receiving compensation for it (other than from Seeking Alpha). I have no business relationship with any company whose stock is mentioned in this article.