For CBS, Sprint (NYSE:S) and Time Warner Cable (TWC) we show you how high levels of debt make their stock prices very sensitive to changes in their business fundamentals.

How Debt Can Influence Actions

The sensitivity of the stock price (and equity value) of a company to debt can limit its willingness to invest in new and risky business lines since the consequences of failure could mean that the company edges closer to breaking debt convenants and risking bankruptcy. In comparison, cash rich companies like Apple (NASDAQ:AAPL) and Google (NASDAQ:GOOG) can invest heavily in new businesses without the same burdens of debt laden companies. Over time, differences in the wilingness of debt laden vs. cash rich companies to invest in new businesses can have consequences for how those companies grow.

Enterprise Value, Net Debt & Equity Value

For CBS, Sprint and Time Warner, we first estimate the total value of each company's businesses, also known is the total enterprise value of the company. The total enterprise value is represented by the right-hand side of the visual below. For example, for CBS, the total enterprise value consists of the sum of each business division - CBS Network, plus TV Licensing, plus Showtime Networks, etc.

The left-hand side shows how the total enterprise value is split into net debt (e.g. debt minus cash), illustrated in red, and the remaining equity value of the company which determines our $9 price estimate for CBS's stock.

CBS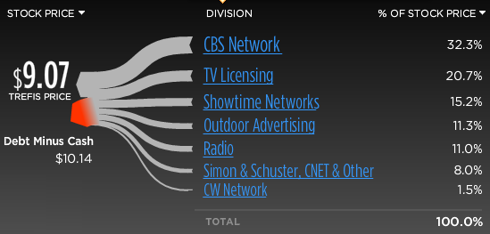 The sum of the values all of CBS's businesses is about $13.1 billion but CBS's equity value is only $6.2 billion or $9 per share as shown above. The difference is attributable to CBS's net debt of $6.9 billion or $10 per share. This means that holders of CBS's debt effectively have claim to about 53% of the $13.1 billion of value from CBS's businesses.

To see the sensitivity of CBS's stock as a result of debt, you can modify a key driver of CBS's value such as CBS TV Ad Pricing.

Sprint Nextel
Similar to CBS, about 57% of Sprint's enterprise value is claimed by debt. We have a Trefis price estimate of $4 per share for Sprint and estimate that the company has nearly $5.50 of net debt per share.

Despite this, our $4 per share estimate for Sprint still represents nearly a 20% premium to Sprint's market price of $3.48.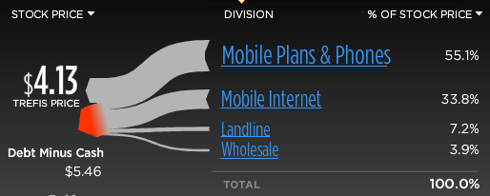 You can see how sensitive Sprint's stock price is by modifying the Sprint Mobile Subscriber Plan Pricing forecast.

Time Warner Cable
Time Warner Cable's debt burden is even more significant than that of CBS and Sprint. Trefis estimates the company's stock price to be about $35 per share. Time Warner Cable has net debt of about $61 per share which constitutes about 64% of TWC's enterprise value.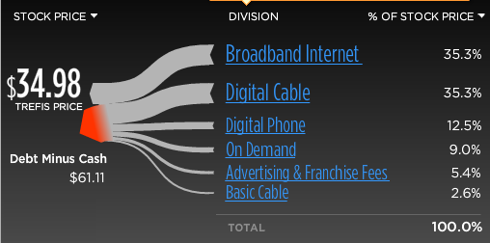 You can see how sensitive Time Warner Cable's stock price is by modifying the Fee per Broadband Subscriber forecast.

Other companies covered by Trefis with significant debt burdens (as a percentage of the company's value) include: AMD (42%), New York Times (NYSE:NYT) (41%), Verizon (NYSE:VZ) (38%) and Comcast (NASDAQ:CMCSA) (35%).

You can modify our forecasts for any of the companies above to see how high levels of debt make a stock price more sensitive to small changes in a company's business fundamentals.

Disclosure: No positions