Last week was another quiet week in terms of the number of physical gold transaction on the COMEX, which was very similar to the previous week. But on Thursday we saw one of the largest transactions in weeks as over 50,000 ounces of registered gold from the HSBC warehouse was transferred from registered to eligible status. This took COMEX registered gold inventories to a new all-time low at under 600,000 ounces.
Keeping track of COMEX inventories is something that is recommended for all serious investors who own physical gold and the gold ETFs (GLD, PHYS, and CEF) because any abnormal inventory declines may signify extraordinary events behind the scenes that would ultimately affect the gold price.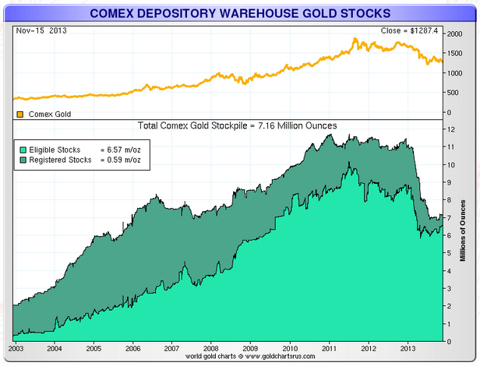 Source: ShareLynx
We will take a closer look at these numbers but let us first explain the COMEX a little more for investors who are unfamiliar with it.
Introduction to COMEX Warehousing
COMEX is an exchange that offers metal warehousing and storage options for its clients. The list of their silver warehouses can be found here and their gold warehouses can be found here. In the case of silver and gold, the metal is stored at these official warehouses on behalf of banks and their clients and can be used to settle futures contracts, transferred between clients, or withdrawn from the warehouse. This offers large holders of precious metals a convenient way to store their metal with minimal storage fees - very convenient indeed if you hold large amounts of gold or silver and you don't want to store them in your basement.
Silver and gold stored in these warehouses can fall into two categories: Eligible and Registered.
Eligible metals are those that conform to the exchange's requirements of size (1000 ounce bars for silver and 100 ounce bars for gold), purity, and refined by an exchange approved refiner. Eligible metals are stored at COMEX warehouses on behalf of banks or private parties, but are not available for delivery for a futures contract.
Registered metals are similar to eligible metals except that these metals are also available for delivery to settle a futures contract. COMEX issues a daily report on gold, silver, copper, platinum, and palladium stocks, which lists all the metal that is currently stored in COMEX warehouses and how much eligible and registered metal is present.
This information allows investors insight into how much metal is currently backing COMEX futures contracts, what large gold and silver owners are doing with their metals, and how many clients are requesting delivery of their metals. There is a lot more to glean from this information but for the purpose of this article we will focus on the gold drawdown.
This Week's Changes: One Large HSBC Transfer Brings Registered Gold Inventories to a New Low
Let us now take a deeper look at the gold draw-downs being seen in the COMEX warehouses.

As investors can see, last week saw a slight rise in total COMEX gold inventories as 4,829 ounces were added to COMEX warehouses. But the change in registered gold (gold available for delivery) has been relentlessly dropping over the last 8 months. Last week saw a transfer of 51,617 ounces from registered to eligible status, which brought total COMEX registered gold to a new all-time low of 587,235 ounces.
COMEX Gold Open Interest and Registered Gold Owners per Ounce
Finally, let us take a look at possibly the most important number when it comes to COMEX gold inventories - the registered gold cover ratio. We've discussed this in depth in a previous article, so please refer to that article for details, but in a nutshell it is the amount of investors owning a claim to each registered gold ounce (i.e. owner per registered gold ounce).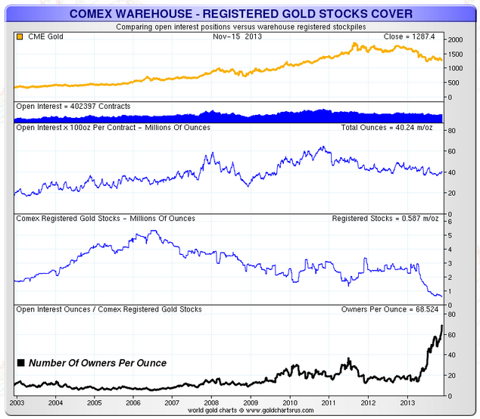 Source: ShareLynx
The drop in registered gold inventories resulted in a new all-time high in owners-per-registered ounce, as the ratio soared to over 68.5 owners per registered gold ounce. Let us take a step back and understand what this means - it means that if only 1 contract out of every 68 contracts on the COMEX asked for delivery, there will not be enough gold to cover the delivery requirements. To see how abnormal this is, all one has to do is look at that last chart in the image above and see the unprecedented and parabolic rise in the "Number of Owners Per Ounce." As we always advise investors, whenever you see a parabola in anything financial, it usually precedes a major event. We believe something is coming - we just don't know what and when.
Addressing the Argument that COMEX Gold Went Elsewhere and Thus it Will Simply Come Back
In our last article one of the comments by user "Glenart" asked the following good question:
How is all of this bullish for gold? Is someone surmising that eventually all of this gold will have to be delivered back to the CME and thus there will be a huge spike in demand for gold? Could not the gold which was taken out of the warehouse simply be put back? It is not like oil which is consumed in gasoline, fuel oil etc......The gold went somewhere aka to another vault in Dubai or Russia or China, right?
It is a very good question and so we wanted to address it in a proper fashion. It is true that COMEX gold is not being consumed or disappearing - it is merely migrating elsewhere, in this case probably to China, India, or the Arab countries. So why is this bullish for gold?
There are two reasons. First, when physical gold is bought, it is a much different purchase than paper or ETF gold. Buyers of physical gold are not looking for a 5 or 10% gain in price, they are looking for a much larger gain or simply to keep the gold and preserve their wealth for the future. Thus they will not be buying gold at $1300 to sell at $1400 or $1500. So for the gold to return to the COMEX warehouses, it would need a much higher price than the current price - clearly bullish for gold.
Secondly, and perhaps more importantly, as gold leaves the COMEX the exchange is still trading essentially the same amount of contracts - it is not like open interest is declining significantly. As shown by the owners-per-ounce ratio, that means there are more claims on less gold, and what this is doing is turning the COMEX (from what once was a physical exchange) into a paper exchange without much gold to back it up.
By itself this may not be of much concern, but the danger comes when the COMEX continues to be a price-maker for gold. In the past when gold inventories were sufficiently high, the COMEX could have that credibility, but at a certain point without sufficient registered gold backing, all it would take is a loss of confidence or an event that necessitated clients requesting delivery - and the whole house of cards would come down. We may not see a collapse of the market, but we will almost certainly see a stunning rise in the gold price as contract holders scrambles to acquire the physical gold that they thought would never be requested. That's what happens when you have a derivative determining the price of its underlying asset - which is what we now have with the COMEX.
What does this Mean for Gold Investors
All the fundamentals that made gold a strong investment over the past decade still remain. Now, we're seeing claims on COMEX registered gold hitting all-time highs as registered inventory drops to new all-time lows. Therefore we continue to recommend investors continue to accumulate physical gold and the gold ETFs (GLD, PHYS, CEF) while the physical gold supply continues to drop. For investors looking for higher leverage to the gold price, they may want to consider miners such as Goldcorp (NYSE:GG), Agnico-Eagle (NYSE:AEM), Randgold (NASDAQ:GOLD), Newmont (NYSE:NEM), or even some of the explorers and silver miners such as First Majestic (NYSE:AG).
The current danger that we see is that the COMEX is a price-maker of the gold market, but it doesn't have the gold to actually back up this price-making ability. It is like the old lion that is "King of the Jungle", and all the young lions fear him because in the past he was always the biggest and the strongest. But now his claws are dull and his teeth are broken, but since he still has quite a roar, nobody has challenged him yet - but that time is coming and when it does, the paradigm in the jungle will change because he can't truly defend his position as the King of the Jungle.
Everybody knows that the COMEX warehouses have nowhere near enough gold to back up the contracts traded - yet the COMEX is arguably the single most powerful determinant of the gold price. But when that challenge comes, and it always does, the paradigm will change and each one of those contract holders will realize that 67 other people have claims on their same gold. Investors should ask themselves which side of the trade they want to be on - as for us we will be happy to own the physical gold.
Disclosure: I am long SGOL, AG, GG, GOLD, SIVR. I wrote this article myself, and it expresses my own opinions. I am not receiving compensation for it (other than from Seeking Alpha). I have no business relationship with any company whose stock is mentioned in this article.
Additional disclosure: We also own physical gold and continue to acquire it on an ongoing basis for us and our clients