Our general takeaway after surveying calendar third-quarter results from peers Hershey (NYSE:HSY), Colgate-Palmolive (NYSE:CL), and Unilever (NYSE:UN) was that performance in the consumer staples space was mostly positive during the third quarter, and that emerging-market performance remains robust (even though Unilever toned down expectations a bit).
Clorox's (NYSE:CLX) better-than-expected fiscal first-quarter results released Thursday did not deviate from the mostly positive newsflow. Sales expanded 2% (3.5% excluding the negative impact from currency), and the company recorded pretax profit growth of 7%. Volume for the fiscal first quarter advanced 1% thanks to gains from Professional Products, Charcoal, Laundry and Burt's Bees offset by declines in Home Care. Gross margins were flat as cost savings and price increases mitigated higher manufacturing and logistics costs.
However, cash-flow performance was relatively weak. Net cash from operations fell materially from the mark in the year-ago period, but significant capital spending reductions help free cash flow roughly hold the line ($152 million versus $154 million in the year-ago period). Free cash flow as a percentage of sales came in at 11.5% during the quarter, down from 11.5% in the same period a year ago.
The quarterly numbers are hardly breathtaking, but they are quite good in the face of rising commodity costs and a heightened competitive environment. Looking ahead, Clorox expects sales growth of 2%-3% for 2013, flat to 25 basis points of EBIT margin expansion, and $4.45-$4.60 per share in earnings.
Valuentum's Take
We love Clorox's return on invested capital relative to peers (shown below), and its hefty dividend yield is attractive (also shown below). However, its long-term debt load relative to only about $323 million in cash on the balance sheet lessens our enthusiasm about owning shares in our portfolio. We'd like to see a stronger balance sheet and free cash flow trending in the positive direction for the firm to gain the honor of being included in our Dividend Growth portfolio. Shares of Clorox are not cheap at roughly 20 times fiscal 2014 earnings.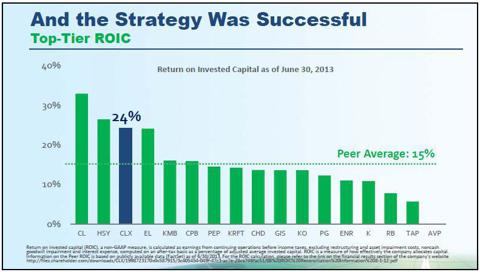 Image Source: Clorox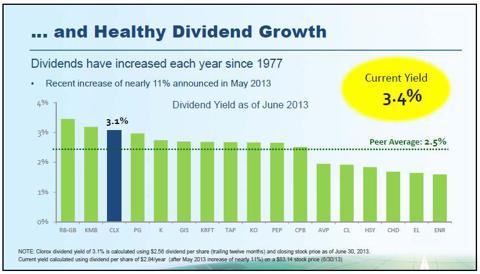 Image Source: Clorox
Disclosure: I have no positions in any stocks mentioned, and no plans to initiate any positions within the next 72 hours. I wrote this article myself, and it expresses my own opinions. I am not receiving compensation for it (other than from Seeking Alpha). I have no business relationship with any company whose stock is mentioned in this article.