Preface: At the current price, I am a long time fan of AMD (NASDAQ:AMD) for turnaround and rebuilding reasons (see my previous article on cloud gaming catalysts and a potential rebound) and I have been a longtime complacent Nvidia Corp. (NASDAQ:NVDA) bull, mainly for the reason that NVDA has less growth potential. Though the company has been historically significantly better off financially, I have been put off by it's already impressive market share and dominance in most semi-conductor segments. That being said, despite solid financials I simply never saw an undervaluation or potential opportunity for growth sufficient enough to justify its multiples to earnings, which I would argue are pricing in future growth. This is furthermore backed up by the dropping of Nvidia in exchange for Qualcomm (NASDAQ:QCOM) by Google (NASDAQ:GOOG) in it's Nexus tablet lineup. However, I believe that the Nvidia Tegra tablet put forth recently has a distinct opportunity to penetrate the tablet market for a number of reasons. Before I push forward, remember that specs don't tell the whole story for any tech investment, as told by the story of Apple's (NASDAQ:AAPL) extensive ecosystem and brand loyalty.
A New Breakthrough in Mobile: Gaming, An Ultra Responsive Stylus, and Other Differentiators at an Unbeatable Price
At the core of this article is the new Tegra tablet, I have to say it has exceeded my expectations. Yes, I acknowledge that in comparison to the only other reasonable $200 (roughly) tablet, the Nexus 7, it has a 720P HD screen, and the new Nexus 7 has an immaculately impressive full 1080P, 1980x1200 resolution screen. This, and the tablet's RAM make it seem like the surefire winner in a head to head matchup. However, I believe that the Tegra tablet has enough differentiators to appeal to a significantly greater audience. Google dropped Nvidia due to "competitive pricing," but in settling for something "cheap and simple," Google missed the train on a whole new approach to tablets. The new Tegra tablet differentiates itself with numerous key attributes that few others can perfect so well. Nvidia has the top spot in independent, discrete GPU performance, and has long been a king in the world of gaming. It appears that the company is attempting to revolutionize the tablet gaming sector. The Tegra 4 processor offers unprecedented gaming performance for the tablet medium. Dual speakers give ample sound, something HTC One fans can relate to. In gaming, this gives an unequaled surround sound experience. The 5-MP rear-facing camera offers a better experience than the first-gen Nexus 7, comparable to the Nexus 7 2013. Though the device is a slight bit heavier than competitors, it does so in an ergonomic and attractive manner. You won't worry that this tablet will slip from your hand any time soon. Combine the aforementioned with an impressive redefinition of the stylus experience, and you get an unprecedented value for the price. The compromises that have been made are well worth the differentiation, though this is a matter of opinion that I will hope to persuade you to later on in the article, most notably through gaming brand loyalty.
Summary of Product-Defining Features as Listed on the Pre-order Site:
3X Faster Stylus Performance with NVIDIA DirectStylus™
Finer Point and Broader Stroke Control

More Flexibility and Precision for a more natural Writing Experience

Offers the same writing experience you have on paper.

-TechGenius.it
Widest Frequency Range in a tablet with NVIDIA PureAudio

Unique port dedicated to bass
World's First HDR Camera in a Tablet - Capture exactly what your eye sees
Tap-to-Track - Keep any object in focus as it moves

Slow-Motion - Gear down the action for drama and effect
World's Best Gaming Tablet
TegraZone: The Best Android games

HDMI out: Connect to the Big Screen and Game

Built for NVIDIA Tegra game controllers: Turn your tablet into a console
Over-the-Air (OTA) Updates provided directly by NVIDIA
TegraZone: The Best Android Games

Time-to-Market with latest Android OSes and Maintenance Releases

Always New: Ongoing performance improvements and new features
A History of Extensive Brand Loyalty
Despite extensive competition from other sectors, the PC gaming industry raked in 20 billion dollars in 2012. Of this market, Nvidia has taken a vast majority of market share. What does this mean? This means that Nvidia has taken a segment of the market was indifferent previously, and has the potential to pull that segment into the tablet market through impressive brand loyalty. Gamers who would otherwise choose the Nexus 7 for specs are now more inclined to side with the new Tegra tablet. Gamers who otherwise were turned off by tablets and satisfied by laptops are now more inclined to enter the tablet industry. Combine this with the potential theft of market share from otherwise indifferent iPad users who could leave due to gaming performance, and you've got quite a sizeable market.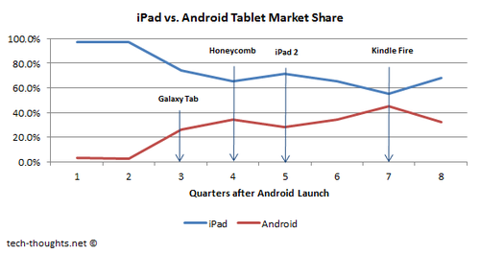 Combine this with a still expanding market in tablets, and the case is clear. While iPad Minis have a less significant effect on Apple's earnings because of the company's market cap, this has big implications for Nvidia.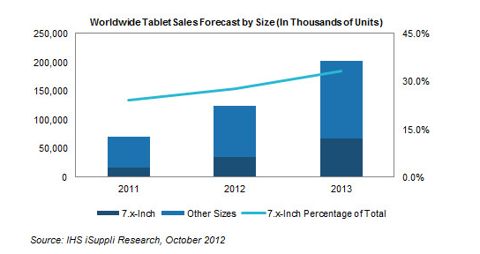 Remember too, these differentiators come at a price point that few can match, which more than makes up for the few aforementioned setbacks. This opens up the company to a variety of new users, whether teenage gamers who's parents also enjoy paying one hundred dollars less or the more mature gamer who recognizes the versatility of using a micro-Hdmi port available few places else to game on a big screen TV, bearing in mind that these segments represent not only new tablet consumers but consumers previously loyal to other brands. And did I mention the Micro-SD (up to 32GB) capabilities? This is a product loaded with differentiators that have big implications for the future tablet landscape.
The Current Financial Health of the Company
Forgetting the potential market penetrations of this tablet and future successors, including the potential for a 10 inch Tegra tablet, Nvidia is already an extremely healthy company financially. Let's take a look at the financial guts of the company. In the last 3 years, the company's EPS has grown from .03/s to .93/s. Looking at the book value, we see a growth from $4.74/s to $7.82/s over the same period. Combining these statistics with impressive free cash flow growth, and we have an all around impressive technology company, as far as valuation is concerned.
The Potential Financial Implications
The aforementioned being said, Nvidia's entry into this market represents impressive growth potential, particularly given the previously mentioned potential differentiators that may cause theft of market share. With the top five tablet vendors shipping nearly 50 million units in a single non-holiday quarter, if Nvidia can even come close to matching the no-name other low cost value brands that make up nearly a third of the market, with a margin that represents $20-40 per tablet shipped, combined with only 500M shares of NVDA stock, annually this represents tremendous potential. Don't forget as well, the market is growing tremendously, even if Apple's iPad numbers at the premium price point don't show tremendous growth in sales.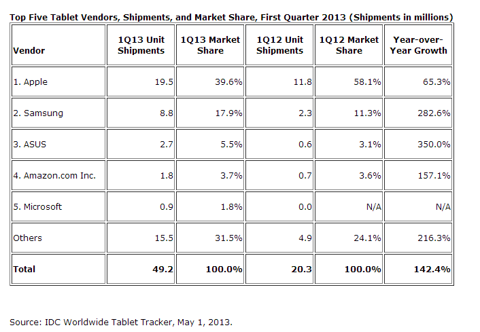 Conclusion
Ultimately, I am a complacent bull on Nvidia regardless of the new EVGA tablet, simply because of the company's dramatic expansion and growth potential as displayed over the last several years, combined with immaculate financial condition. However, the new flagship tablet represents a tremendous potential for drastic market penetration, simply because of the tablet's appeal to a wide variety of consumers, both those who currently own tablets as well as those who were previously averse. In any case, as a Nexus 7 fanboy I can attest that this new product changes the landscape entirely.
Disclosure: I am long NVDA. I wrote this article myself, and it expresses my own opinions. I am not receiving compensation for it (other than from Seeking Alpha). I have no business relationship with any company whose stock is mentioned in this article.