We continue to maintain our positive outlook on Supernus Pharmaceuticals Inc. (NASDAQ: SUPN) shares as the company continues to report impressive results and has had an excellent year so far, with the launch of two products for treatment of epilepsy. In February this year, the company launched Oxtellar XR™, which generated a 108% sequential increase in prescriptions during 3Q13, up from 2Q13. This was followed by the launch of Trokendi XR™ in the U.S. in September that has already generated 4,711 prescriptions since its launch. Trokendi XR is also expected to do well in the antiepilepsy drug market, given the drug's novel, once-a-day profile which is expected to improve compliance. Expectations for the market opportunity for Trokendi prescriptions are big given the more that 10 million topiramate prescriptions annually.
Offering Differentiated Products versus Competitors
Globally, epilepsy affects 50 million. In the U.S. alone, the condition affects some 2 million people. U.S. sales of antielpelipsy drugs (AEDs) totaled $4 billion in 2011, according to IMS Health. While there are over 15 approved AEDs available in the U.S., there is a need for improved AEDs, given the lack of compliance with existing treatments, which require multiple doses per day and are associated with acute side effects. This is where Supernus' Oxtellar XR and Trokendi XR come in. Oxtellar XR is the extended release version of Novartis' (NYSE: NVS) Trileptal (oxcarbazepine), while Trokendi XR is the extended release version of Johnson & Johnson's (NYSE: JNJ) Topamax (topiramate).
The two products have supported clinical data that highlight their unique and differentiated profiles compared to immediate release competitive products. They both offer once daily dosages, which are critical to compliance and offer 24 hour smooth and steady pharmacokinetical profiles that avoid large blood-level fluctuation of immediate release products. Such fluctuations can be associated with side-effects and breakthrough seizures.
Trokendi XR received final approval from FDA in August was launched thereafter in US. The product is expected to capture significant topiramate market share. New clinical data, which will be released at the American Epilepsy Society ((NYSE:AES)) Meeting in December in Washington DC, is further evidence that Trokendi XR has the potential to significant market share.
New Clinical Data Expected Drive Sales
During their earnings call on Wednesday and earlier in a press release, Supernus indicated that they will release new clinical data at the AES meeting. The company said that the first abstract, "Cognitive Effects of Extended-Release, Once-Daily Trokendi XR™ vs b.i.d. Immediate-Release Topiramate (TPM-IR, Topamax®) in Healthy Volunteers" will be presented at the meeting on December 7, 2013.
Topiramate is a potent, broad-spectrum AED that can lead to distinctive cognitive symptoms such as word-finding difficulty. In a small subset of patients receiving TPM-IR, neuropsychometric tests have shown significant negative changes, especially in verbal fluency. However, the study results, which SUPN will release next month, showed that the concentration-time profile of once-daily Trokendi XR was associated with significantly less negative impact on Controlled Oral Word Association (COWA). In other words, Trokendi XR has less effect on cognitive function when compared to TPM-IR. The study results once again highlight the potentially improved side-effect profile of SUPN's extended release drug. These improved clinical results will influence increased physician acceptance of Trokendi XR.
A Sustainable, Bullish Outlook for Trokendi XR
The outlook for Trokendi XR, as well as Oxtellar XR, is already quite bullish. Investment bank firm Jefferies expects peak sales of Trokendi XR to reach $235 million by 2021. Oxtellar XR peak sales are expected to reach $258 million by 2021, according to Jefferies' estimate. Given the size of the AED market and the improved side-effect profile of the two drugs, these numbers are achievable. In fact, the new clinical data could boost Trokendi XR sales even further.
Solid Third Quarter Results Point; Solid Execution
Supernus reported third quarter net product revenue of $1.26 million, which was slightly below analyst consensus estimates. Net product revenue for the period was $1.1 million and was comprised of 3,648 Oxtellar XR prescriptions filled at the pharmacy level during the second quarter of 2013. The company's product gross margin was 97%.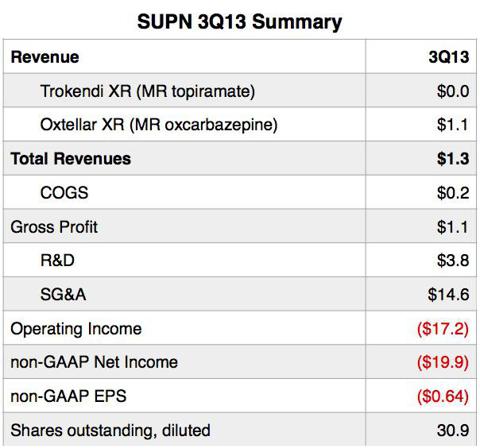 For the nine months ended September 30, 2013, Supernus' product shipments to wholesalers totaled $13.8 million, of which $6.6 million has been collected in cash from wholesalers through the first nine months. As of September 30, 2013, the balance amount has been recorded as accounts receivable.
Supernus also ended the third quarter with $102.5 million in cash a strong cash position which will further the company's efforts to increase market penetration and distribution of Oxtellar XR and Trokendi XR. The company also reduced its expected cash burn guidance to $70 to $75 for 2013 from a prior range of $95 to $85 million.
Supernus Has Significant Upside Potential
Supernus shares are currently trading at $7.09 per share and 2.6x 2014 sales, when considering the company's enterprise value of $210 million. This is a sharp discount to it's peers which trade at an average Given SUPN's robust outlook, shares currently look undervalued. In addition, the company has a robust product pipeline. SUPN currently trades at a significant discount to comparable companies, according to Jefferies. The brokerage firm currently has a price target of $13 based on its sales outlook for Oxtellar XR and Trokendi XR. Other brokerage firms also have a bullish outlook on SUPN. The latest clinical data for Trokendi XR has made Supernus an even more attractive proposition.
Disclosure: I have no positions in any stocks mentioned, and no plans to initiate any positions within the next 72 hours.
Business relationship disclosure: Disclosure: I have no positions in any stocks mentioned, and no plans to initiate any positions within the next 72 hours.Business relationship disclosure: COCKRELL GROUP does and seeks to do business with companies covered in COCKRELL GROUP Research. As a result, investors should be aware that the firm may have a conflict of interest that could affect the objectivity of COCKRELL GROUP Research. Investors should consider COCKRELL GROUP Research as only a single factor in making their investment decision.Certification: The following analysts hereby certify that their views about the companies and their securities discussed in this report are accurately expressed and that they have not received and will not receive direct or indirect compensation in exchange for expressing specific recommendations or views in this report.Unless otherwise stated, the individuals listed on the cover page of this report are research analysts