The purpose of this series is to highlight stocks that are undervalued, profitable, underperformed the market, and have a favorable technical outlook. The stock that I will be covering for my undervalued series this week is SolarWinds Inc (NYSE:SWI). SWI stock has fallen 17.60% in the last quarter compared to the S&P 500 (NYSEARCA:SPY), which has gained 8.63% in the last quarter. I believe SolarWinds is a solid undervalued long-term choice to gain exposure to the continued growth in the importance of IT management for companies. SolarWinds provides IT management software, which helps companies manage its whole IT network, which includes monitoring and managing, servers, databases, networks, applications, data storage, and security. The largest portion of revenues for SolarWinds comes from recurring revenues, which includes subscription revenues, and maintenance revenue. In the most recent earnings report, recurring revenue grew 42% y/y and the recurring revenue segment represented 60.86% of revenues. The second segment of SolarWinds business is its new license segment, which accounts for roughly 40% of revenues, and I believe slow sales growth in this segment caused SolarWinds stock price to fall after it reported earnings.
Value
To value SWI I will be using a DCF calculator, with data for earnings and growth coming from Zacks.com, benchmark data from longrundata.com, and CPI data from the BLS. The DCF table below shows shares of SWI is undervalued by 29.40%, which represents a significant opportunity for price appreciation for shares of SWI.
EPS [ttm]: $1.36
Long-term Growth Rate: 22.50%
Earnings grow for next: 5 years
Level off: to 1% after
Benchmark return: 10 yr annualized SPY return of 7.59%+1.20% inflation= 8.79% benchmark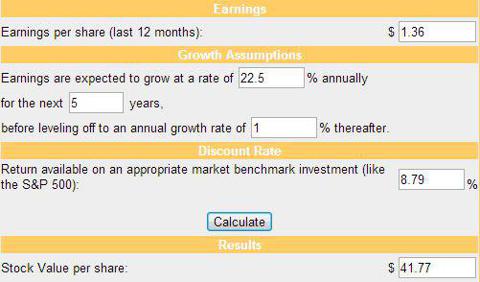 Technical Outlook
The chart below shows that shares of SWI have been in a significant decline since SWI hit a high of just over $61 in March. However, SWI recently bounced off a support level [red line], which was the level where the stock broke out from in early 2012. This level is important because SWI failed to breakout above this level in November 2011, and then it broke out above it in December 2011 only to fall back below shortly thereafter. Then at the end of beginning of February 2012, shares broke out above the $31.74 level once again, and in that instance shares moved significantly higher for all of 2012, and the early part of 2013. With the round trip that shares of SWI has made and the stock having recently bounced off this level of support, I expect SWI will hold that support level and continue its bounce higher towards my price target.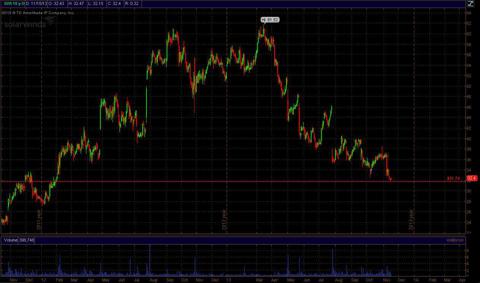 Catalyst
The biggest catalyst for SolarWinds going forward is the continued growth in IT spending & complexity of new technologies. In a recent analyst day presentation, the slide below shows an estimate of the TAM [Total Addressable Market] for its products and services is $73 billion, and of that, 30% is made up of recurring revenue, which is the largest segment and growth driver for SolarWinds. Based on these estimates and data from its most recent earnings report, SolarWinds had a 0.24% market share in recurring revenue segment. [Rec. revs of $53.5 million / $21.9 billion TAM for rec. revs=0.24%] In addition, the slide below shows that the TAM is growing, therefore SolarWinds has a huge opportunity to continue growing its piece of a growing pie.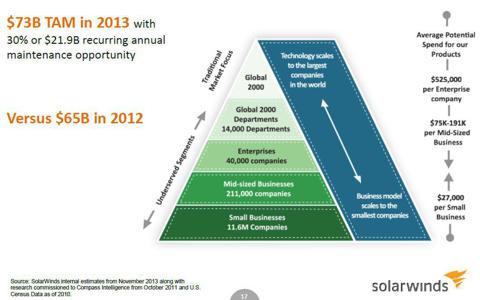 Another catalyst for SolarWinds is its history of acquisitions, which most recently includes Confio software, and N-able. Confio software, which provides database performance management software and its products are used by 40% of Fortune 50 companies according the news release of the acquisition. N-able provides cloud based remote monitoring & management software to companies who are choosing to offer cloud based services to their customers. With the continued trend and growth of cloud computing, this puts SolarWinds in a good position to capitalize on companies moving services to the cloud.
Risks
The biggest risk to SolarWinds is a decrease in new license revenues. In the most recent quarter sales growth was only 5% for new license revenues, and compared to the 42% growth in recurring revenues over that same period, it is easy to see something could be potentially be wrong. The cause of the slow sales growth according to the recent earnings report was a "22% decline in U.S. Federal new license sales." With the drop in revenues from the federal government, this could lead to a future slowdown in recurring revenue because without new license revenue from a source as large as the federal government, future recurring revenues could be impacted by this.
Closing thought
I believe shares of SWI are poised to move higher from current levels, because the stock is undervalued, the stock recently was near support and SolarWinds is positioned to grow its market share in a growing addressable market. In addition, SWI has been a proven free cash flow generator, with the company at the end of the most recent quarter $222.9 million in cash, and SolarWinds has no debt. SolarWinds has three main uses for its free cash flow, investment in its business, acquisitions, and share buybacks. In the most recent quarter, SolarWinds initiated a $50 million buyback, which represents just over 2% of its current market capitalization, which is not a large number, but when combined with meaningful acquisitions & investments in its business, this will lead to a strong business and in turn a higher stock price. Based on all these factors, I believe going forward shares of SolarWinds in the long-term will move higher to my fair value estimate of $41.77.
Disclosure: I have no positions in any stocks mentioned, and no plans to initiate any positions within the next 72 hours. I wrote this article myself, and it expresses my own opinions. I am not receiving compensation for it (other than from Seeking Alpha). I have no business relationship with any company whose stock is mentioned in this article.