Introduction - Biologics, Biosimilars, and Hospira
Many pharmaceutical insiders are convinced that biological drugs or biologics, represent the future of the industry. Unlike traditional small molecule drugs (Lipitor, Prozac, Viagra, etc.), biologics are made up of large macromolecules, such as nucleic acids, antibodies, and proteins. The unique composition and large size of these molecules allows a level of tissue and disease selectivity not possible in the small molecule context.
Unsurprisingly, the development of novel biologic drugs has become a competitive and crowded field populated by both small biotech startups and Big Pharma. One of the emerging growth areas in the biologics space is that of biosimilars, which are generic versions of biologic drugs that have gone off-patent.
A Brief History of Biosimilars
Biosimilars present a unique challenge in that the raw size and synthetic complexity of most biologics makes it functionally impossible to create an exact chemical copy of the brand-name product. Instead, the goal is to make something that is 'similar' to the brand-name drug both in terms of composition and pharmacological functionality (thus the term 'biosimilar'). The intensive trial and error necessitated by this process means that even creating a sample for the FDA approval (a trivial step in the production of small molecule generics) is prohibitively expensive for most companies.
Further complicating matters is the FDA requirement that any approved biosimilar must perform 'equivalently' in the human body when compared its brand-name counterpart, a process which to date has been plagued with difficulty. As a result, the FDA has not yet approved any biosimilars for use in the United States. The real-world consequences of this situation are threefold.
First, generic equivalents of biologic drugs cannot be brought to market as quickly and easily as traditional small molecules. Second, the production of biosimilars will be restricted to only the small subset of biotech and Pharma companies that have both the financial and technical resources for such an effort. Third and finally, the relatively unsettled landscape of this new field strongly suggests that a few of these companies will reap unanticipated profits from biosimilars.
One of the companies best situated to take advantage of the aforementioned uncertainty in the biosimilar space is Hospira (NYSE:HSP). Hospira recently achieved approval in Europe to market their biosimilar version of Remicade (infliximab). Remicade, a monoclonal antibody, is an injectable drug used for the treatment of rheumatoid arthritis worth over $2B in annual European sales. European distribution of the biosimilar product, aptly named Inflectra, is set to begin in select markets in 2014, with the full continental rollout coming a year later in 2015 (different patent expiry dates for brand-name Remicade in individual EU countries are behind this two-tiered approach). Notably, Inflectra was the first monoclonal antibody biosimilar approved anywhere. This significant accomplishment suggests that Hospira has both the technical and financial wherewithal to be a serious competitor in the biosimilar space and thus outperform current market expectations.
While 2015 may be a long way off, remember that one-year forward guidance is in play and may change at any time. While an investor in Hospira must be patient, it is very likely that the wait will be worthwhile.
Financial Summary - Hospira Under the Hood
Hospira was founded in mid-2004 though a spinoff from Abbott Laboratories (NYSE:ABT) and has since become a diversified global pharmaceutical company specializing in generic products. The company does the majority of its business in the Americas (79% of revenues), with Europe (13%) and Asia-Pacific (8%) making up the rest. In 2012, Hospira's global sales were distributed as follows: injectable drugs (2012 sales of $2.56B, 63%), medication management systems ($1.02B, 25%), and contract manufacturing services ($0.51B, 12%). Hospira's recent European approval for Remsima suggests that their injectable drug business is primed for significant growth over the next few years.
The real question for investors is how much overall upside can be expected for Hospira solely on the basis of its growing biosimilar pipeline? One potential answer can be found by comparing the size of the potential Remicade/Remsima market to Hospira's revenue. The company's total annual sales are $4.02B, while the European market for Remicade alone is over $2B (Figure 1). Hospira is currently projecting that they will be able to offer its generic Remsima at a 30% lower price than the brand-name product. As mentioned earlier, patent issues are preventing Remsima from being sold in the entire European market until 2015. However, this does leave a smaller yet still significant portion of the market (about 20%) available immediately. This should allow Hospira to make a small profit while they iron-out any production and distribution issues ahead of the start of pan-European sales in 2015. This potential is reflected in Hospira's last quarterly earnings report, which surpassed expectations. Meanwhile, guidance for the next 12-month period remains at $2.00-$2.10 per share. Finally, it should be noted that Hospira's efforts with Remsima in Europe will likely put it in great position for U.S. market entry in 2018, when Remicade's American patents expire. At present, Remicade's U.S. sales exceed $4B.
Figure 1: Hospira Past and Recent - Sales and Earnings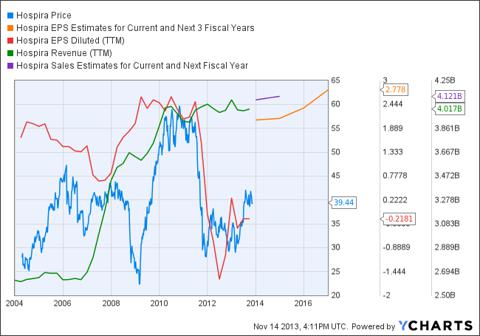 Source: Y-Charts
Another sign of Hospira's upside is that the firm continues to invest heavily in the research and development (R&D) for new biosimilar drugs ($304M, 7.4% of sales, in 2012 alone). Far from being the only biosimilar in Hospira's pipeline, Remsima is currently joined by no fewer than eleven other drugs also in development. Like Remsima, these drugs are nearly all designed as injectable therapies, which fits neatly in the company's well established reputation for delivering high quality injectable generic drugs. It is therefore very likely that the firm's investment in developing biosimilar products, such as Remsima will put it in prime position to enter the much larger U.S market when the FDA is finally ready to approve its first biosimilars.
Nonetheless, all of this potential does not come cheaply. Hospira's 2012 Annual Report estimates a cost of $100-$200M per approved biosimilar drug over a 7-8 year period of research and development. This suggests that Hospira is putting future growth above current earnings and is likely to accelerate R&D spending as its biosimilars pipeline matures.
Figure 2: Hospira Research and Development Costs 2010 through 2012

Source: Hospira 2012 Annual Report
Conclusions - Not a Secret for Much Longer
An investment in Hospira is a two-fold strategy. First, the company has a very dependable market share in injectable generic drugs. These do not have huge growth, but provide ballast and dependable cash flow. Second, this cash flow is critical to fueling the growth-oriented biosimilar pipeline that is the subject of this article. It seems highly likely that Hospira's biosimilar pipeline will create products that will be accretive to margins and supply revenue growth. These in turn will fuel share price appreciation and above average returns.
On the basis of Remsima's approval alone, Hospira is very likely to outperform analyst expectations. Figure 1 is a chart showing that the market expects nearly flat growth for the company through the end of 2014. As mentioned previously, entry into the $2B market for Remicade/Remsima is only the beginning of a larger biosimilar picture, which includes a pipeline that is anticipated to gain numerous approvals in both in the European Union and eventually the United States as well.
Until now, this pipeline has remained beneath most investors' radar. However, this situation is unlikely to continue as the company's successes become more visible to the American press.
Disclosure: I am long HSP. I wrote this article myself, and it expresses my own opinions. I am not receiving compensation for it (other than from Seeking Alpha). I have no business relationship with any company whose stock is mentioned in this article.
Additional disclosure: The above article represents the author's analysis of Hospira. However, it should not be considered a solicitation to buy or sell shares. Always perform due diligence prior to taking a long position in any stock.