(Editors' Note: This article covers a micro-cap stock. Please be aware of the risks associated with these stocks.)
This is an update to the latest rankings for the 25 BDCs that I cover and a follow up to "BDC Rankings: October 2013" taking into account recently reported BDC results, revised analyst ratings and EPS estimates as well as the new analyses from my most recent articles [Fifth Street Finance (FSC), Golub Capital (NASDAQ:GBDC), Gladstone Capital (NASDAQ:GLAD), and Medley Capital (NYSE:MCC) have not yet reported due to fiscal year end]. I am still working on the allocations for my five BDC portfolios including my personal favorite the "Total Return BDC Portfolio" but I will probably wait for the other four companies to report first.
These are the five general criteria I use to evaluate BDCs:
Profitability (dividend coverage, fees, NAV and EPS growth)
Risk (portfolio quality and vintage, rate sensitivity, diversification, volatility)
Return (sustainable, consistent, growing)
Analyst Opinions (outlook, price targets)
Valuation (NAV, P/E, growth rates, total return)
The table below does not actually contain whole numbers and the totals might be different (by 1) due to rounding:
I will not get into specifics for each company in this article but will highlight some of the major changes. Overall I was pleased with the results from the companies reporting so far. Most of the companies that were ranked higher in my previous articles did well even if they missed EPS estimates and many of the ones that have been ranked lower missed by a much wider margin and/or did not cover dividends with net investment income ("NII").
Highlights:
Beat: Ares Capital (NASDAQ:ARCC) beat by 20%, Hercules Technology Growth Capital (NASDAQ:HTGC) beat by 20%, Triangle Capital (NYSE:TCAP) beat by 15%, THL Credit (NASDAQ:TCRD) only beat by 3%
Hit or Close: TCP Capital (NASDAQ:TCPC), Fidus Investment (NASDAQ:FDUS), New Mountain Finance (NYSE:NMFC), Main Street Capital (NYSE:MAIN) missed by almost 8% but covered dividends and raised them for Q4 and Q1 2014 as well as paying special dividends, Prospect Capital (NASDAQ:PSEC), TICC Capital (TICC)
Missed: BlackRock Kelso Capital (NASDAQ:BKCC) missed by 52% and did not cover dividends, American Capital (NASDAQ:ACAS) missed by 30%, Full Circle Capital (FULL) missed by 10% and did not cover dividends, KCAP Financial (NASDAQ:KCAP) missed by 8% and did not cover dividends, MCG Capital (NASDAQ:MCGC) missed by 8% and did not cover dividends
NAV Per Share Growth:
MAIN was the big winner so far this quarter with a 7% increase in its net asset value ("NAV") per share or 28% annualized while ACAS only grew a little over 1% or 5% annualized. The difference is that MAIN pays an increasing dividend with special dividends while ACAS does not, and the increase in its NAV per share is how investors are rewarded.
Another winner was HTGC that grew its NAV per share by 3% which is why it is part of my total return BDC portfolio along with MAIN. The big loser so far was FULL that lost almost 7% in value for the quarter. I will provide further details in focus articles for most of these BDCs.
Investment Portfolio Growth:
This is a key indicator for the upcoming Q4 results and many of the companies that had lackluster results but larger portfolio growth should see some upside in Q4. The biggest growth from a percentage standpoint was obviously from the smaller BDCs including two of my favorites TCPC (23%) and TCRD (13%). There was also higher growth in two of my lower ranked BDCs, BKCC (13%) and KCAP (17%), both of which have had troubles covering dividends but may surprise in coming quarters and I will try to provide projections soon. The other BDC with higher than average growth was PennantPark Floating Rate Capital (NASDAQ:PFLT) at 27% and recently increased its dividend.
Below are the rankings without the valuation and analyst categories that I believe is a more appropriate view of the underlying companies.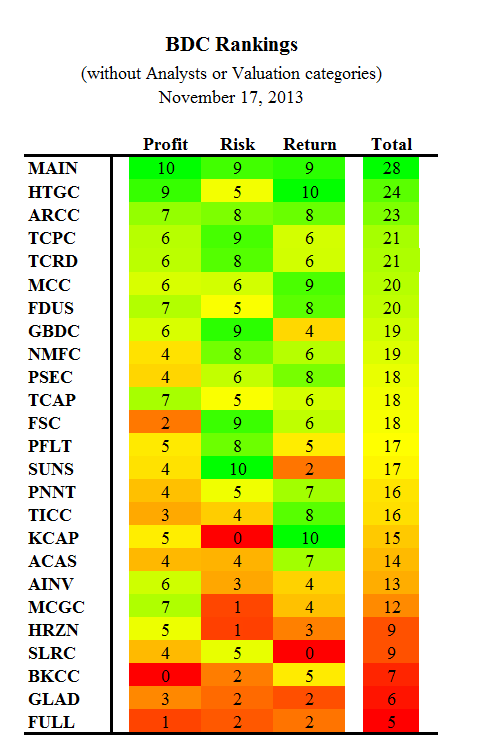 BDCs such as KCAP and ACAS fall while others such as TCRD, FDUS, HTGC, and Golub Capital BDC (GBDC) rise. Obviously these are my personal rankings but I thought it was interesting. Just because a stock seems cheap or is recommended by an analyst does not make it a good investment.
Many of the ranking changes that were not related to pricing or analyst opinions were because of some of the new metrics I have incorporated from recent articles including:
Over the next few weeks I will try to cover many of these companies through focus articles and address changes in rankings as well as projections and risk profile information. I will also be adding new metrics along the way and will share my analysis.
Investors should only use this information as a starting point for due diligence. See the following for more information:
Disclosure: I am long PSEC, TCRD, TCPC, NMFC, ARCC, MAIN. I wrote this article myself, and it expresses my own opinions. I am not receiving compensation for it (other than from Seeking Alpha). I have no business relationship with any company whose stock is mentioned in this article.