Last Thursday, Epizyme (NASDAQ:EPZM) released a phase 1 update on their lead cancer candidate EPZ-5676. The market reacted negatively taking the shares down from $32 to as low as $18, then closing at $19.94. Friday morning, the company held a conference call with the CEO discussing the initial results of the ongoing phase 1 dose escalation trial. The shares dropped yet again to close at $19. Based on the company's optimistic EPZ-5676 phase 1 update and continuation of testing, large pharma partners, and pipeline potential, I believe the market has overreacted and the current share price presents a compelling buying opportunity.
Company Background
From the company's website: Epizyme® is a clinical stage biopharmaceutical company that discovers, develops and plans to commercialize innovative personalized therapeutics for patients with genetically defined cancers.
Epizyme IPO'd on May 31, 2013 at $15 per share and by July shares had eclipsed the $40 mark and had gone over $45 intraday.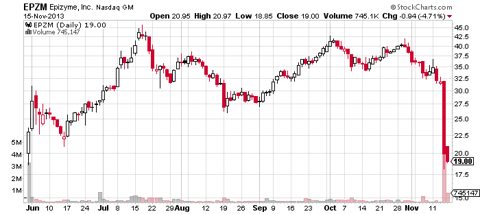 Epizyme's personalized anti-cancer gene therapy has generated significant interest from large pharmaceutical companies willing to partner up to get access to Epizyme's technology. Below is a quick overview of large pharma partners...
Celgene (NASDAQ:CELG)
Candidate: EPZ-5676 for mixed lineage rearranged leukemia (MLL-r)
Upfront Payment: $65M + $25M preferred stock purchase
Potential Milestone Payments: $325M
Eisai (OTCPK:ESALY)
Candidate: EPZ-6438 for genetically defined non-Hodgkin lymphoma
Upfront Payment: $3M
Milestone Payments/Research Funding To Date: $18.3M
Potential Milestone Payments: $201M
GlaxoSmithKline (NYSE:GSK)
Candidate: Small molecule HMT Inhibitor for selected targets
Upfront Payment: $20M
Milestone Payments/Research Funding To Date: $12.5M
Potential Milestone Payments: $630M
Epizyme also has collaborative arrangements with Roche (OTCQX:RHHBY) and Abbott Labs (NYSE:ABT) developing companion diagnostics for EPZ-6438 and EPZ-5676 respectively.
Current Situation
Epizyme's shares tumbled last Thursday after the company reported an "encouraging" update on phase 1 testing for EPZ-5676. What seems to have spooked analysts and investors was the fact EPZ-5676 only demonstrated a therapeutic response in four of the eight MLL-r patients and no response in any of the non MLL-r patients. The market reaction is puzzling given this is the dose escalation stage of the phase 1, there were no dose limiting toxicities, and maximum tolerated dose has not been reached. Additionally, consider CEO Robert Gould's opening comments in the Friday morning conference call:
We are very pleased to provide an update this morning on the EPZ-5676 clinical program and to discuss our future plans.
And then this:
We are highly encouraged by the results we are sharing with you today and look forward to initiating the planned MLL-rearranged only expansion stage in December.
The CEO certainly didn't give the impression of being disappointed in Thursday's press release:
"EPZ-5676 is a first-in-class inhibitor of the DOT1L HMT, and we are very pleased with the findings to date in the dose escalation stage of the ongoing two-stage Phase 1 study,"..."The safety, pharmacokinetic, pharmacodynamic, and treatment effects observed in this study are consistent with our pre-clinical data. Based on these results, we plan to initiate the MLL-r only Phase 1 expansion stage in December 2013 and pediatric MLL-r and MLL-PTD studies in early 2014." (print bolded by me)
Based on the CEO's statements, it appears that management is very pleased with the progress and is continuing with the dose escalation phase, for the MLL-r patients only, in December. It also appears that there were no surprises with the data.
Conclusion
Epizyme presents a compelling buy opportunity, given the large pharma partnerships and pipeline potential, the CEO's optimistic statements concerning EPZ-5676, and severe market overreaction last Thursday. The analyst mean price target sits at $36 and shares could see a snap back Monday morning. Investors interested in buying Epizyme shares should be aware that the IPO lock-up period ends on November 27th. There could be heavy selling pressure on the share price as initial investors look to cash out. For those wanting to initiate a position, a good strategy would be to ease in with a quarter position Monday morning then wait to establish a full position until after the lock-up ends.
Disclosure: I have no positions in any stocks mentioned, but may initiate a long position in EPZM over the next 72 hours. I wrote this article myself, and it expresses my own opinions. I am not receiving compensation for it (other than from Seeking Alpha). I have no business relationship with any company whose stock is mentioned in this article.
Additional disclosure: This article is informational and intended to spur thought and discussion. This article is NOT a substitute for your own extensive due diligence and does NOT qualify as investment advice. DO NOT BUY OR SELL STOCKS BASED ON THIS ARTICLE.