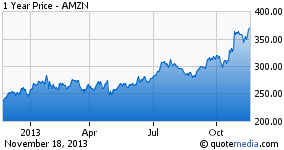 Amazon (NASDAQ:AMZN) is the king of online shopping as well as cloud services. The stock has been aggressively hitting all time highs in November 2013 following the Q3 earnings report. Not many other stocks are pointed upward in such a beautiful manner. The company's biggest news of the year has been its announcement to purchase the Washington Post.
Advancing Upward
The stock's steady climb coincides with a steadily improving balance sheet with gaining assets and capital surplus along with stabilized long-term debt. Amazon opened the year around $220 per share and blasted out of the $250-$280 range beginning in September, jumping into the $350 to $375 range. Most analysts are bullish on the stock with targets at about $400, which should be easy to reach or at least approach during the holiday season.
Cloud Advancements
CEO Jeff Bezos is ahead of the curve when it comes to cloud services. The company's web services unit called AWS has already developed strong alliances with large IT departments and allows users to manage their web properties in the cloud. This easy to manage high performance cloud solution frees up businesses from being locked to their desktops and allows them to tap into faster processing speeds with less concern about security. Hundreds of thousands of organizations, including the CIA, now use AWS, which allows them to concentrate on their businesses and let Amazon worry about the technology.
While it's unclear why Bezos elected to step into the dying newspaper business, his persistence as a cloud pioneer is undeniable. In November he added virtual Windows computing to the company's revenue streams with a new Workspaces service that allows users to control PCs from their smartphone, tablet or laptop. These virtual desktop services are particularly attractive to small businesses who want to cut their IT budgets and keep their data controlled in the cloud instead of their own servers.
This entrance into connecting desktops with the cloud presents a disruption to competitor Citrix Systems (NASDAQ:CTXS), which has dominated this field in recent years. This move is important because there is a growing demand for businesses to move toward cloud solutions that have built in IT services, which is an expense many businesses want to lower. Amazon has built a huge data center to prepare itself for the growing virtual client computing revolution that's turning into a multi-billion dollar market.
Other Innovations
Amazon got to its current market position the same way other tech winners did: lots of innovation. The company not only pioneered the online shopping model, it has crossed over into other territory such as getting the Postal Service to deliver on Sunday and starting Amazon Studios, which launched in 2010 in which anyone can upload a video script then Amazon decides if it wants to make a movie out of it or not. The Seattle company currently offers a political comedy series called Alpha House for free to its customers. This video division now puts the company in competition with Netflix (NASDAQ:NFLX), which uses AWS.
Out of all of Amazon's innovations, AWS is probably the most disruptive because it allows startups to bypass huge technical expenses and just start building new businesses on top of the infrastructure. For that reason, Amazon is becoming a core company of the future that will house an incredible number of companies. AWS is expected to generate nearly $4 billion in revenue this year. The company's Kindle eBook reader device may be overshadowed by other platforms, but it's another example of how it successfully grows revenue in many areas of new media.
2013 Q3 Earnings
Although net income was a loss of $41 million for Amazon in its third quarter earnings report, revenue rose 24 percent to $17.09 billion year over year and 8.8 percent from the previous quarter. The net loss was wider than the previous quarter of $6 million but narrower than the previous Q3 of $274 million. Cash flow grew 48 percent to nearly $5 billion from the previous Q3. The company gave a 10 to 25 growth in net sales forecast for the fourth quarter with an operating loss of $500 million. The company had missed earnings estimates three quarters in a row but Q3 was in line with expectations as shares popped 8 percent on the news in late October.
More Growth Ahead for Amazon
Even if we find ourselves in another dotcom bubble with overvalued companies like Twitter (NYSE:TWTR) entering the market, Amazon is and has been a real revenue generator for many years now. Long-term growth appears to be in store for the world's most successful online retailer. One red flag is that the company is trading at an extremely high multiple and may be due for a pullback in the short term. But its health as a long-term investment seems solid.
Disclosure: I have no positions in any stocks mentioned, and no plans to initiate any positions within the next 72 hours. I wrote this article myself, and it expresses my own opinions. I am not receiving compensation for it (other than from Seeking Alpha). I have no business relationship with any company whose stock is mentioned in this article.