BofI Holding, Inc. (NASDAQ:BOFI) Overview
BofI is a pure-play online bank that operates through branded websites like Bank of the Internet USA. Via its online model, BofI gains nationwide access to customers without the cost of bricks and mortar branches. Customers can open a checking account and conduct the majority of their banking business online. Checks are deposited from home by taking a picture of them with their mobile phone. With its low cost structure, BofI has an attractive checking account offering that includes up to 1.5% interest on balances, free access to ATMs, online bill payment, no monthly maintenance fees and no minimum balance. BofI gathers deposits and originates loans through the following channels (as outlined in 10K):
National online banking brands
Affinity groups and exclusive relationships with financial advisory firms
Business banking division
Home based lending sales force focused on single family and multifamily mortgage loans
Office based lending sales force focused on commercial and industrial loans
Call center that closes leads and upsells to current customers
BofI was incorporated in 1999 and has 312 employees.
Price Performance - 1 month: +6%, 6 months: +85%, 1 year: +188%, 3 year: +477%, 5 year: +1875%
Key Statistics - P/E ratio of 24.9, projected earnings growth of 28.4% and a PEG ratio of 0.88
*based on a closing price of $74.85 on 11/15/13
BofI revenues come from two primary sources:
#1 Interest on Loans That It Originates & Holds - (80%, mrq): Net interest income on loans that BofI originates and maintains ownership accounts for the majority of BofI's revenues. The chart below shows the composition of their loan portfolio: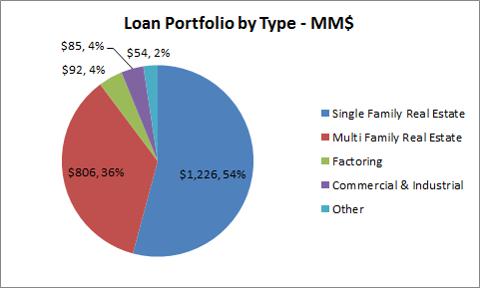 #2 Gains on the Sale of Loans That It Originates (20%, mrq) - The majority of non-interest income comes from mortgage banking where BofI originates mortgage loans and then sells them. This is a more volatile source of income that varies with conditions in the mortgage market. In the most recent quarter, BofI's mortgage banking income dropped from $6.5 MM to $2.0 MM due to a more competitive mortgage origination market. They made up for this with structured settlement sales and a lower loan loss provision.
BofI's primary source (75%) of funding is deposits. FHLB loans (22%) and repurchase agreements / debt (3%) make up the balance of their funding. Checking or transaction accounts are the preferred over CD's as they are a more stable source of funding with lower turnover. BofI has made progress on increasing their checking account deposit base - "From December 2011 to September 2013, we grew our checking our checking account balances by 554%, our money market balances by 140%, while our certificate of deposit balances decreased by 43%. Transaction accounts now make up 61% of our deposit base, up from only 42% from a year ago and have resulted in good growth in our interchange and other deposit fee income." BofI has a very competitive checking account offering.
Recommendation Summary - Buy BofI
BofI should continue to execute on its highly efficient internet banking business model. They have a lot of room to grow both on the loan and deposit sides of the balance sheet. Continued growth should be accompanied by higher margins due to BofI's scalable cost structure. Downside is limited by the quality of BofI's loan portfolio and underwriting standards. BofI has an attractive risk/reward profile - with an estimated 5 year return ranging from 3.7% to 243% with an expected return of 89.7% (see Risk Based Valuation section).
Sell targets for different investment timelines are listed below. Returns are based on the closing price of $74.85 on 11/15/13.
Investors with a < 6 month timeline should sell above 85.3 for a 14% return
Investors with a 1 year timeline should sell above 95.8 for a 28% return
Investors with a 3 year timeline should sell above 127.4 for a 70% return
Investors with a 5 year timeline should sell between 142 and 256.7 for a 89.7% to 243% return
Investment Thesis
The investment case for BofI is based on four key drivers:
#1: Low Cost, Scalable e-Banking Business Model - BofI grows revenues in a highly efficient manner by acquiring new customers via its branded websites. They don't have to build new branches to gain new customers. BofI has an excellent track record of increasing their net margin as revenues increase - see chart below. The key driver of margin expansion is improvement in the efficiency ratio. BofI's efficiency ratio of 43% is one of the best in the industry, well below the industry average of 68%. Their efficiency ratio has improved from 53% to 43% over the last 4 years. Their long term goal is an efficiency ratio of 35%.
#2: Long Term Loan Growth Opportunity: On the most recent earnings conference call, the CEO stated that they can sustainably grow their loan book by 25 to 35% per year. Since revenue growth is roughly in-line with loan growth, my valuation model assumes revenue growth of between 15% (worst case) and 25% (best case). BofI uses its internet platform to market loan products to a wide audience. They have national reach that isn't limited by the physical locations of their branches. BofI also has multiple growth options. They have 3 segments - single family mortgage, multi-family mortgage, and commercial & industrial (C & I). C & I has significant growth potential and BofI is investing in this area. C & I represents a small, but rapidly growing loan segment - 8.3% over prior quarter.
#3: Increased Consumer Acceptance of Online Banking: BofI's potential customer base will expand as consumers become more comfortable with internet banking. Customers are becoming more comfortable with e-check deposits and are gaining confidence in the level of data security. There is a clear, long term trend towards online banking - "Online banking now accounts for 53% of banking transactions, compared with 14% for in-branch visits, according to research from AlixPartners - "There is no question that there is a long-term shift in the role of the branch and the need for them," says Robert Hedges, a managing director at AlixPartners."
#4: Conservative Underwriting Standards Limit Credit Risk: The risk of a credit blow up where a large portion of customers default in their loans is low for BofI. They have a very high quality portfolio of loans. Their ratio of non-performing assets to total assets of 0.63% is well below the industry average - 3%.
Risk-Based Valuation
The risk-based valuation for BofI estimates a worst case, expected, and best case investment return over a 5 year time horizon.
Stock Price = (Revenue * Net Margin / Shares Outstanding) * P/E … based on 5 year forward projections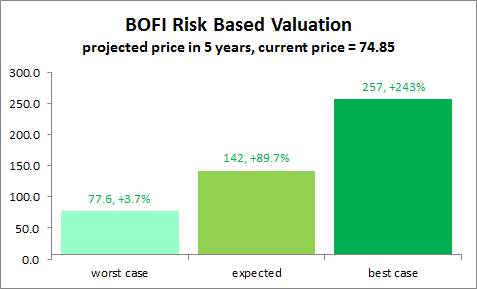 The waterfall chart below shows the relative impact that projected changes in revenue, net margin, shares outstanding, and P/E have on BofI's estimated valuation (expected case, 5 year forward view). Revenue growth has the greatest impact, driving 148.8% price appreciation. Net margin growth drives a 56.7% positive return, increase in shares outstanding reduces return by 115.8%, and P/E is expected to have no impact on valuation. The net result is an 89.7% expected return.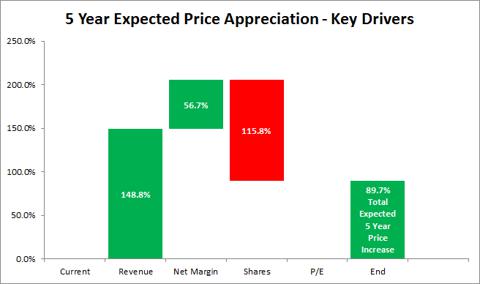 Key assumptions for the risk-based valuation are summarized below: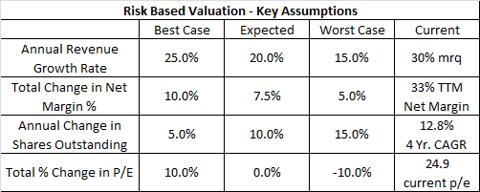 Best Case Assumptions - Basis
Revenue: 25% vs. 30% TTM, BofI's goal is 25% to 35% annual loan growth
Margin: +10% over 5 years, efficiency ratio improves to 33% above their 35% goal
Shares Outstanding: 5% growth, share issuance slows as company gets larger
P/E: 10% increase in P/E as investors pay up for consistent growth
Worst Case Assumptions - Basis
Revenue: 15% vs. 30% TTM, slower growth due to increased competition for loans and deposits
Margin: +5%, slowing sales growth limits efficiency ratio improvement
Shares Outstanding: 15% growth, share issuance increases
P/E: 10% decrease in P/E as growth stagnates
Expected Case Assumptions are all set at the average of the best and worst case assumptions
Risks to the Investment Thesis
#1: Failing to adapt to a higher interest rate environment: Higher interest rates could compress BofI's net interest margins if their funding costs increase (e.g. interest paid on checking, savings, and FHLB loans) and they are stuck with lower interest rate loans. BofI actively monitors and manages this risk. Most of their deposits reprice on an annual basis limiting their exposure. However, a rapid increase in interest rates could damage their margins.
#2: Increased competition in lending markets - BofI competes with other lenders for customers. Increased competition could cause BofI to accept lower rate and/or take on more credit risk. This could have a big impact on their margins.
#3: Competition on deposit side - Other banks could strengthen their checking and savings account offerings with higher interest rates and/or better benefits. BofI would either have to match the completion thereby decreasing their net interest margins or switch more of their funding to FHLB loans which would increase their interest rate risk.
#4: Loss of underwriting discipline - BofI faces constant pressure to keep up their high rate of earnings growth. They have exhibited strong discipline in the past, but they could weaken their underwriting standards in order to keep up their high rate of growth.
Disclosure: I have no positions in any stocks mentioned, and no plans to initiate any positions within the next 72 hours. I wrote this article myself, and it expresses my own opinions. I am not receiving compensation for it (other than from Seeking Alpha). I have no business relationship with any company whose stock is mentioned in this article.