On November 13, 2013, Titan Pharmaceuticals (NASDAQ:TTNP) announced a restructuring of the Probuphine commercialization agreement with Braeburn Pharmaceuticals Sprl whereby Braeburn will make an additional equity investment in Titan Pharma, reduce the U.S. FDA approval milestone for Probuphine, and restructure the total milestone potential payable to Titan. Below we highlight the key points of the revised agreement:
Braeburn will make a new $5.0 million equity investment in Titan Pharmaceuticals by acquiring 6.25 million shares of common stock at $0.80 per share. We remind investors that Braeburn already owned 3.40 million shares of stock prior to this transaction dating back to the exclusivity option and stock purchase agreement in September 2012. In total, Braeburn now owns 9.650 million shares of common stock at with a cost basis of approximately $0.96 per share. Based on an estimated basic share count of 88.8 million shares of common stock, Braeburn owns approximately 10.9% of Titan Pharmaceuticals.
Titan has agreed to a reduced U.S. approval milestone on Probuphine from $45 million to $15 million. We remind investors that the original commercialization agreement signed between Titan and Braeburn back in December 2012 called for up to $50 million in approval milestones based on priority review, which Probuphine was granted in January 2013. When Titan received a complete response letter on Probuphine in April 2013, this approval milestone was reduced from $50 million to $45 million. The revised agreement last week reduces the approval milestone to $15 million.
The total backend potential milestone consideration from Braeburn to Titan was increased to $165 million from $130 million as part of the restructured agreement. The revised agreement also lowers the sales threshold for Titan to achieve the highest royalty tier on sales of Probuphine. Information on the sales milestones, additional indication milestones, and royalty rates has been redacted from the Form 8K SEC filing on the revised agreement. However, below we provide a brief history on the Braeburn-Titan relationship and the schedule for future payments and royalties.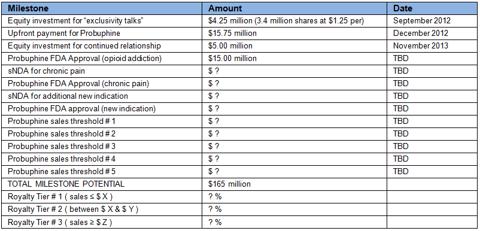 Braeburn has agreed to assume responsibility for all third party expenses relating to the Probuphine regulatory process. This includes the additional analysis and consultants the companies have hired to help analyze the FDA's complete response letter and prepare for the upcoming FDA meeting on November 19, 2013. Additionally, the license amendment contains a provision entitling Titan to receive a low single digit royalty on sales by Braeburn, if any, of other mid- or long-term continuous delivery treatments for opioid dependence, up to a maximum of $50 million, as well as the right to elect to participate in sales by Braeburn of other products in the addiction market in exchange for a similar reduction in the company's royalties on Probuphine. Therefore, if Braeburn looks to expand its product portfolio beyond Probuphine, Titan is both protected on the downside and can participate in the upside on these future transactions.
From a cash standpoint, the equity investment by Braeburn goes a long way to help securing the financial position at Titan Pharma. Titan exited the third quarter ended September 30, 2013 with approximately $9.0 million in cash on hand. Operating burn in the third quarter totaled $2.2 million. Titan has done a very good job since the complete response letter earlier in the year to reduce costs and minimize burn. If we assume operating burn in the fourth quarter will equal $2.5 million and add in the $5.0 million from Braeburn from the above transaction, we estimate that Titan will exit 2013 with approximately $11.5 million in cash on the books. We believe this is enough cash to fund operations into January 2015 (current management guidance).
Whether or not Probuphine will be approved by January 2015 remains to be seen. The goals of the FDA meeting on November 19th are two-fold:
For Titan to better understand the issues raised in the complete response letter, and
Review and discuss the existing and new data analysis so Titan and Braeburn can gain clarity on the regulatory path for re-filing the Probuphine NDA.
The best case scenario for Titan and Braeburn is that the existing and new data to be presented to the FDA on the 19th is deemed sufficient enough to re-file the application. If Titan and Braeburn are going to present this data to the agency in a face-to-face meeting, and the FDA agrees it is sufficient enough to re-file, then we can assume (with risk of course) that the FDA is blessing the data and the odds of approval in six-months is high. After all, the FDA already asked its Psychopharmacologic Drugs Advisory Committee (PDAC) to review the application and the members voted to recommend approval of the product in March 2013. If Titan and Braeburn can get this re-filed during the first half of the year, the new review date will come before the company runs out of cash in January 2015. The $15 million approval milestone will come late 2014, and it will be one heck of a turnaround for Titan.
If Titan and Braeburn have to do additional clinical studies, obviously the delay will be longer. We note that Braeburn is responsible for paying for all third-party expenses associated with the application. That said, we think it is highly unlikely that all this can be accomplished by July 2014, meaning that Titan will need to raise cash again in late 2014. For a detailed overview of the history of Probuphine, the clinical data, and the issues raised in the complete response letter from April 2013, we encourage investors to view our detailed Seeking Alpha Pro article from August 2013.
Our Thoughts
We think the U.S. FDA should have approved Probuphine back in April 2013, or at the very least, notified Titan of a three-month delay in the review cycle to enhance and implement the new REMS. Some of the issues noted in the CRL, specifically the questions on opioid receptor blocking or blood plasma levels seem to ask the company above-and-beyond what should be necessary for a 505(b)(2) application. Titan conducted two successful pivotal registration studies on Probuphine. The data has been presented and published for peer-review. The company followed-up these studies with two open-label safety extension studies, provided the FDA with adequate minimum patient data, adequate manufacturing and controls information, and seemed clearly amenable to the proposed changes to the REMS outlined in late March 2013. The goal-post for approval was moved.
That being said, what's done is done. Titan has to figure out a way to move forward based on the guidance that the U.S. FDA provides. We are optimistic that a path forward can eventually be found for Probuphine, but how long and at what cost remains to be seen. Greater clarity will emerge following the face-to-face meeting between Titan, Braeburn, and the FDA on November 19, 2013. That being said, the balance sheet has been strengthened and with Braeburn now owning over 10% of the company, we think downside seems limited.
Several investors have asked us why Titan and Braeburn have taken so long before responding to the FDA. The complete response letter was issued in April 2013 and it is seven months later before they duo are finally meeting with the FDA. However, Titan has said in the past, they want the response to be, "full and final". The goal is to go into that meeting armed with enough information that they can re-file quickly after the meeting. If Titan and Braeburn can pull that off, this is stock that will be significantly higher in a year.
Valuation - Shares Are Attractive
In the past we've stated we believe Probuphine is a $250 million product, or perhaps a little more with minor price increases post-launch. Below we provide a hypothetic ramp of Probuphine sales at Braeburn and estimated milestones and royalties to Titan Pharma. We model approval in 2015 (note the $15 million milestone payment), and receipt of approximately $70 million of the $165 million backend potential. Our model assumes no additional milestones for new indications with Probuphine, such as chronic pain. We model a 20% royalty payment on sales at Braeburn, assuming this is the third (and highest) tier for Titan. We also assume some basic operating costs and a 35% tax rate to start in 2017. We apply a 15% discount rate to these cash flows given that Braeburn seems strongly committed to the product and already owns nearly 11% of the company.
It is safe to say that Braeburn is betting heavily on getting Probuphine approved in 2014. Thus, we believe Titan shares are fair-valued today at roughly $1.50 per share. The catalyst for driving the stock to this price will be confirmation by management that the Probuphine NDA will be re-filed during the first half of 2014. Ultimate upside for investors comes if Braeburn, an 11% owner in Titan, decides to use Titan as a vehicle to come public at some point in 2015 or 2016. Given the revised agreement noted above, it seems obvious Braeburn would like to build a portfolio of opioid dependence and chronic pain drugs. The best way to accomplish this goal would be as a public company. If we remove Titan's operating costs from the equation, the cash flows associated with the royalties and milestones from Braeburn to Titan would be worth $225 million, or around $2.15 per share.

Disclosure: I have no positions in any stocks mentioned, and no plans to initiate any positions within the next 72 hours. I wrote this article myself, and it expresses my own opinions. I am not receiving compensation for it (other than from Seeking Alpha). I have no business relationship with any company whose stock is mentioned in this article.