Last week, Twitter's (NYSE:TWTR) long-awaited IPO finally entered the market. The company's stock jumped 73% in the first trading day and so far the price has increased 61% to $41.9 from its IPO price of $26 in just three trading days. Many analysts believed that Twitter's IPO was underpriced as its banker miscalculated the demand for stock which resulted in a lower IPO price. In other words, they believed that the company would have raised $3.16 billion, through 70 million shares, rather than the $1.82 billion it ended up raising. This means that Twitter left $1.34 billion on the table that was later enjoyed by early investors who bought shares at the offer price.
Fear of Facebook's IPO
Twitter's management and its banker (Goldman Sachs) are cautious about the IPO purely because of the initial reaction towards Facebook's (NASDAQ:FB) $38 IPO which had a poor start. It took Facebook almost an entire year to recover from its IPO's initial drop. With the earnings announcement on July 24th, 2013 the company saw its stock jump nearly 35% from $25 to $34. Since then, Facebook has been trading pretty strong, currently sitting above $45 a share. Investors were also cautious about investing in Twitter, which has a much smaller user base than Facebook because it took almost a year for them to recover from their investment in Facebook.
Business Model
Twitter's business model is somewhat similar to Facebook's business model. The company has generated around 90% of its revenues from advertisement. Like Facebook, the company's growth in revenues is also highly dependent on the growth of its monthly active users (MAUs). This means that the higher the number of MAUs the higher the company's revenue. As of September 30th 2013, the company has more than 230 million MAUs worldwide with a growth of 39% on a year-on-year basis. This figure is far less than Facebook's 1.1 billion MAUs.
Mobile devices have played a vital role in the company's revenue growth. During the most recently ended quarter, 76% of its MAUs accessed Twitter from a mobile device, including mobile phones and tablets, and over 70% of its advertising revenues were generated from mobile devices. The company expects that the proportion of active users using mobile devices and advertising revenue generated from mobile devices will continue to grow in the near future.
Growth in MAUs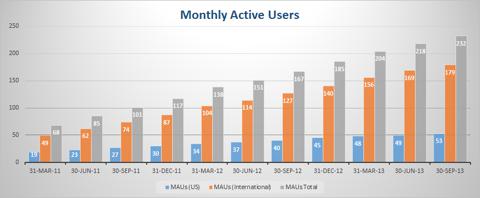 The company defined MAUs as Twitter users who logged in and accessed Twitter through its website, mobile website, desktop or mobile applications, SMS or registered third-party applications or websites in a 30-day period. Average MAUs for a period represent the average of the MAUs at the end of each month during the period. MAUs are a measure of the size of Twitter's active user base. During the most recently ended quarter, the company had an average of 231.7 million MAUs, which reflects an increase of 39% compared to a year ago. During the same period, the company had an average of 52.7 million MAUs in the U.S. and 179.0 million MAUs internationally. This reflects increases of 30% and 41%, respectively.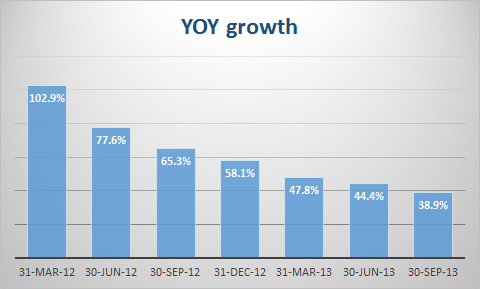 Though the company has shown tremendous growth over the past few years the important thing to note is that its year-on- year growth has been continuously decreasing. The company requires very high growth to justify its IPO price otherwise the Twitter share will face the same consequences as Facebook when it was unable to produce sufficient growth as promised in the first year of its IPO.
Valuation
In order to determine whether or not Twitter's stock price ($41.9) is justified I performed calculations to identify how many MAUs the company would require and the revenue growth required to achieve this price. As I mentioned earlier, the company showed tremendous growth over the last few years. It achieved a 276% YOY growth in 2011 and a 198% YOY growth in 2012. In order to rationalize this stock price the company needs to continue this hyper growth in the long term. This appears to be a difficult task for Twitter as its YOY MAUs and revenue growth are declining. During the second to fourth quarters of 2013 the company's YOY revenue growth decreased to 106%.
For my analysis I used the company's earning yield and compared it with that of the industry to develop a base line of how long it would take for Twitter to achieve the industry's earning yield. The earning yield was calculated using the 1/PE formula.
I used this measure for my valuation because the company's current earnings and price to earnings ratio are negative. In such a situation it is quite difficult to evaluate on the basis of the price-to-earnings ratio or any other measure. By taking inverse of P/E, I have achieved something useful. The earnings yield is a way to measure returns that one may earn from holding a stock. It is a way to measure returns and it helps investors evaluate whether those returns are worth an investment's risk.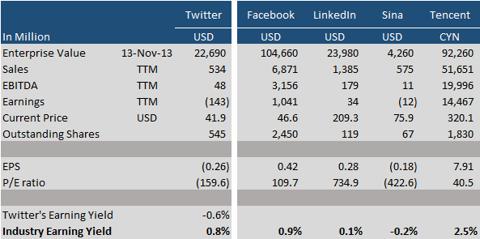 Source: Yahoo Finance
For my analysis I used two comparable U.S. companies, Facebook and LinkedIn (LNKD), and two comparable non-U.S. companies Sina (NASDAQ:SINA) and Tencent (OTCPK:TCEHY) of China. All of the data used above was fetched from each company's website. Using the data, the companies' EPS and P/E ratios have been calculated. The industry earning yield was calculated by taking the average of the comparable companies I used in this analysis.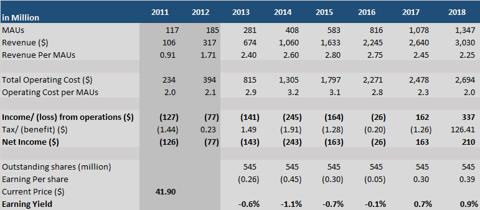 As I mentioned earlier, the company's MAU growth has been deteriorating over the past three years with 53% growth in 2011 and 52% in 2012. In the last nine months of 2013 the company reached 232 million MAUs. Based on this number of MAUs I assume that the company will achieve 281 million MAUs by the end of the year. Based on its historic MAU growth, I believe that the company's MAU growth will eventually slow down over the years as its user base increases. Moreover, the company's revenue per MAU increased over the past years, indicating potential growth for the company. I assume that this growth would continue for some time and eventually slowdown, as in the case of Facebook. The same goes for the company's operating cost per MAU. Historically the company's operating costs were higher than its revenues because of the increased growth in its number of MAUs but I believe that these costs will reduce in the future. Assuming the company's shares outstanding will remain the same in long run my analysis indicates that at its current stock price ($41.9), the company will match the industry's earnings yield by 2017. Since it is expected that Twitter will experience negative earnings until 2016 the company will not able to achieve positive earnings yield before 2017.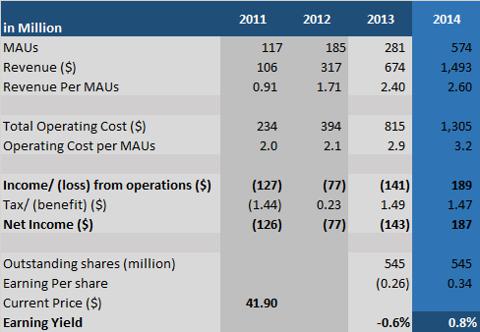 For the company to match the industry's earnings yield of 0.8% in 2014 it will need to achieve a 100% growth in MAUs or 121% growth in revenues over the year keeping revenue per MAU constant.
Breakeven Analysis
Using my calculations I performed a sensitivity analysis in order to evaluate how much growth in MAUs and revenues would be required to breakeven and keep other factors constant. In order to do so, I created two scenarios one to achieve breakeven in 2014 and the second to achieve breakeven in 2015.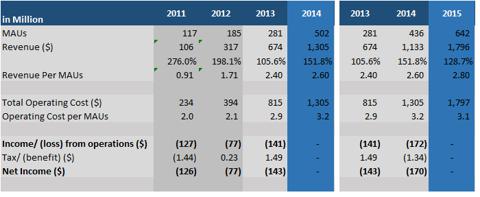 In order to achieve breakeven in 2014 the company will need to acquire 221 million more MAUs or $1.3 billion in revenues in a year. Similarly, the company will need to add 155 million MAUs in 2014 and 206 million MAUs in 2015 to achieve breakeven in 2015. I believe this will be quite difficult based on the decreasing growth in MAUs and revenues. I believe that the company's stock is currently highly overpriced and it will eventually decrease because at the current growth rate it will be difficult for the company to generate positive cash flows in the near future.
Disclosure: I have no positions in any stocks mentioned, and no plans to initiate any positions within the next 72 hours.
Business relationship disclosure: The article has been written by a Blackstone Equity Research research analyst. Blackstone Equity Research is not receiving compensation for it (other than from Seeking Alpha). Blackstone Equity Research has no business relationship with any company whose stock is mentioned in this article.