R.R. Donnelley Sons & Company (NASDAQ:RRD) is a leading global provider of integrated communications for the largest corporations around the world. They are also the largest print company in North America. To put it simply, RR Donnelley helps clients communicate more effectively with their consumers. They are able to do this thru their extensive selection of products and services such as pre media, printing, logistics, supply chain management, mailing, and outsourcing to name a few.
I view R.R. Donnelley as a company that handles all the branding and printing needs of their clients and offers solutions that further compliments those needs. For example they handle packaging, forms, labels, magazines, books, brochures, mail services etc. These services are necessities for all businesses regardless of size and industry. Their clients consist of the world largest corporations. They have 60,000 clients worldwide with 95% of Fortune 1000 companies as clients. The industry itself is highly fragmented and competitive. Customers are looking for the lowest price to go along with quality and great service. Management understands this and part of their growth strategy is to continue lowering its cost structure along with differentiating their services.
R.R. Donnelley understands the ever changing market and how to stay competitive. With technology becoming more sophisticated, print media is shifting more and more to digital media. People rather read the Wall Street Journal on their tablets or online rather than read a hard copy. From a consumers perspective information is consumed much more efficiently and economically digitally then physically. This trend has definitely hurt the printing industry to an extent and will further reduce the market size over time but RRD has been adjusting for this. Their answer is diversifying their products, investing in new technology, and restructuring the company. The stock price has been on a decline since the Great Recession of 2007-2008 but has rebounded this past year. RRD is up over 100% year to date. The rebound in price is a reflection of an improved business model that is positioned for long term growth and profitability. Below is an excerpt of their growth strategy from their 2012 annual report.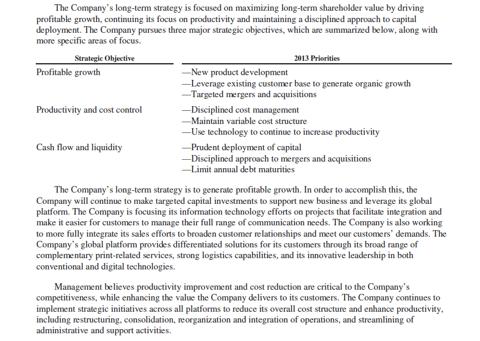 R.R. Donnelley is a simple company, but they are an industry leader making the right decisions to solidify that position. Most recently RRD reported earnings and came into an agreement with Consolidated Graphics (NYSE:CGX) to allow RRD to acquire them. RRD reported a good third quarter. They reported net sales of $2.6 billion, up 4.2% from last year and also beat the street reporting 38 cents per share versus consensus of 37 cents. RRD raised guidance on revenues from $10.1- $10.35 billion to $10.35- $10.45 billion for the full year 2013. Seems like all the restructuring and cost reductions they have done over the past two years have begun to pay off. The company reported earnings a week early on October 24, 2013 and the market has responded positively to the news ever since. I believe RRD would be a good long term investment, but I've isolated a short - intermediate term trade that I feel has a great risk reward opportunity with a high probability of working.
You can find my technical analysis in the charts below.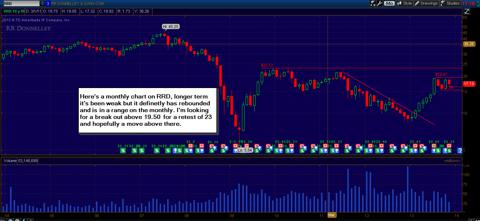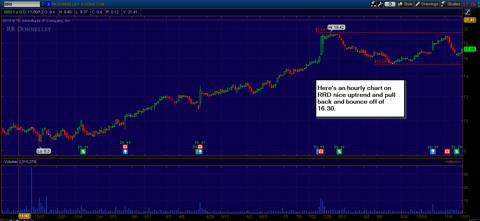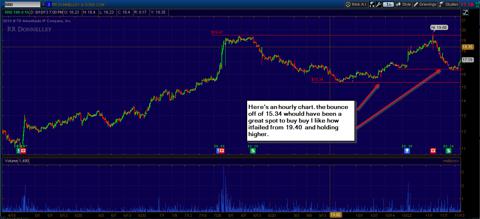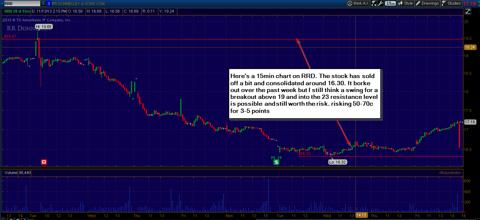 As you can see RRD lines up from a monthly chart all the way down to a 15 minute chart. All time frames are pointing towards a move higher and the recent pull back into $16.30 establishes a clear support level. It's clearly in an uptrend long term and short term and we also have the fundamentals in line with the technicals. From a purely technical perspective, I feel you can buy it at the current price for a short term move above $19.50 and for a retest of the $23 resistance level and hopefully a break out from there. In this trade I see it as you are risking roughly a dollar to make roughly 3-5 points or 20-30% on the low end. I also see this move happening within the next 2-4 weeks. If you really believe in the long term prospects of the company on the swing trade works out you could even hold it for a larger move and collect an additional 6% on the dividend or 26 cents per share.
Disclosure: I have no positions in any stocks mentioned, but may initiate a long position in RRD over the next 72 hours. I wrote this article myself, and it expresses my own opinions. I am not receiving compensation for it (other than from Seeking Alpha). I have no business relationship with any company whose stock is mentioned in this article.