On Monday, Spectrum Pharmaceuticals (NASDAQ:SPPI) reported that regulators will NOT require the company to conduct yet another trial to study Fusilev® for the treatment of colorectal cancer – the indication which the drug's supplemental new drug application (sNDA) was initially reviewed by regulators in early October 2009.
In order to resubmit the Fusilev sNDA for review, SPPI is required to submit additional data to the FDA. Monday, the company said they expect to fulfill the regulatory requirements by Q3 2010. Following resubmission of the sNDA with the required additional data in Q3 2010, Fusilev could be reviewed again by regulators on or near March 31, 2011.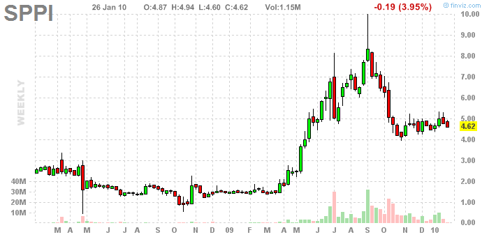 QUICK RECAP
On October 9, 2009, SPPI announced receipt of a complete response letter (CRL) from regulators in response to the Fusilev sNDA. Shortly after the announcement, I provided this update to readers. Here's an excerpt from that entry:
The worst case is a trial, but to me that is highly unlikely. I suppose that if SPPI is able to make the case for Fusilev during their meeting with the FDA, the company will be required to resubmit their application with additional data collected by WYE in the EU. If so, then the resubmission would likely take the agency another 6 months to review following the date of the resubmission.
On October 20, 2009, I argued that the Fusilev delay was neither foreseeable nor anticipated.
In 2008, Fusilev was approved by the CMS as a reimbursable alternative to leucovorin during a shortage of that drug. Throughout the shortage period, Fusilev was prescribed for colorectal cancer and patients' needs were met.

Several Phase 3 trials comparing Fusilev and leucovorin have already been conducted.

Results from the most recent Phase 3 colorectal cancer study indicated that Fusilev was less toxic for colorectal cancer patients. Despite the benefit of less toxicity, overall survival for both drugs was the same.

Since trials comparing the two drugs have already been conducted, the FDA should be able to reach some sort of an agreement with SPPI and allow Fusilev (as well as the company) to compete in the market without requiring yet another expensive and unnecessary trial. Whether the FDA and SPPI will actually find some common ground is unknown at this time. Until there is more clarity, uncertainty and speculation will continue to loom.
CONCLUSION
Despite the mind-numbingly long delay, the Fusilev update is positive news as SPPI will not be burdened with costs of conducting yet another very expensive trial for the drug. So, the folks at SPPI should be able to maintain their strong cash position. As of November 12, 2009, the company reported $143 million in cash.
Looking ahead, the growth driver for SPPI is Zevalin® - approved by the FDA on September 4, 2009 as a first-line consolidation treatment for patients with non-Hodgkin's lymphoma (NHL). For more details on Zevalin, interested investors should take a moment to review these articles from October 25 and November 22, 2009.
Investors should ignore the short-term noise. This current sell-off represents another opportunity for the patient investor. This means, SPPI should be viewed as a long-term investment. Long positions should be built over time and appropriately hedged with puts prior to significant events or catalysts.
In 6 to 12 months, SPPI shareholders will reflect back and be thankful they stayed the course.
Disclosures: Long SPPI.