U.S. drivers may have noticed that gasoline prices at the pump have declined to about a 33-month low. However, an exchange traded fund that tracks gasoline futures has risen for the past week. What gives?
Historically, retail gasoline prices have lagged wholesale prices on the way up and on the way down. Consumers typically don't immediately see wholesale price increases since retailers have to gradually absorb the price to keep customers. On the flip side, once wholesale prices decline, retailers will keep pump prices elevated to make up for what they lost.
Last week, U.S. average gasoline prices hovered around $3.18 a gallon, the lowest since Feb. 22, 2011, the Wall Street Journal reports.
Meanwhile, the United States Gasoline Fund (NYSEARCA:UGA), which tracks gasoline futures, gained over 7% since the Nov. 7 low. Nevertheless, UGA is still down 6.5% over the past three months and 3.6% year-to-date.
Gas prices have decreased due to refineries increasing production from converting petroleum from the U.S. shale-oil boom into diesel for exports. Gasoline is also produced in the same process.
"Refiners are still making money on diesel, but gasoline is almost a byproduct," Sarah Emerson, managing director of consulting firm ESAI Energy, said in the WSJ article.
Gasoline futures, unlike gas pump prices, will experience short-term volatility - pump stations typically don't change gas prices 50 cents on any given day. Nymex RBOB futures have rallied sharply recently on rising Brent oil prices abroad due to oil supply disruptions in Libya and stalled talks over Iran's nuclear program, reports Sharon Epperson for CNBC.
Analysts point out that gasoline prices historically hit lows between Election Day and Christmas week, but energy trader John Kilduff, a partner at Again Capital, also argues that the holiday season could fuel demand.
"You'd expect an uptick at the pump during that Thanksgiving time period, but I would not expect a lot though, and you could see it falling off at the end of this year," Kilduff said in the CNBC article.
United States Gasoline Fund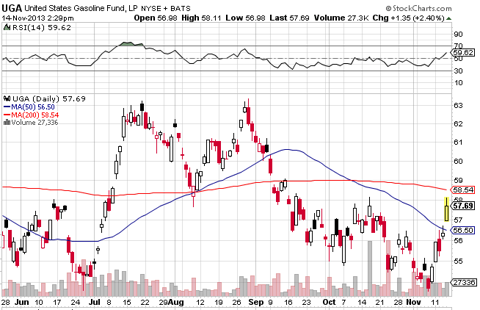 Max Chen contributed to this article.
Disclosure: I have no positions in any stocks mentioned, and no plans to initiate any positions within the next 72 hours. I wrote this article myself, and it expresses my own opinions. I am not receiving compensation for it. I have no business relationship with any company whose stock is mentioned in this article.