Hewlett-Packard (NYSE:HPQ) plans on entering into the 3D printer market by mid-2014. The 3D printing space is rapidly emerging, and there's plenty of opportunity for further growth.
Becoming a 3D printing supplier will take Hewlett-Packard far too long to break into without buying out smaller competitors. The timing for 2014 probably comes from the expiring patents of certain 3D printing technologies giving Hewlett-Packard a better entry point into the market.
There seems to be further upside to owning stocks in some of the more established 3D printing equities. Because of this, I'm thinking we should all stay aboard the 3D printing boat. After all, the trend is your friend.
Let's establish some background information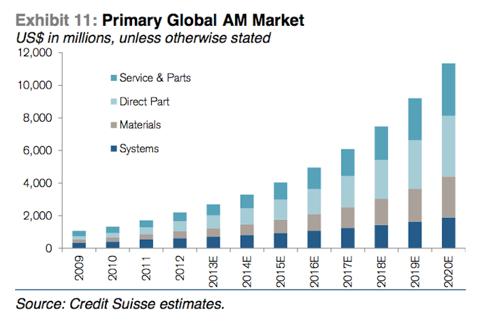 Credit Suisse has an accurate estimate of where 3D printing as an industry is likely to be. By 2020, the amount of revenues will be $11 billion from 3D printing, according to Credit Suisse. This is a rapidly growing market.
Of course, the systems by themselves represent a very small percentage of cost, what is likely to cost more, is the amount spent on service and direct parts (basically add-on services after the fact). This repeat business should certainly appeal to Hewlett-Packard as it generates a great amount of revenue from servicing computers for companies.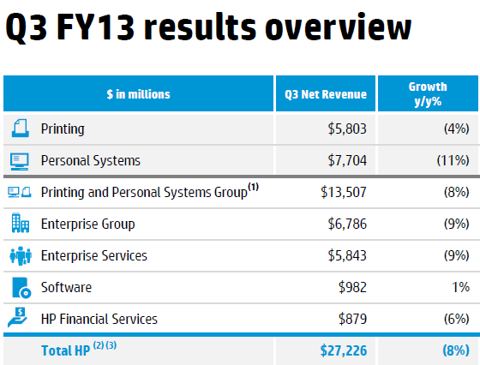 Source: Hewlett-Packard
It seems that Hewlett-Packard continues to struggle to generate any business across all of its main segments. In fact, the only segment that actually grew revenue was the software side of its business. The revenue growth was relatively muted at 1% year-over-year, hence the need for Hewlett-Packard to explore new markets such as 3D printing.
To do this, Hewlett-Packard would need to draw upon its pile of $11.3 billion in cash and cash equivalents. Plus it doesn't hurt that Hewlett-Packard generates $10.5 billion in cash from operations. So if it wants to, it can fully commit to buying out larger competitors in the space.
The computer business is expected to stabilize and grow at extremely low rates over the next five years, according to IDC. Shipments of traditional laptops and tower computers are expected to grow at a 1.2% growth rate over the next five years. This should give Hewlett-Packard enough time to divest itself out of its traditional business of laptops and desktop computers, and into 3D printing. Things might not necessarily end at 3D printing; Hewlett-Packard may decide to pursue other industrial businesses in the future.
Premium paid for 3D Companies
Because we have Hewlett-Packard entering the market, we have to think that there will be a swath of buyouts in the foreseeable future. Plus, it can only help that key 3D printing patents will be expiring going into 2014. More specifically, the laser sintering process will no longer be protected by a patent. This will allow a swath of competitors to enter the space giving Hewlett-Packard the ability to compete in a less restrictive market.
Meg Whitman knows that even if one barrier of entry were to drop, she would still need to buyout a well-established player in order to be a viable competitor in the space. Sure, you can throw money at R&D, plus build incredible scale into manufacturing facilities, and etc. But it doesn't change the fact that intellectual property is the most important currency in the space.
Hewlett-Packard will most likely target industrial 3D printing applications rather than individual consumers. Sure, Hewlett-Packard has a great consumer division, but it also does well with corporate clients as well. So leveraging its expertise at managing business to business relationships in this space could be crucial to Hewlett-Packard's success.
Recently Makerbot was bought out by Stratasys (NASDAQ:SSYS) for a pretty significant premium. To be more exact, Makerbot was bought out for $403 million. The company only generated $15.7 million in its most recent fiscal year prior to its buyout. That implies that the company was purchased at a 25.66 price-to-sales ratio.
This further implies that Hewlett-Packard may have to pay a 25.66 multiple over sales in order to buy out any significant competitor in the space. Sure, patents for laser sintering technologies are coming to an end, but it doesn't change the fact that it would save the company plenty of heartache and time to buy out an established business that can be scaled.
Where each major player stands
After reviewing the financial data, it seems that every established competitor in the 3D printer space may be bought out at a bit of a premium. I doubt that Hewlett-Packard will be doing all the buying. However, assuming a 25.66 price-to-sales multiple, 3D Systems (NYSE:DDD), Stratasys, and ExOne (NASDAQ:XONE) may be bought at a huge premium by Hewlett-Packard. Organovo (NASDAQ:ONVO) is the most expensive relative to sales, and it doesn't really compliment Hewlett-Packard's business strategy.
| | | | | |
| --- | --- | --- | --- | --- |
| Metrics | DDD | SSYS | XONE | ONVO |
| Market Cap: | 8.24B | 4.88B | 859.7M | 956.34M |
| Qtrly Rev Growth (yoy): | 50% | 152.60% | 36.50% | -95.10% |
| Revenue (NYSE:TTM): | 460.15M | 400.47M | 41.53M | 693K |
| Gross Margin : | 52% | -7.29% | 0.45 | 100% |
| EBITDA : | 112.22M | 52.08M | 1.82M | -12.73M |
| Operating Margin : | 0.19 | -2.62% | -0.01 | -1255% |
| Net Income : | 43.79M | -29.19M | -3.79M | -39.84M |
| EPS : | 0.46 | -0.8 | -0.34 | -0.63 |
| P/E : | 173.53 | 52.73 (Forward P/E) | N/A | N/A |
| PEG (5 yr expected): | 3.76 | 6.67 | N/A | N/A |
| P/S : | 17.56 | 14.92 | 22.69 | 799.33 |
Source: Yahoo! Finance, Scottrade
The price-to-sales ratios on the four companies are absolutely astronomical. Given how expensive these companies are it may be a little dubious to think that Hewlett-Packard would even bother to shell out the cash. But, when considering the 3D printing system space is expected to be an $11 billion market by 2020, Hewlett-Packard may have to double down. Its PC business is stagnating, and there's no simple answer to generating greater revenue growth if the demand for laptop and tower computers is not there. Sure, we may go through cycles of better growth, and Microsoft's guidance for the PC market was pretty good in the most recent quarter. But it doesn't change the fact that the PC market isn't expected to grow. But what will most likely grow over the next five to ten-years will be 3D printing.
Hewlett-Packard always has the option of an exit strategy by selling its 3D printing system segment to a different company if its strategy in the space doesn't really work. So if anything, pursuing an M&A strategy will be the most intelligent business decision for Hewlett-Packard.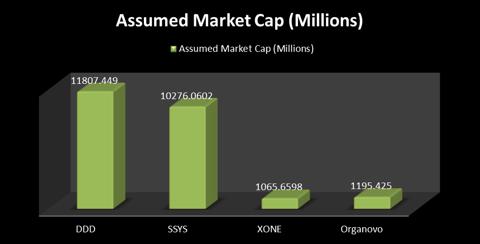 A buyout will cost $11.8 billion for 3D Systems, $10.27 billion for Stratasys, and $1.065 billion for ExOne assuming a 25.66 price-to-sales ratio. Of course, Hewlett-Packard may try to offer less than this, but without a significant premium, the likelihood of closing a deal will be extremely unlikely. To put the M&A environment in context, Snapchat (a company with zero revenue) turned down a buyout offer from Facebook (NASDAQ:FB) that would have valued the company at $3 billion. So the frothy valuations in the 3D printing space are also driven by M&A (mergers and acquisitions).
What this means for investors is that there's a healthy floor to the price of 3D printing stocks. More specifically, worrying about downside is pointless, because we have Hewlett-Packard opening shop on the block. Hewlett-Packard generates $10.5 billion in cash from operations, which is enough to buy any of the four companies at a significant premium over current market capitalization.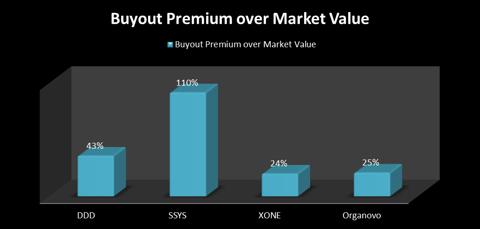 I assume that 3D Systems could be bought at a 43% premium over its current and quite inflated valuation. Following that Stratasys may be bought out a 110% premium over its current valuation. This is because Stratasys trades at a lower P/S multiples when compared to other companies in the space. This leads to a bigger boost to its valuation, when assuming a buyout at 25.66 times sales. Strictly on an M&A basis, Stratasys is the most undervalued in the space. Following that, ExOne and Organovo have the lowest buyout premium as they're already trading at price-to-sales ratios that are extremely high relative to other companies in the space.
To be more specific, I assumed a 25% buyout premium for Organovo because it was already trading at a 799 price-to-sales ratio. Instead of using the 25.66 paid over sales, I used the 25% stock market average buyout premium for publicly traded companies. Granted Organovo could be bought out for a frothier valuation. But, I haven't been able to find a very reliable method other than average M&A premiums, and comparative price-to-sales.
Summary of methodology
The methodology I have used isn't completely indicative of what may happen in the future. But at the same time it will offer both short-term and long-term investors a basic idea of one of the likely outcomes in store for 3D printer companies.
First, Makerbot was bought at a 25.66 price-to-sales ratio. This leads me to believe that any other company in the 3D printer space will at least be bought at a 25.66 price-to-sales multiple.
Second, I multiplied the current revenues of 3D Systems, Stratasys, and ExOne by 25.66. In the case of Organovo, I decided on a 25% premium over market capitalization because that's what companies pay on average over the publicly traded stock price.
Third, I compared the data to what is going on in other parts of the technology space. It seems that a 25.66 price-to-sales ratio is reasonable for companies that have high growth potential. Just look at the Twitter IPO, and Facebook's buyout offer of Snapchat for reference. Sure, both industries are different, but both offer high growth potential. This is why high multiples over earnings and sales can be easily justified.
Conclusion
When I consider the sheer amount of cash on Hewlett-Packard's balance sheet, it's highly probable that the company will pay huge premiums to buy out established players in the 3D printer space. This is because Hewlett-Packard has no other way of growing revenues.
In the early days, Hewlett-Packard created audio oscillators, microwaves, medical equipment, and finally its first computer in 1966. Hewlett-Packard has adjusted aggressively in the past and found its niche in computers, mainframes, services, and software. Soon the computer market became crowded, and Hewlett-Packard went from being a main player to a side show in the space.
So in the end, Hewlett-Packard is packing its bags and moving on. Let's welcome Hewlett-Packard to the 21st century.
Disclosure: I have no positions in any stocks mentioned, and no plans to initiate any positions within the next 72 hours. I wrote this article myself, and it expresses my own opinions. I am not receiving compensation for it (other than from Seeking Alpha). I have no business relationship with any company whose stock is mentioned in this article.