Online streaming services are reshaping the television industry by providing TV series and movies to customers at anytime and anywhere they want. The availability and reliability of faster internet services are also playing a vital role in the growth of online streaming. This is the reason why many big-name TV networks, such as HBO, ESPN and BBC are moving into the internet TV business. Netflix (NASDAQ:NFLX) is an ever-expanding global internet TV network that offers movies and TV shows commercial-free with unlimited viewing on any internet-enabled device for an affordable monthly fee. The company also initiated the television series production business, with its original series including House of Cards, Orange is the New Black and Hemlock Grove. In this article, I will try to analyze the growth in its subscribers (free trial or paid members) during the release of its series and how much growth it requires in paid subscribers to achieve the breakeven production cost. Furthermore, I will also see the impact of retention rate and conversion of free trial members to paid members on the company's revenue.
Moreover, in recent news, Netflix is looking forward to simultaneously releasing movies online with their theatre counterparts. I will also discuss whether or not this is a good strategy and if it will help Netflix to achieve a long-term growth.
Driving Value Beyond its Competitors
The way viewers watch television is changing dramatically due to time constraints. Netflix is providing a platform to viewers who want to watch their favorite TV shows and movies whenever and wherever they want.
The company has already added their own contribution to the changing television industry by taking a bold step in producing its own content and gaining critical acclaim with shows like House of Cards, Orange is the New Black and Hemlock Grove. Moving away from simply streaming, Netflix is driving value beyond competitors such as Amazon (NASDAQ:AMZN) and HBO.
The Importance of Subscriber Growth
Netflix has a unique business model, which is a flat fee, commercial-free subscription model that is highly dependent upon the addiction of new subscribers and keeping current customers happy. Adding original content changed the game. By producing shows available only on Netflix the company created an incentive for using Netflix's service.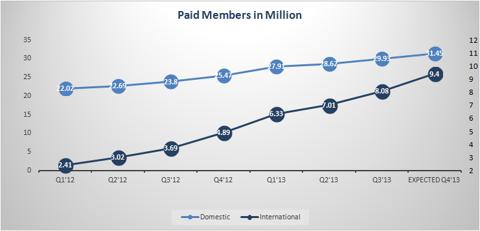 Over the years the company showed tremendous growth in its number of domestic and international subscribers. The growth in the international market is more aggressive than the domestic. Over the period of eight quarters, the company's paid domestic members grew at CAGR of 5.22% while the number of paid international members grew at CAGR of 21.46%.
Conversion Rate
As mentioned earlier, member growth is important for the company but so is the conversion rate. The conversion rate tracks how many free trial members are converted to paid members in a given period.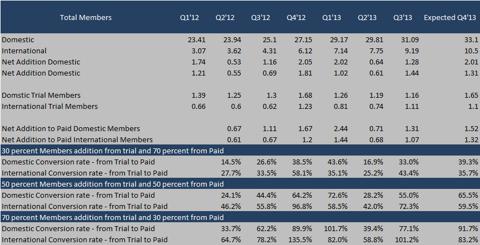 The table above shows the calculation of the conversion rate for both domestic and international users. I also made some assumptions and created three different scenarios in order to add clarification. In this table the trial members are the difference between total members and paid members in a given period. Some of those added to the number of paid members are those who were trial members and some of them are those who have directly purchased membership. In order to simplify these conditions I have created three scenarios. In first the case, I assume that 30% of paid members were previously trail members and 70% of paid members are direct purchasers. On average, the company converted around 31% domestic trial members to paid members and 37% international trial members to paid members. Similarly, in the second case, on average the company converted around 51% domestic trial members to paid members and 61.1% international trial members to paid members.
Success of House of Cards and Orange is Black
So far the company has over 40 million members which is an increase from less than 30 million just one year ago. The Netflix original series House of Cards, Orange is the New Black and Hemlock Grove have been hailed with critical acclaim and mass popularity. House of Cards was the first online TV series to win a Primetime Emmy Award. House of Cards was released on February 1, 2013. Due to the success of this TV series the company managed to add 2.44 million new paid domestic members and 1.44 million paid international members. That is the most paid member additions in the history of the company in just the two month after the series' release. The reason for this huge success was that the TV series only aired on Netflix rather than a broadcast network or cable channel.
Similarly, the Netflix original series Orange is the New Black was released in July of 2013 and the company managed to add 1.31 million paid domestic and 1.07 million paid international members to its customer base. In the previous quarter, where no series was released, the company only added 0.71 million domestic and 0.68 million paid members to the company.
Breaking Even Won't Be Difficult
Netflix has spent a reported $100 million to produce the two 13-episode seasons of House of Cards. In order to breakeven the company needed to get around 521,000 members to sign up for its $7.99 monthly subscription for the next two years. To do that the company would have to add 2.6 million more subscribers than normal. Currently the company has 38.01 million paid members. During Q3 of 2013, the company added 7.65 million members. This means that adding 2.6 million members will not be an issue for the company given an average members growth rate of 37.9%.
Conclusion
The company is set to grow its streaming platform's original content in 2014 with the release of some new original series and joint projects to further grow its subscribers. Furthermore, releasing movies in theatre and online simultaneously will make a huge difference in the international market because the movies released in the international market are released one month after domestic releases. With this simultaneous release the international members will have the opportunity to watch movies as soon as they are released. Keep in mind that the original TV series are creating huge value for the company because these series are only aired on Netflix. If this was not the case the number of members added per month would be low. I believe that the production of an original movie will attract new subscribers internationally rather domestically and currently the growth of international members are much higher than the number of domestic members.
Disclosure: I have no positions in any stocks mentioned, and no plans to initiate any positions within the next 72 hours.
Business relationship disclosure: The article has been written by a Blackstone Equity Research research analyst. Blackstone Equity Research is not receiving compensation for it (other than from Seeking Alpha). Blackstone Equity Research has no business relationship with any company whose stock is mentioned in this article.