I should really never say never (after all, Intel (NASDAQ:INTC) just announced that they will now be building ARM based chips)! In my last article, I said I was only going to write about Apple (NASDAQ:AAPL) once a year. However, I had a few cathartic moments after watching how the market reacted after Apple announced its September quarter.
An NYT reporter claims Apple deliberately wants to brick your iGadgets every time there is a software update (don't roll your eyes!). Perhaps, she should have tackled a topic that had some semblance of statistical proof to back it up...like hardrives! However, that wouldn't garner any of the attention she seeks.
Samsung (OTC:SSNHY) was found guilty for paying for false reviews and online attacks against rival HTC (OTC:HTCCY). Even Samsungs' lawyers appear to be willfully disrespecting the justice system.
Meanwhile...
Tim Cook proclaims that "It is going to be an iPad Christmas!".
Apple was granted a "killer second Steve Jobs" patent.
Japan is now Apple's fastest growing market.
Apple bought back almost $23B of its own stock in F2013 and has another $37B more to spend.
It turns out that Androids' 80% market share may turn out to be all hot air. No wonder Tim wonders where all the competitors' tablets have been hiding.
Apple's forecasted 2014 Capex spend is close to rivaling Samsungs' Capex spend on its semi business. Its Capex spend has now shadowed Intel's . Where is the money going to? Pundits don't seem to care; they seem to be resigned to the meme of "Apple can no longer innovate".
Who has heard of iBeacon? What does it have to do with Bluetooth, Siri, TouchID, Passbook and Maps?
One of the most ardent Windows supporter is now a Mac convert.
Were these headlines randomly chosen for this article? Most of my loyal readers will know that I like to connect the dots backwards. This article will attempt to connect the dots from the article I wrote in January 2012 with developments above in order to paint a picture of what it may take for Apple to breach $700 again.
Prior to the company announcing its fiscal Q4 results, I wrote:
IF Apple guides towards a higher gross margin (above 39 at least) and higher guidance for the next quarter (typically their busiest time of the year). It could trigger an initial breakout to $600.
Well, we knew what happened next and let me try to explain why we are not there yet. I happen to know how frustrating it is to watch Apple continue to be rewarded with valuations akin to a utility company while its tech peers (some of whom sports lesser growth profiles) are assigned lavish multiples. Even a burrito maker sports a better multiple than Apple!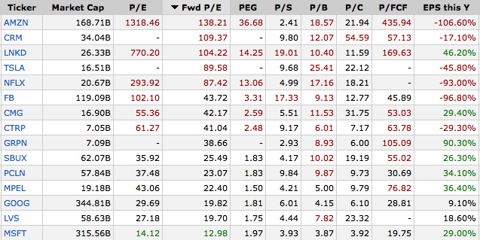 Before we start, it is important to understand that Apple may not have to report a significant earnings beat in order for its multiples to expand; all that is required is a change in sentiment. How can that sentiment change?
Apple (assuming it continues to crank out products that delight its customers) will never breach $700 again, unless;
Apple continues to increase its Dividends and Buybacks
Carl Icahn, in his letter to Tim, was correct on 2 specific issues. He was correct on (A) his assessment that Apple was irrationally undervalued, and (B) a massive buyback can help. Ignore the rest of the letter; he doesn't care about Apple the company nor is he committed over the "long term".
Consider the following:
Since 2006, while IBM's revenues have been uninspiring,
it has been busy buying back its stock;

leading to an EPS picture that most Analysts love (predictability aka makes their estimates and forecasts look good).

This ultimately leads to stock price appreciation without the drama that comes with the "Apple is doomed" meme.

Now, if you look at Apple,

despite being late into the buyback party, it has been able to provide superior shareholder returns vis a vis the other tech giants;

mainly because it was able to provide a higher growth profile.

However, pundits have been quick to criticize Tim for implementing the dividend and buyback program - they insist this is a symptom of a company slowing down and has minimal growth prospects.
I beg to differ. I wasn't a fan of financial alchemy before, but now, I realize Apple has to take this path.
What if Tim is really a smart operator who has always excelled at managing the numerator (operational results) but was never given the chance at managing the denominator (shares outstanding) when Steve was around?
Implementing the buyback and the dividend plan (that will most likely increase over time) may enhance the value of his RSU's; this is aligned with its shareholders' interests. As much as I love Carl's idea of a tender offer asap; I highly doubt it will happen.
Given that the 5S and the new iPad line is off to a great start; cash won't be the issue...the timing will be. Given Tim's usually methodical approach in dealing with issues (mapgate, Browett, etc...), one can look at the buyback as Tim's way of investing in Apple over time using dollar cost averaging. Buybacks will not only offset the option dilution but it will also give Apple the ability to manage "earnings expectations".
Apple continues to invest in Emerging Markets...
Gene "the iTV is really coming soon" Munster was recently quoted as saying...
"The iPhone is growing slower than markets rates because its priced too high for emerging markets"
I scratched my head so hard that I now have a tonsure! Informed travelers must know that "Emerging Markets" aren't necessarily correlated to people living in slums and riding in Rickshaws.
Maybe no one dug deep enough to figure out that while 66% of Android's 80% market share are junk phones, they are still selling for at least $215? Maybe it is the lack of an efficient and effective credit process (e.g. the credit card system in developed economies) that may be keeping the lid on Apple's sales in these markets? Maybe it is the lack of understanding that most of these phones may be white label? Ben Evans had an interesting observation during Samsungs' recent investor day...
Something that people often don't realise, especially in the USA, where even high-end phones are free, is that high-end Android phones are not what are outselling the iPhone. It's the mid and low end that's making up all the volume. That 100m number is a good illustration - it makes up less than a third of the Android phones that Samsung will sell this year. The other two thirds are Android phones other than the S2, 3 & 4, that sell at much cheaper prices.
Pundits love to use what happens today and yesterday as proof that what happens tomorrow will be the same as today or yesterday. Hence, naysayers can't fathom that If Android does have 80% of the market today; won't they also have the most to lose tomorrow?
Consider this study done by Organization for Economic Co-operation and Development (OECD):
Which part of the world is the growth in middle class happening?

Which part of the world will the future "spenders" come from?

How is Apple positioned for this growth?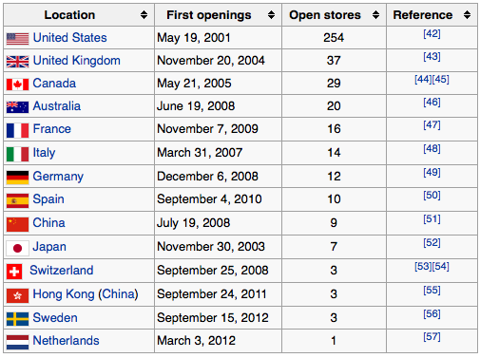 Currently it only has 19 stores to serve its fastest growing region. If we were to assume that Apple wishes to serve "x" amount of consumers per store, simplistically, this would give you an idea of its future expansion potential in retail:

Given that Japan's DoCoMo (NYSE:DCM) was the most recent Telco to succumb to the charm of Apple's iPhone, it wouldn't surprise me that Apple would aggressively open more stores in Japan. Once China's last Telco holdout signs up; I would expect Apple to intensify its store openings.
If you listen to Tim's past comments about China and/or India, you will most likely hear him say "we are studying/watching it with great interest". Translated, it means "We know we want to play there; we just don't have all of our ducks in a row right now".
Apple needs to replace its rotten core...
Samsung and Foxconn are Apple's biggest suppliers. However, they may also be Apple's weakest link in its ability to deliver the best product and experience to its end users. Samsung also happens to be Apple's biggest nemesis in the patent wars. Foxconn's labor challenges, on the other hand, almost always serves as a feeder stock for click hungry websites desperate for another 'Apple is doomed' story.
What is the truth behind Intel finally able to manufacture ARM based chips? What is the truth behind Apples' foray into robotic manufacturing capabilities?
Given that the A7 chip is still made by Samsung, we may have to wait for a year or two before Apple rids of its rotten core. Doing so accomplishes 3 main objectives: (1) it weakens Samsungs' semi revenue, (2) it reduces or eliminates its reliance on a competitor, and (3) it provides Apple a temporary lead in design and performance advantages.
Apple needs to indirectly nip the FUD (fear, uncertainty, and doubt) in the bud!
"It is difficult to have someone understand something when their salary depends on them not understanding it" Upton Sinclair
I must admit I could never understand the incessant obsession and blind faith in market share metrics provided by 3rd party firms such as IDC, Gartner, and Strategy Analytics. I'm even more baffled by the so called 'experts' and 'analysts' that continue to use these suspect data sets as gospel.
In an ultra competitive market, how does one unseat a premium brand if you cannot compete in price, function and quality? You create "doubt" in order to sway consumer preferences (e.g. Pepsi (NYSE:PE) with their Blind Test Challenge against Coke (NYSE:KO)). You can also observe this phenomenon (mud slinging) during political election.
As Daniel Eran Dilger found out in his piece ...
How exactly does reporting facts on sales result in "influencing consumer behavior and buying preferences"? Hypothetically, if one could fool the world's journalists into parroting off statistics that portrayed the most successful vendor of tablets as being in desperate straits and "failing" in a manner of speaking, it would sure take the pressure off of those who are failing to actually sell tablets, wouldn't it?
Let's pretend for a moment that Samsung didn't get caught (multiple times) in cheating its benchmarking scores or paying for and posting false reviews of its competitors; one has to wonder what all these marketing dollars will buy.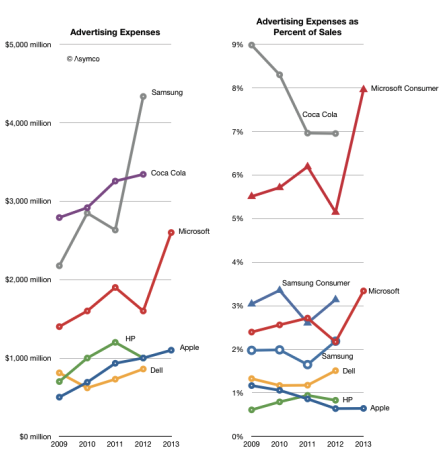 I am sure it will buy a lot of 'friends' who will speak highly of you!
How does Apple combat these FUDs? What are your thoughts? Bring back the Mac vs PC commercials and substitute PC with Android?
Outside of any Apple centric sites; no one bothers to question the logic and accuracy behind the data that firms like IDC (the same IDC that predicted that PC sales in 2010 will surpass its previous revenue peak in 2008), Gartner (PC sales will accelerate in 2012), and Strategy Analytics provide. While these firms will not disclose who their top paying clients are; it would be safe to say that Apple will not be one of them. Even the usually respectable JD Powers (who can't seem to figure out that 2+2 is not equal to 5!) have lost its objectivity.
Furthermore, I cannot understand why must these pundits insist that the race to the bottom is the only race that matters. Have they forgotten what happened when PC firms went that route? Lets see:
So, if history is of any indication of what happens when a company insists to compete mainly with specs and price, it does not take a genius to figure out what will happen next.
Apple must continue to defend its intellectual property
John Gruber wrote:
If you want to argue that the whole patent system stinks, and that all of these tech giants are abusing it, I agree. But if you want to argue that Apple and Microsoft are in the wrong, and poor Google and their Android partners are victims of one-sided abuse, I'm going to have to disagree. If there's a difference between Apple/Microsoft and Google in this war, it's not over nobility, but rather over how well each side has played the game. It's looking more and more like Google made a strategic blunder, underbidding for the Nortel patents and then subsequently overpaying for Motorola Mobility.
Right now, if you were a mobile handset maker, the sure fire strategy to make money in it would be to slavishly copy Apple and have the manufacturing capacity to flood the market with good enough products. Samsung has done a great job with this strategy and the Chinese white label will now be using the very same strategy to disrupt both Apple and Samsung. Unless there is a meaningful deterrence to this strategy, it will continue to prevail.
To summarize:
No other successful mega multinational corporation attracts more inaccurate sensationalistic headlines than Apple. Sensationalism drives eyeballs; eyeballs garner advertising dollars. No other successful mega multinational corporation attracts more successful copycats of its product lines like Apple.
Apple cannot directly control what is written about it from most unscrupulous media outlets (e.g. It sold over 5M iPhones last year in 3 days, it was labeled a disappointment; it sold over 9M iPhones this year in 3 days, it continues to be labeled as a disappointment). Apple, however, can control how it manages its finances and which partners it chooses to do business with. We can watch how well Apple is progressing by watching what it does with the 5 clues provided above.
So, what are you to do if you are an Apple investor? It really boils down to your risk tolerance and time horizon. If you are a buy and hold type investor; I'd be holding and selling calls against my it. Interestingly enough, a simple strategy I shared on Feb 2012 continues to perform well and would have alleviated us from the pain of holding Apple for the past year and a half.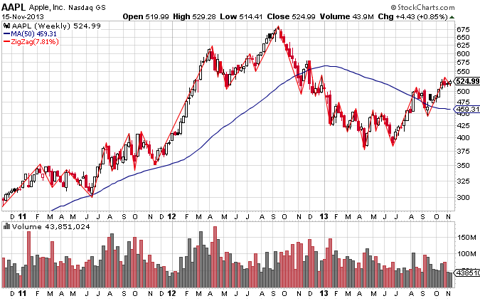 If you like to trade; 2013 has most likely been a swing traders' year.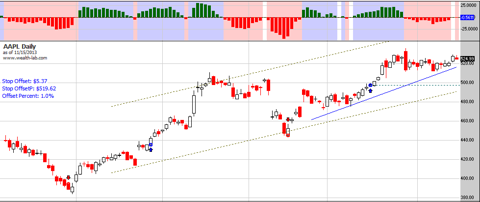 I would expect that we will be range bound till the next earnings release or some material news drives it up.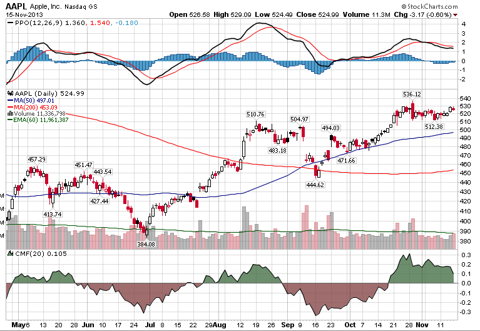 Disclosure: I am long AAPL. I wrote this article myself, and it expresses my own opinions. I am not receiving compensation for it (other than from Seeking Alpha). I have no business relationship with any company whose stock is mentioned in this article.
Additional disclosure: Will be looking to short PCLN, GOOG, CMG and may be initiating long on TSLA