Brazil's Vale S.A. (NYSE:VALE) is the second largest mining company in the world and the largest producer of iron ore. The company has been selling assets over the last two years ahead of a possible settlement with the government on a tax bill of up to $17 billion. Shares have rebounded 25% since this year's low as investors hope for the best but will ultimately be disappointed as the government seeks to fund its budget needs.
Double taxation without representation
Vale agreed to terms of two asset sales last week, bringing the total to more than $3 billion in sales this year. The company sold 20% stakes in two of its natural gas exploration blocks in the Parnaiba basin to GDF Suez after a previous deal divested its stake in aluminum maker Norsk Hydro ASA (OTC:NHYDY) for $1.82 billion.
The company sold stakes in a cargo unit for $1.2 billion in September and has been trying to boost margins and investor sentiment since the beginning of 2012. Vale is in talks to sell another 26% stake in its cargo unit to Canada's Brookfield Asset Management after divesting $1.47 billion in assets last year.
At issue is a tax bill of $13.2 billion that the government says Vale owes on foreign profits. The company claims it has already paid foreign taxes and the domestic taxes before repatriation of profits amount to double taxation. Beyond the disputed taxes, the government is also charging the company $3 billion in royalty payments from understated production values, and the mining state of Minas Gerais is seeking $519 million in other taxes.
The company has been fighting the claims for over a decade but it looks like the end may be near. The Superior Court of Justice overturned an injunction in May that suspended collection of the tax payments that a lower court had granted in March.
The high court set November 29th as the settlement date for the company to come to an agreement with the government.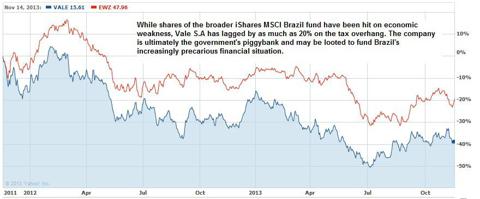 The government's piggy-bank
While the government only holds about 7% of Vale shares directly, Brazil's national development bank controls the Valepar holding company, which owns 53% of the mining company.
Brazil bid $14.4 billion to win the right to host the 2016 Summer Olympics and $14 billion to host next year's World Cup. The Brazilian government has never been accused of spending efficiently, and research on budgets for Olympic games back to 1960 shows that every single one went over and by an average of 179% in real terms. If the 2007 Pan Am games are any indication of Brazilian project management, then final spending for the two coming events could go over budget by more than six-fold. Even a more conservative 300% budget miss would mean $86 billion in spending, more than a quarter of the government's annual tax revenue.
The government already pays almost half of tax revenue to service its debt and there is just not enough left to fund two mega-projects.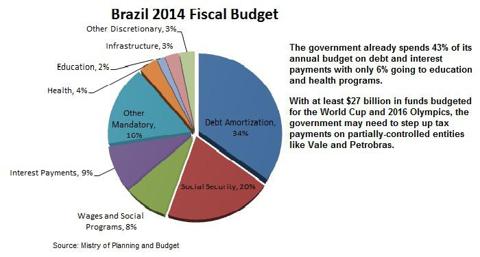 The country holds presidential elections in 2014 and that means increased social spending to buy votes. After this year's protests that flooded the streets with as many as a million people, the government will spend as much as necessary to keep the people happy. After that, the bills come due and they start looking to new sources of funds.
Inflation increased to 5.75% in October, well above the central bank's 4.5% target. That means they will need to keep raising the benchmark SELIC rate beyond 9.5% and potentially choking off economic growth. Lower growth means lower tax revenues and a need for other funding sources, like new tax laws.
Vale's 5.4% dividend yield might seem attractive but belies the greater weakness at the company. The dividend payment was cut to $0.85 this year from last year's $1.14 dividend per share. The company had $6.25 billion in cash and short-term investments as of the last quarter against $11.1 billion in current liabilities and $7.7 billion in underfunded pension liabilities and other long-term debt.
The company posted just $818 million in free cash flow on operating cash flow of $16.6 billion. It is probable that the government will allow Vale to repay the owed taxes over several years but I doubt that it will be the last time the taxman comes knocking. Investors may want to avoid the company for a few years or until the country's fiscal situation improves.
Beyond shares of Vale, I would also avoid Petrobras (NYSE:PBR) and limit exposure to the iShares MSCI Brazil (NYSEARCA:EWZ) to underweight.
*Note, all currency amounts have been translated to USD at the current rate of BRL2.31/$1
Disclosure: I have no positions in any stocks mentioned, and no plans to initiate any positions within the next 72 hours. I wrote this article myself, and it expresses my own opinions. I am not receiving compensation for it (other than from Seeking Alpha). I have no business relationship with any company whose stock is mentioned in this article.