By Brad Zigler
Real-time Monetary Inflation (last 12 months): 2.7%
Traders held their collective breath this morning as they awaited a key U.S. Energy Department report on oil inventories. There were signs that the oil market was due for a bounce after selling off to pre-holiday levels amid concerns about trading curbs and demand slowdowns.
Crude oil futures lingered below $75 a barrel in overnight trading after industry data showed a surprising drawdown in U.S. crude inventories. NYMEX crude for March delivery was down as much as 33 cents at $74.38 a barrel an hour ahead of the release of the government's weekly inventory report. The contract settled down 55 cents in Tuesday's NYMEX floor session.
For the week, crude oil fell 3.8%, while gasoline prices barely moved the needle with a 0.7% uptick. Heating oil prices fell 3.3% this week as refiners migrated to more gasoline-rich cracks.
On Tuesday, the American Petroleum Institute said U.S. crude stocks likely fell 2.2 million barrels, against expectations of a 1.4-million- to 1.5-million-barrel rise foreseen by analysts.
Oil Patch watchers also estimated refinery operations to slow another 0.1 percentage point to 74.3% of capacity.
The API's guess turned out to be closest to the mark when the government reported crude oil stocks had been drawn down by 3.9 million barrels. While inventories declined to 326.7 million barrels, they're still slightly above average for this time of year.
Refineries operations were busier than expected—at 78.5% of capacity—as gasoline production increased to an average 8.6 million barrels per day, and daily distillate fuel production rose to 3.5 million barrels.
The Energy Department report also showed gasoline inventories increased by 2 million barrels, twice the level forecast by the API and sell-siders.
Distillate fuel stockpiles rose by 400,000 barrels, said the government, spoiling calls for a supply drawdown. The API was looking for a 2-million-barrel off-take, while the Street saw inventories falling between 1.5 million and 1.8 million barrels.
With input prices declining this week, 3-2-1 refining cracks rose $3 a barrel, providing a 14.6 percent gross margin and a 1 percent yield premium over 2-1-1 operations. The yield differential was reflected in the pricing of lighter, sweeter West Texas Intermediate crude, which commanded an average $2.35-per-barrel premium over North Sea Brent. Last week, the WTI premium was $1.76 a barrel.
Contango came in a nickel this week, as the three-month NYMEX roll shrank to $1.51 a barrel. The spread implies an annualized cost to carry of 3.8 percent.
Overall open interest in the crude market was built up by 2 percent this week, as trading volume fell off dramatically in the last three trading sessions. The action seems to indicate a waning in the aggressiveness of short sellers.
NYMEX/CME Crude Oil (Mar. '10)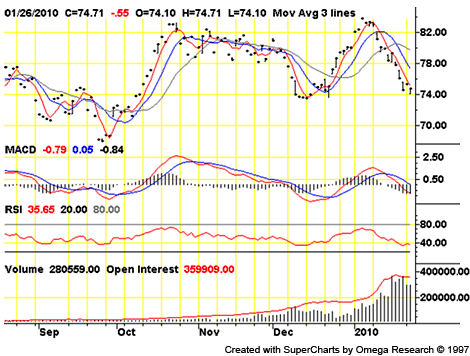 In fact, short-term stochastics turned up yesterday, while the RSI indicator bounced off the oversold level. March crude has to stay above $75 to revive bullish hopes. The market ought to be bolstered by support at its $73.51 200-day moving average. Resistance looms overhead at a $77.03 retracement level of the December-January rally.