The Q3-2013 earnings season is essentially over, with over 90% of the S&P 500 (NYSEARCA:SPY) companies having reported their results. Earnings growth rate, at 3.5%, continues at the slow pace of the past four quarters.
The Financial sector was hit hard by JPMorgan's (NYSE:JPM) surprise quarterly loss of -$0.17 per share after it took a $7.2 billion ($1.85 per share) charge for legal reserves and expenses. This brought the sector from the expected leader for Q3 EPS growth (expected 9% YoY on Sep 30) to being the second-worst sector, at 0.2% (see chart below).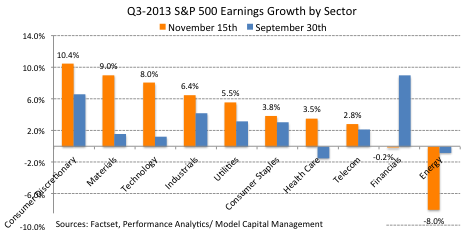 JPMorgan's loss has a profound effect not only on the Financials but on the overall index Q3 earnings as well. In fact, excluding JPMorgan, the rest of the sector exhibited very healthy earnings growth, at 16% YoY, led by Bank of America (NYSE:BAC) and Morgan Stanley (NYSE:MS). The overall earnings growth for the S&P 500 would have been 6% excluding JPMorgan.
In the Energy sector where earnings were already expected to decline YoY, they dropped much more severely, by 8% - making it the worst-performing sector. With refining margins remaining under pressure, companies that derive a significant portion of revenue from refined products continue to lag. Exxon Mobil (NYSE:XOM) and Phillips 66 (NYSE:PSX) are the largest contributors to the decline in earnings for the sector.
There were plenty of positive earnings surprises in Q3, mainly in the Tech and Materials sectors. Technology bellwethers Microsoft (NASDAQ:MSFT), Google (GOOG) and Apple (NASDAQ:AAPL) all exceeded analyst estimates (though Apple's earnings are still declining YoY). Technology sector earnings are growing at a healthy 8% YoY, making it the third-best performing sector - a dramatic reversal from the decline in Q2-2013. In the Materials sector, Alcoa (NYSE:AA), Freeport McMoRan (NYSE:FCX), Nucor (NUE) and DuPont (DD) all beat estimates, propelling the Materials sector to the second-best growth rate at 9%. Broad-based growth in the Consumer Discretionary sector, including Ford (NYSE:F) and Time Warner (NYSE:TWX) that handily beat estimates, made it the fastest growing sector, at 10.5%.
For most of this year, analysts expected future earnings to accelerate, only to reduce their expectations to match the "new-normal" slow growth reality. For example, back in March, the expectation was for 10% growth in Q3, with actual growth now at 3.5%. The same pattern continues for Q4, with 11% growth expectation in August reduced to 7.3% currently as a result of companies' negative guidance. Part of the reason for slow earnings growth is the lack of top-line revenue growth (2.9% in Q3, expected 0.7% in Q4).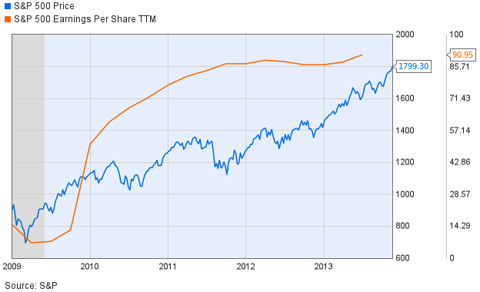 The S&P 500 earnings stalled last year, and only started to grow again, albeit at a slow pace, this year (see chart above). At the same time, the index rallied very strongly last year (about 12% price return) and the rally has been remarkably strong this year to date, up 26%, no doubt in part based on analysts' expectation that earnings would accelerate to double-digit growth (which has not happened). This brought the TTM Price-to-Earnings ratio for the S&P to 18, well above long-term historical average. Did the index get ahead of its earnings?
Not necessarily. Sector performance provides a reason for optimism for Q4. The traditional engines of growth - Technology and Consumer Durables - are once again in the lead, as they normally are during economic expansions. If the bulk of legal liabilities of major investment banks are behind us, it should boost earnings growth for the Financials and for the S&P 500 overall. The above-average growth that analysts have been hoping for all of this year may actually happen in Q4.
Disclosure: I am long SPY. I wrote this article myself, and it expresses my own opinions. I am not receiving compensation for it (other than from Seeking Alpha). I have no business relationship with any company whose stock is mentioned in this article.