Someone asked me why I like MLPs. I refer to the Steve Miller Band when they said, "Take the Money and Run." MLPs provide a higher distribution than many other companies and if you take the cash every pay day, you keep the same number of units, and pocket your earnings in cash. Here are some examples of the companies I like and why I like them as a long-term investment.
Atlas Resource Partners LP (NYSE: ARP) is a publicly-traded master limited partnership ("MLP") and is an active oil and gas producer in the Barnett Shale in Texas, the Appalachia Basin, the Raton Basin in New Mexico, the Black Warrior Basin in Alabama and the Mississippi Lime Play in Oklahoma. ARP owns an interest in over 12,000 producing natural gas and oil wells representing ~1.4 Tcfe of net proved reserves.
Three key take-aways from the 3Q financial report were 1) Atlas Resource Partners' average net production for the third quarter 2013 reached a record of 261.4 MMcfed, a 96% increase from the prior quarter, due primarily to newly acquired producing reserves in the Raton and Black Warrior Basins. 2) Adjusted earnings before interest, income taxes, depreciation and amortization ("adjusted EBITDA"), including discretionary adjustments by the Board of Directors of the General Partner, was $60.7 million for the third quarter 2013. 3) Average daily oil production increased by approximately 20% from the prior quarter, mainly from the continued development in the Marble Falls, Texas and Mississippi Lime operations.
Since the beginning of distributions, which is the last 7 quarters, the distribution has grown each pay day from $0.12 to the November 2013 payment of $0.56 per unit. The yield is 11.52% and with the strong growth and long-term potential, ARP is a solid performer in your portfolio. I like the vast production by the company in multiple plays across the country and future production being tapped now and into the future.
CVR Refining's (NYSE: CVRR) petroleum business includes a 115,000 barrel per day complex full coking, medium-sour crude oil refinery operated by Coffeyville Resources Refining & Marketing in Coffeyville, Kansas, a 70,000 barrel per day medium complexity crude oil refinery operated by Wynnewood Refining Company in Wynnewood, Oklahoma, approximately 350 miles of pipelines, more than 125 crude oil transports, a network of strategically located crude oil gathering tank farms, and more than six million barrels of owned and leased crude oil storage capacity. The company's gathering area includes Kansas, Nebraska, Oklahoma, Missouri and Texas. The company also has a contracted capacity on the Keystone and Spearhead pipelines that allow it to supply Canadian and Bakken crudes to its refineries.
Here is a clip from the third quarter financial report. Jack Lipinski, CEO of CVRR, stated during the 3Q conference call on November 1, 2013, "Our third quarter results were significantly impacted by the unprecedented downtime associated with the outage of the Fluid Catalytic Cracking Unit (FCCU) at the Coffeyville refinery due to a failure of a major piece of equipment in the unit. In addition, crude differentials tightened in late August and crack spreads and product basis weakened during the quarter, further impacting our results. The Coffeyville refinery resumed full operations on September 11, 2013, which was a few days earlier than anticipated, and sustained processing rates averaging approximately 115,000 barrels per day (bpd) for the remainder of the quarter. At the same time, the Wynnewood refinery exceeded planned throughput rates for the quarter, somewhat offsetting the impact from the FCCU outage at the Coffeyville refinery."
The three dividends the company has paid in May, August and November of 2013 were $1.58, $1.35 and $0.30, respectively. 3Q had an equipment failure that caused a reduction in the amount of oil production through the refinery. That has been repaired and production is back up. It is anticipated the distribution will return to the higher range and continue to produce over a 10% distribution for investors. This highlights two aspects of the company. First, being a smaller company, if one incident causes a reduction or stoppage of operations, this will immediately hurt the company's financial report and negatively affect the price of the unit shares. Second, when production is high, investors will be rewarded with double digit returns in the quarterly distributions.
Northern Tier Energy's (NYSE: NTI) (business statement) refining business primarily consists of an 89,500 barrels per calendar day (92,500 barrels per stream day) refinery located in St. Paul Park, Minnesota. The refinery's complexity allows it to process a variety of light, heavy, sweet and sour crudes into higher value refined products. The St. Paul Park Refinery is one of only two refineries in Minnesota and one of four refineries in the Upper Great Plains area within the PADD II region. The PADD II region covers Illinois, Indiana, Iowa, Kansas, Kentucky, Michigan, Minnesota, Missouri, Nebraska, North Dakota, South Dakota, Ohio, Oklahoma, Tennessee and Wisconsin. The refinery's strategic location allows it direct access, primarily via the Minnesota Pipeline, to what the company believes are abundant supplies of advantageously priced crude oils. Many of these crude oils have historically priced at a discount to NYMEX WTI. Further, over the past twelve months, NYMEX WTI has traded at an additional discount relative to waterborne crude oils priced at Brent Oil, which has contributed to strong refining margins at the St. Paul Park refinery.
On October 21, NTI released an update to the fire that occurred on September 23, 2013. "All repairs related to the previously announced fire in late September have been completed and both crude towers are fully functional at this time. The cost of the repairs amounted to less than $3 million. Since October 14, the Company's Saint Paul Park Refinery has been operating at a crude oil charge of between 85,000 - 90,000 barrels per day ("bpd"), which is consistent with throughput constraints related to the planned Fluid Catalytic Cracker ("FCC") turnaround currently being performed. Northern Tier Energy expects to complete the FCC turnaround by the end of October, at which point the company is expected to resume full operations. The company will provide further detail and fourth quarter throughput guidance on its third quarter earnings call, which will be held on November 12, 2013. Third quarter throughput amounted to approximately 81,000 bpd."
On November 12, 2013, NTI announced that its private equity sponsors, ACON Investments, L.L.C. and TPG, have agreed to sell all of their interests in Northern Tier Energy, including those of the general partner, to Western Refining, Inc. for total consideration of $775 million plus the distribution on the common units acquired with respect to the quarter ended September 30, 2013. As a result of this transaction, Western Refining now owns 100% of the general partner and 35,622,500 common units, or 38.7%, of Northern Tier Energy. The balance of the limited partner units will remain publicly traded. The transaction was signed and closed on November 12, 2013. This transaction does not affect the unit holders who own 61.3% of the company and will continue to receive their quarterly distributions.
The last 5 distributions from November 12, and February, May, August and November of 2013 were $1.48, $1.27, $1.23, $0.68 and $0.31, respectively. Outside of the refinery fire, returns are good. The cost of crude oil for the refinery is usually discounted, allowing the refinery to buy crude at a lower cost and sell for a respectable profit. I will stay with NTI because the company operations are profitable. Even with the downturn from the fire, the company still returned a double-digit return for the year.
Enduro Royalty Trusty (NYSE: NDRO) is a trust, not an MLP, but the results are similar. The difference will be on your tax status, please be aware of this. NDRO is a Delaware statutory trust formed by Enduro Resource Partners to own a net profits interest representing the right to receive 80% of the net profits from the sale of oil and natural gas production from certain of Enduro Resource Partners' properties in the States of Texas, Louisiana and New Mexico. Enduro Royalty Trust is engaged in the acquisition, exploration, development and production of oil and natural gas.
On November 18, 2013, Enduro Royalty Trust announced a cash distribution to the holders of its units of beneficial interest of $0.152342 per unit, payable on December 13, 2013, to unit holders of record on November 29, 2013. The distribution primarily represents oil production during the month of August 2013 and natural gas production during July 2013. The following table displays underlying oil and natural gas sales volumes and average prices attributable to the current and prior month distributions.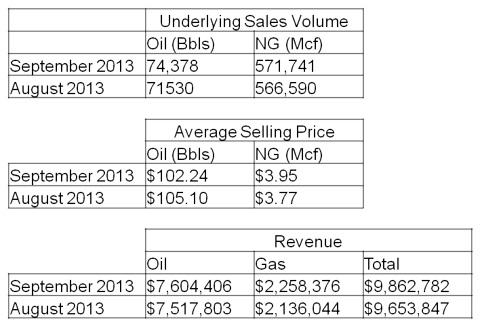 The trust has an estimated 21.4 million barrels of oil equivalent that will continue to fund the trust for years based the current 70,000 barrels pumped per month. With the costs in line and the return on investment strong, investors should be happy with a double digit return on their investment.
Choosing any one of the four or all four can be part of a well-rounded portfolio. I have written articles on several of these companies in the past. Please feel free to read my prior articles.
Disclosure: I am long CVRR, NTI, NDRO. I wrote this article myself, and it expresses my own opinions. I am not receiving compensation for it (other than from Seeking Alpha). I have no business relationship with any company whose stock is mentioned in this article.
Additional disclosure: I plan to purchase ARP in the near future as I believe the company has a strong future and excellent distributions. As always, make sure these investments meet your risk and tolerance levels.