Tom Hallen is Managing Partner at Santa Monica-based Ion Partners Alpha, a long/short US equity hedge fund. Tom has an MBA degree from Duke University and a bachelor's of science in Electrical Engineering from University of Massachusetts.
We had the opportunity to ask Tom about the single highest conviction holding in his fund.
• • •
Seeking Alpha (SA): What is your highest conviction stock position in your fund, long or short?
Tom Hallen (TH): Our highest conviction pick is to go long Micron Technology (NASDAQ:MU). The company is a global leader in DRAM and NAND memory products which are used in personal computers, workstations, network servers, mobile phones, MP3 players and other electronic devices. Basically, DRAM is used as main system memory in operating a PC or server, and NAND stores data you'll access or retrieve each time you use the device.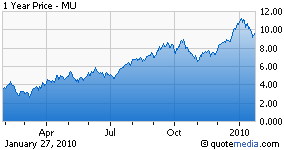 SA: What is your investment thesis on Micron?
TH: DRAM and NAND prices per gigabit have fallen 82% and 94%, respectively, over the last three years, causing massive losses for the industry. Approximately 20 percent of manufacturing capacity has been shuttered, and demand is beginning to accelerate, resulting in strong pricing and forecasts of product shortages in the latter half of 2010.
The Windows 7 upgrade cycle is expected to be a significant driver of DRAM revenue (approximately 50% of MU's sales). Windows XP was introduced in October 2001 and has been the predominant operating system ever since. Windows Vista, which was released in January 2007, was adopted by less than 20 percent of personal computer users. That leaves industry with a surfeit of systems that have ten-year-old technology.
IDC reported on January 13th that worldwide PC unit sales increased 15.2% in Q4 2009 and Gartner Group estimates US PC sales increased 26.5%. Windows 7 64-bit systems need at least 4G RAM, whereas XP users could get by with 1G, so the DRAM demand growth could be substantial. The upgrade cycle is just beginning and most likely is somewhere in the first inning.
The NAND business is strong because of the high memory requirements of smart phones, MP3 players and other consumer electronic devices. In addition many industry analysts expect the disk drive industry to transition from the typical read/write devices to solid state devices, and Micron has the potential to be a significant player in this space.
Regarding valuation, Micron seems attractive at 10 times earnings. The average price/earnings multiple in the semiconductor space is around 22. Micron is on an August fiscal year, and estimates for 2010 are $0.90 per share.
SA: Can you talk a bit about the industry/sector? How much is this an "industry pick" as opposed to a pure bottom-up pick?
TH: We think Micron is far better positioned to benefit from the PC upgrade cycle than most companies in the technology sector. The box makers, Dell, HP, Gateway, Acer, etc.., will be competing on price, but Micron is in a product area where there is potential for a supply/demand imbalance.
Micron's November 2009 quarter showed substantial improvement with revenues up 24% and operating margins at 11.6% of sales. Pricing and volumes improved sequentially for both DRAM and NAND flash memory.
SA: What is the current sentiment on the stock?
TH: Historically, memory has been viewed as a commodity, and when prices went up capacity would be added. Eventually the added capacity would result in excess supply and falling prices.
However, the huge losses over the last three years and difficulty obtaining financing could make companies more cautious about capacity additions in times of stronger pricing. It's hard to get a good read as to what's happening in Southeast Asia. However it was implied on Micron's conference call that only a small amount of excess industry capacity exists, and it is for DDR2. The industry is moving to DDR3, which is 50-100% faster.
SA: Thank you, Tom
Disclosure: Ion Partners Alpha is long MU
If you are a fund manager and interested in doing an interview with us on your highest conviction stock holding, please email Rebecca Barnett: rbarnett@seekingalpha.com