Sina (NASDAQ:SINA) reported earnings and revenue that beat analyst estimates on strong growth of its Weibo unit. It was all good news for the company last week, and shares rose 12% after the report. Margin recovery is on track, revenue growth is accelerating, and the Alibaba-Weibo deal is delivering great results, with Weibo's revenue growing in triple digits. In addition, the company has announced a note offering a day after the Q3 report, and this means that there might be a big acquisition coming, since the company has over $1.2 billion in cash and equivalents.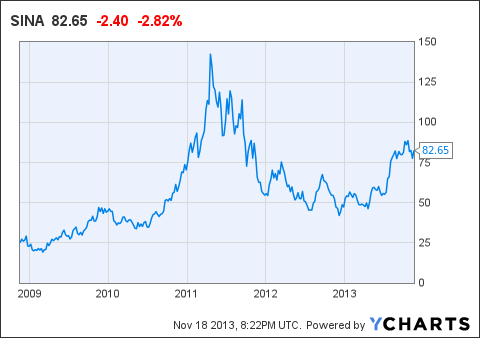 Revenue growth accelerating
Sina reported earnings and revenue ahead of analyst estimates. Earnings per share were $0.42, which was $0.10 above analyst consensus estimates, while revenue increased 21.1% to $184.63 million, $1.2 million ahead of estimates. This was the third consecutive quarter of revenue growth acceleration, from just 4% in Q4 2012. Gross margin improved to 64% from 54% in Q2 2012. Non-GAAP advertising gross margin was also 64%, up from 36% in the same period last year, and non-GAAP non-advertising gross margin was 58%, up from 43% in Q3 2012. The substantial increase in gross margin reflects the company's effort to grow its advertising business, and due to the shift in revenue contribution from low-margin mobile value-added services business to higher-margin Weibo value-added services business.
Sina also provided strong Q4 guidance figures: the company expects Q4 revenue between $190 million and $194 million, ahead of $182.1 million consensus at the time of the report. Advertising revenue is expected to be between $160 million and $162 million, and non-advertising revenue to be between $30 million and $32 million.
As a result of the favorable earnings report and strong guidance, analyst earnings and revenue estimates have jumped significantly, and Sina is expected to keep delivering strong earnings and revenue growth in Q4 2013 and in 2014. Revenue growth is expected to accelerate significantly to 45% in Q4, while earnings are expected to more than double from $0.13 to $0.45.
Weibo's momentum is on track
During the third quarter, Weibo advertising revenue grew 125% year-over-year to $43.7 million. Management attributed the growth to strength in both Weibo's real-time bidding ad network for SME advertisers as well as Taobao e-commerce merchants. Weibo value-added services revenue grew 121% year-over-year to $9.7 million. Daily active users increased 11.2% sequentially to 60.2 million in Q3, which is higher than the 8.3% increase from March to June. The Alibaba partnership yielded great results in Q3, as the earnings from Alibaba increased almost four times from Q2. During the quarter, the two companies launched the first phase of their joint program with user ID connection between Taobao and Weibo, and approximately 48% of daily active users are now connected to their corresponding Taobao accounts.
Note offering - a big acquisition coming?
Sina announced a $700 million note offering last week. The company plans to use $100 million of net proceeds to buy back shares, and the remainder for general corporate purposes, including working capital needs and potential acquisition of complementary businesses. Since the company already has over $1.2 billion of cash and equivalents, a big acquisition might be on the horizon. Sina is making efforts to diversify its revenue stream, and its customer segments. The company intends to make additional investments in its core areas including Weibo and Sina mobile while growing profit margins. An acquisition might be used to strengthen its core business, or to further expand its revenue stream, and additionally accelerate growth.
Conclusion
Sina's turnaround is real. The company's revenue growth is accelerating, while profit margins are expanding significantly. Weibo is the main growth driver for Sina, and is expected to deliver strong growth in the future. The Alibaba deal further enhances Weibo's strength, and a potential acquisition might serve as another catalyst for the stock price.
Disclosure: I am long SINA. I wrote this article myself, and it expresses my own opinions. I am not receiving compensation for it (other than from Seeking Alpha). I have no business relationship with any company whose stock is mentioned in this article.