This article examines the past and future growth of the internet and how the future could be the catalyst Level 3 Communications (NASDAQ:LVLT) was built for along with an evaluation of LVLT.
BACKGROUND:
When LVLT network was constructed around 2000-2001 it built the world's most advanced communications platform. It is the first network to be completely optimized for advanced IP (Internet Protocol) technology and the first to be fully and continuously upgradeable. Unfortunately, others had the same idea and it was becoming obvious there was a bandwidth capacity glut caused by a serious overinvestment in long-haul network capacity leading to extreme price declines that fueled bankruptcies. Why the massive build outs and investments? Internet growth was projected to double every 100 days and no one seemed to question it. In reality these forecasts were garbage and when reality set in investors paid a high price.
Industry consolidation was inevitable. LVLT started with the acquisition of Genuity in 2003. Then beginning with the late-2005 acquisition of WilTel, Level 3 has established itself as an industry consolidator. During 2006, the company went on to acquire Progress Telecom, ICG, TelCove and Looking Glass Networks. In 2007, Level 3 acquired Broadwing, the Content Delivery Network services business of SAVVIS, Inc. and Servecast. The game changer for LVLT was the acquisition of Global Crossing completed on Oct. 4, 2011.
In short the Global Crossing acquisition about doubled the size of the company in terms of revenue, expanded the global footprint of intercity networks and metro networks throughout North America, Latin America and Europe and expanded Enterprise service capabilities by combining the international, intercity and metro networks giving enterprises better options to meet their local, national and international communications needs. This may have been the catalyst that changed their focus, i.e., a change in a long held vision of being primarily a wholesale provider to a company focused on serving the day-to-day business needs of enterprise customers. However, they are not abandoning wholesale, the strategy with wholesale is to maintain market share while also continually improving operational efficiency to maximize EBITDA.
Consolidation concentrated excess fiber capacity in fewer hands helping stabilize or slow the rate of price compression allowing for increased revenue growth. The problem for many years was demand growth did not offset price compression. These trends have started to improve in LVLT's Enterprise segment but are still having a negative impact on the Wholesale side. Rather than repeat our last article a detailed look at LVLT's segment trends can be found here.
CATALYSTS FUELING FUTURE DEMAND:
LVLT was built for massive growth in traffic of which video will play a big part. They say as much in their SEC filings:
The Company believes that one of the largest sources of future incremental demand for the Company's Core Network Services will be from customers that are seeking to distribute their feature rich content or video over the Internet.
We scoured the internet for trends, projections, whitepapers etc., and then organized the information to garner more insight into what the future holds for LVLT. The sources can be found here (BI Intelligence), here (Cisco Visual Networking Index), here (National Broadband Map), here (Akamai State of the Internet report) and here (i7 Network's Blog).
The Bottlenecks are receding:
When the LVLT network was built many were still using dial-up services. Video was a dream. Pictures could take forever to download. LVLT (and others who jumped on the bandwagon) built super highways capable of handling massive amounts of data. The problem was what has been referred to as the "middle mile" and the "last mile." Think of the middle mile as the on and off ramps to the LVLT super highway. They were so small bottlenecks were created; like having a speed limit of 5mph. The last mile, which was the last leg of the journey delivering data to the consumer or enterprise, was slower. Some had access to higher speeds but the infrastructure delivering data to the endpoint was woefully inadequate to support these networks of the future. Hindsight is 20/20 but looking back is it any surprise the stocks of these startups were a disaster waiting to happen.
The good news is these networks (built before their time) are on the cusp of delivering value to their investors. Given the fiber capacity in the ground there is little chance anyone will attempt to build a new network on such a massive scale anytime soon.
Broadband penetration has come a long way since 2000, or 2010 for that matter increasing speeds in both the middle and last mile and progress is accelerating worldwide. Below are increases in Broadband penetration in LVLT's market segments. North and Latin America are combined. Data from Akamai report as of 1Q-2013.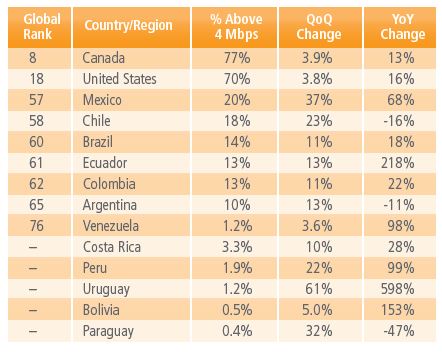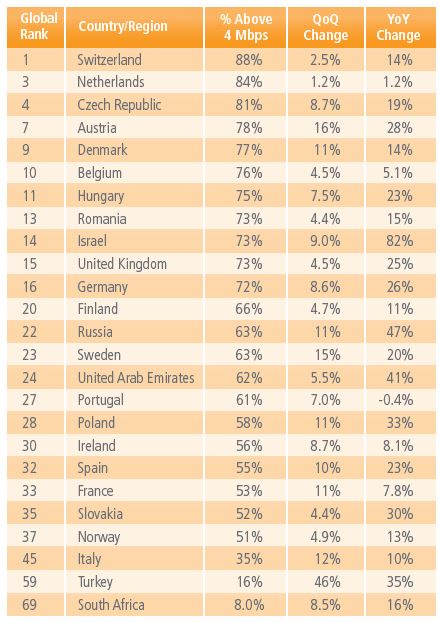 Speeds above 10 Mbps are also growing rapidly: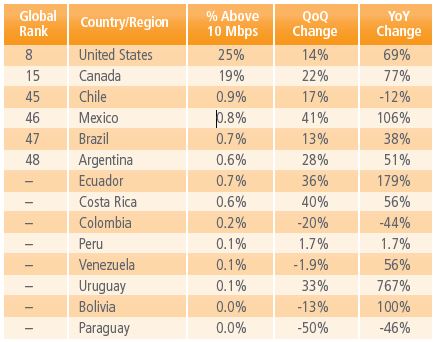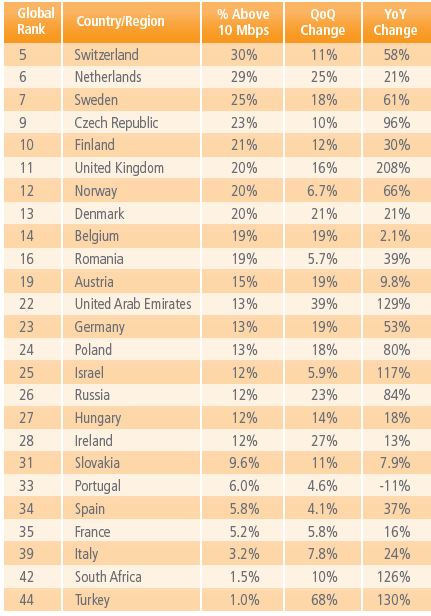 Globally, the average fixed broadband speed is projected to increase 3.5-fold from 2012 - 2017, supporting double-digit CAGR going forward.
The increasing access speeds combined with the number of people gaining access worldwide (below) act as a multiplier effect increasing the flow on the world's IP superhighways.
Various studies sourced for this article project up to 3 billion online by 2015 and 3.6 billion by 2017.
Another area that will push ever more information on the internet superhighways; the explosion of devices taking advantage of mobile allowing people to be connected anywhere, anytime if they choose. These devices (below) out number PCs and the growing access speeds will open doors for devices yet to be invented.
Changes are occurring at a rapid pace, which is what these superhighways were built for in the first place.
How do these trends translate to future growth potential in LVLT's markets?
Metro and long-Haul Traffic Growth:
Management stated pricing for end-to-end metropolitan transport services have been relatively stable. For intercity transport and fiber services, the Company continues to experience pricing pressure in locations where a large number of carriers co-locate their facilities. The growth rates in traffic are substantial so revenue should grow given these projections especially where pricing has become relatively stable.
Global Content Delivery Network Internet Traffic:
Dan Rayburn noted in a recent article that LVLT will pass Limelight as the number 2 in the CDN market based on revenue. LVLT does not break out the CDN revenue but Dan said he was given more insight after talking with the company. Bottom line is he estimates the company has been growing the CDN business at least 30% per year. Sunit Patel - CFO noted in the 3Q-2013 conference call there was strong demand of VPN, CNS voice, CDN and high-capacity transport services from both new and existing customers. He also validated Dan's estimate by saying CDN grew a whopping 37% YoY.
The Cisco (NASDAQ:CSCO) study estimates Content Delivery Networks will carry over half of Internet traffic in 2017 (includes Asia Pacific). The opportunity here is large.
Global Consumer Internet Video:
Cisco estimates that every second, nearly a million minutes of video content will cross the network in 2017.
VALUATION:
We've established there is ample opportunity for LVLT to thrive going forward. Metrics having a major impact on EPS and FCF (Free Cash Flow) are:
Revenue Growth
Gross Margins
Capital Expenditures
Before we look at these metrics and apply various ratios used to value the company there has been an update to the debt since our last article. LVLT carries a large debt load (approximately $8.5 billion) which may raise red flags for investors. LVLT has agreed to sell $300 million Floating Rate Senior Notes due 2018. The Floating Rate Senior Notes will bear interest at LIBOR plus 3.50% per annum. The net proceeds from the offering of the Floating Rate Senior Notes will be used, together with cash on hand, to redeem all $300 million Floating Rate Senior Notes due 2015, which carried a slightly higher interest rate.
Cash required to pay down debt going forward is not required until 2018 assuming the stock doesn't fall below 27 by 2015. There is no need for further refinancings other than taking advantage of lower interest rates. The balance sheet continues to strengthen.
We added two rows to put things in better perspective. Converted debt is convertible into common stock at prices below the closing stock price at the time of this writing. FCF is from the financial summary detailed later.
CNS Revenue Growth: Enterprise grew 6.2% YoY in Q3 and will continue to improve. The drag in 2014 will be Wholesale but any negative effect will diminish over time as it becomes a smaller and smaller slice of the CNS pie, prices stabilize, or market growth offsets price compression.
Other Revenue Growth: The assumption for revenue outside of CNS is it will go to zero by the end of 2019 since this low margin category is not a focus for management.
GM (Gross Margin): The recent growth in margins is:
Expect margins to continue to expand. Although not in guidance management has given insight for this metric. Recent comments were made at the Goldman Sachs 22nd Annual Communacopia Conference in September by Sunit Patel - Executive Vice President and Chief Financial Officer:
…for every new dollar of revenue, $0.80 falls for the gross margin line, deduct $0.20 for incremental last year and gives you 60% incremental EBITDA margins.. The facts are our SG&A has been coming down, it's not growing. So obviously we are doing much better than 60%.
They are getting GM of about 80% on new revenue.
Capital expenditures: Management has consistently guided to 12% of revenue so this metric is straight forward.
Revenue growth rates are based on LVLT's recent revenue trends. Comparing these rates to the industry projections show there is ample room for improvement considering they are seeing price stabilization for some market segments such as end-to-end metropolitan transport services and data services.
Based on the projected growth (below) FV (fair value) is $39.35.
Financial highlights include: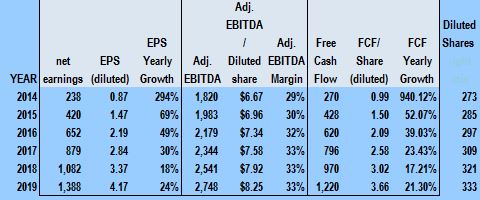 The P/E multiple used is conservative given the 5-year EPS growth rate over 30%. FV is discounted from 2019 results. FV represents a discount of approximately 30% at the time of this writing.
The reader can enter their own assumptions and view a much more detailed financial summary and income statement broken down by quarter here or download detailed historical and projected financials here.
RISKS:
There are short-term threats to cash assuming they are incurred but will not affect long-term FCF. LVLT has accrued $275 million for various legal proceedings and other liabilities on the balance sheet. This does not mean cash has been set aside so the amount accrued may have no effect on the balance sheet but will affect cash flows. Accruing these charges tell us there is a reasonable expectation LVLT will incur these costs in the future. The issues are:
Rights-of-Way Litigation
Peruvian Tax Litigation
Employee Severance and Contractor Termination Disputes
Brazilian Tax Claims
LVLT believes that it is reasonably possible that the Brazilian issue could result in a loss of up to $61 million in excess of the accruals established, which if accrued would raise the total to $336m from $275m. These issues are one-time occurrences and will have no effect on longer-term free cash flow if enterprise revenue remains on track.
Another issue is the interest rate swap obligations that will cost the company $45 million; to be incurred over the next one or two quarters.
The long-term risk to FV would be the inability to grow revenue to the upper single digit range.
CONCLUSION:
LVLT has a potential 30% upside from here, more if they can achieve modest improvements above projected rates. Propelling this potential is the explosion in mobile devices, increases in global users that will be multiplied by the gains in access speed going forward. This is what LVLT's network was built for and it's taken more than a decade for the traffic originally envisioned to start to take hold.
The wind is at their back, now they just need to take advantage of the opportunity before them.
Disclosure: I am long LVLT. I wrote this article myself, and it expresses my own opinions. I am not receiving compensation for it (other than from Seeking Alpha). I have no business relationship with any company whose stock is mentioned in this article.