This may not be what political wonks want to hear. However, U.S. politics has not been the primary market mover as portrayed by the mainstream media over the last week.
Due to the fact that most U.S. benchmarks rocketed to a new 52-week highs (15-month highs) on Tuesday, 1/19/10, many assume that the recent declines are tied to political issues. Obama's going after the banks. Bernanke might not be reappointed. And Geithner is in hot water over his involvement with AIG (NYSE:AIG).
If this truly represented the "big picture," though, one would expect to see financial-related investments on the list of the largest losers. On the contrary… both the Regional Bank ETF (NYSEARCA:KRE) and iShares DJ Insurance (NYSEARCA:IAK) have been outperforming the S&P 500 since the 1/19/10 peak. In fact, KRE is one of the best performing segments since that date.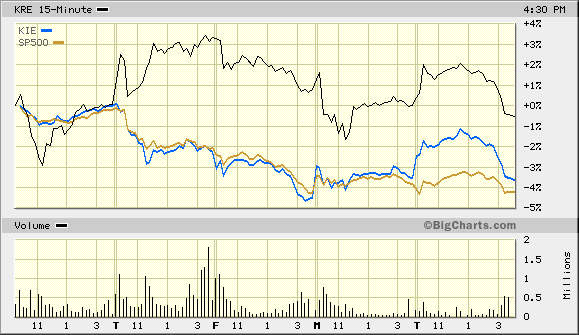 A worldly view produces a different perspective; that is, ever since Chinese officials began offering yuan-denominated bonds, investors have been wary. And ever since China began restricting credit (e.g., raising bank reserves, tightening lending standards, increasing short-term rates, etc.), investors have become doubly concerned.
The impact on Chinese stocks is relatively well-documented in place like the ETF Risk Alert service. The iShares China 25 Index (NYSEARCA:FXI) topped out in November. Down days have come on increasingly higher volume. What's more, FXI has already corrected more than 15%+, and currently resides below a 200-Day trendline.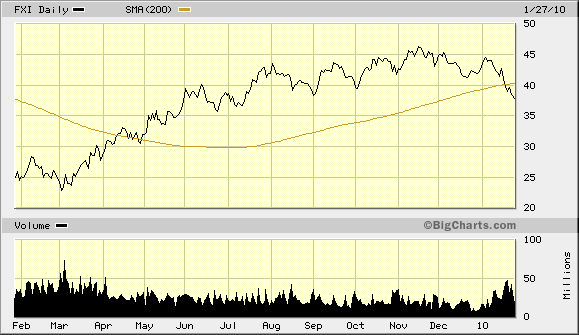 Less discussed has been the beating that the metals and materials industries have been experiencing. The fact is, if China seeks to rein in speculation, a possible property bubble and potential inflation, it's going to curb demand for "stuff" and for "building." (Note: We should also recognize that China's reflation and targeted stimulus was chiefly responsible for lighting a fire under the cyclical bull that began in March of 2009.)
Through mid-day, 1/27/10, the S&P is off about -5.5% from its 1150 close. The China effect has been far more brutal to the worst sector performers since their 1/19/10 closing prices (through mid-day 1/27/10):
Worst 5 Performers Since Recent Market Highs (Through Mid-Day 1/27/10)
% Loss
Market Vectors Steel (NYSEARCA:SLX)
-16.5%
SPDR Metals and Mining (NYSEARCA:XME)
-15.6%
iShares DJ Basic Materials (NYSEARCA:IYM)
-10.6%
SPDR Select Basic Materials (NYSEARCA:XLB)
-10.2%
Vanguard Basic Materials (NYSEARCA:VAW)
-9.9%
Disclosure Statement: Gary Gordon, MS, CFP is the president of Pacific Park Financial, Inc., a Registered Investment Adviser with the SEC. The company and/or its clients may hold positions in the ETFs, mutual funds and/or index funds mentioned above. The company does not receive compensation from any of the fund providers covered in this feature. Moreover, the commentary does not constitute individualized investment advice. The opinions offered herein are not personalized recommendations to buy, sell or hold securities.