As the first month of 2010 draws to a close we are now getting a good look at how the U.S. housing market closed last year. The just-released new home sales figures for the month of December show a distinct pullback in the small recovery we saw last year. A few weeks back, when I reviewed the November housing data, it was clear a retrenchment was coming.
Given that the $8,000 first time home buyers tax credit was set to expire at the end of November 2009, the data for December gives us a glimpse of what was supposed to be the post-expiration hangover period. Even though the tax credit has been extended to this spring and expanded to include new borrowers, the data is coming in as if the tax credit has already expired for good. On top of it all, the Federal Reserve will soon stop its program to purchase mortgages. This will surely send rates soaring just at the wrong time. Or will it?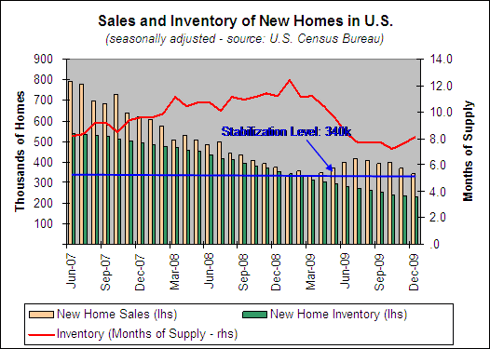 New home sales decline for the third month in a row. In December, new homes sold at an annualized rate of 342,000 homes. It is true that December is one of the weakest months for housing but this measure is (and many others are) seasonally adjusted for this fact. One factor working against new housing figures is the inventory at a paltry level of 231,000 homes across the country. This is just 41,000 homes above the lowest level ever recorded (in 1967).
The adjusted and annualized rate was 342,000 but the total number of homes sold last month was just 23,000, matching the lowest figure recorded back in December 1966. Adjusted for population growth, we have never seen absolute sales levels or inventory levels this low since government records began. The construction industry has begun to replenish that low inventory but only somewhat. It is likely that inventories bottom soon but not before going a little low.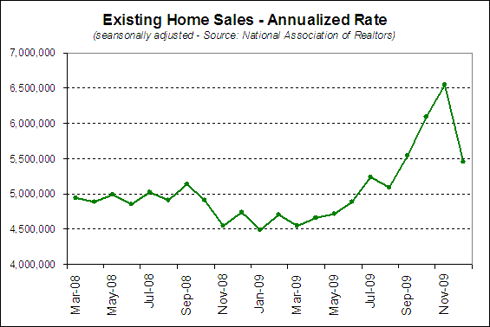 Sales of existing homes fall back below the 5.5 million mark. As predicted by the pending home sales index, the rate of sales of existing homes pulled back nearly 17% last month. Existing home sales now stands at an annualized rate of 5.45 million homes. Could it settle out at the 5 million home level that it hovered around throughout most of 2008? It quite possibly could. It is hard to see the factors for major gains above the 6 million level and declines below the 5 million level.
Tax credits and other stimulus programs have the problem that they often pull demand into some incentive window, only to see it slump afterwards. They may be successful in stemming a downward spiral but often do not created sustained and growing demand. The near expiration and subsequent extension of the home buyers tax credit in the United States has exposed the fact that there only seems to be limited demand for housing out there.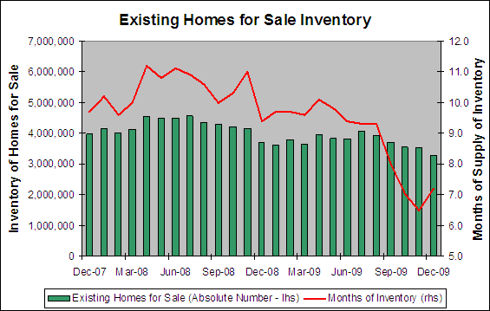 There is no inventory problem for existing homes. While the outstanding inventory of new homes has declined 58% since 2007, the inventory of existing (used) homes for sale has only corrected by 28% from its recent peak. It now stands at 3.3 million homes and 7.2 months of sales. It is likely that this begins to rise between January and April as sellers (including banks) spruce up the homes they have, looking forward to the spring/summer selling season.
There is lots of talk about "shadow" inventory waiting to come to market. That failed to materialize last year and it is anybody's guess if it does in 2010. With homeowners and banks still reluctant to sell at distressed prices, there is, as of yet, no sign of them "dumping" homes on the market in large quantities. At least by the official statistics, the inventory level is neither particularly high nor particularly low.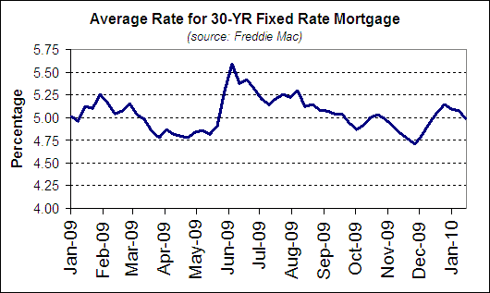 Interest rates are not yet in an upward trend. Most industry insiders have called for an increase in mortgage interest rates this year. The conventional wisdom is that rates are on their way up, at least 6% by the end of this year. Since last June, the market continues to try to move rates higher in anticipation of the trend but to no avail. Most market watchers said back in June that sub-5% rates were a thing of the past. As of last week, we dropped back below 5% for the third time in four months. Those same pundits are quick to predict moves even above 7%.
In the face of a weak housing market, are mortgage rates really headed up like a rocket once the Federal Reserve stops buying mortgages?
We should know soon. The Fed reiterated just yesterday that it intends to stop buying mortgages on the open market by its self-imposed deadline of the end of March. If we get into April with rates only slightly above 5%, I think it is appropriate to question the conventional wisdom on how quickly rates will rise. Some rise is likely as the market finds a new equilibrium but the rate of that rise may very well be shallower than many expect. Why? Lack of demand borrowers.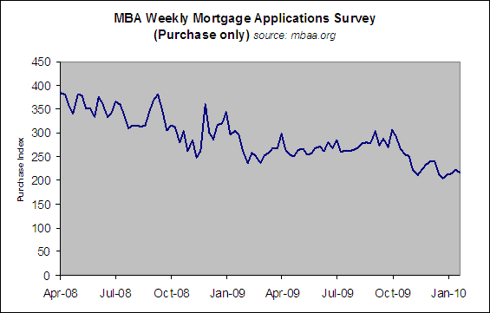 Mortgage demand remains subdued even after the tax credit was extended. The Mortgage Bankers Association tracks mortgage applications. Its overall index is dominated by the refinancing part of the index. Refinancing is very much interest rate driven but it simply replaces one old mortgage with a new one.
The graph above isolates the purchasing index which is a better indication of net demand for mortgages. This index hit a recent peak just above 300 during the first week of October 2009. This corresponded to the latest date a would-be-homeowner could start the mortgage application process and still close before the original tax credit deadline. Despite sub-5% rates and an extension of the tax credit, the number of people applying for mortgages is in decline.
It's worth challenging the historical relationship between Treasuries and mortgage rates. It is "agency" mortgage-backed securities that set mortgage rates. These securities are guaranteed by Fannie Mae (FNM) and Freddie Mac (FRE), who are in turned backed by the U.S. government. Prior to 2008, this backing was implicit but became explicit when the two entities were taken over by the U.S. government. These securities are an asset class all their own and serve a distinct purpose as they have the same credit rating of the U.S. Treasuries (AAA for now) but paying significantly higher interest rates.
Unlike short term interest rates, these are not set by the Fed in any committee meeting. Supply and demand factors apply. The Fed has been influencing the rate by boosting demand for agency securities. Fed purchases have been pushing down rates but it is unclear by how much.
Market watchers are quick to point out that losing the demand that comes from the Fed purchases will put downwards pressure on the prices of this debt (and corresponding upward pressure on interest rates). Few look at the supply of new mortgage debt. Unlike steady stream of debt issuance by the U.S. Treasury, mortgage debt is declining.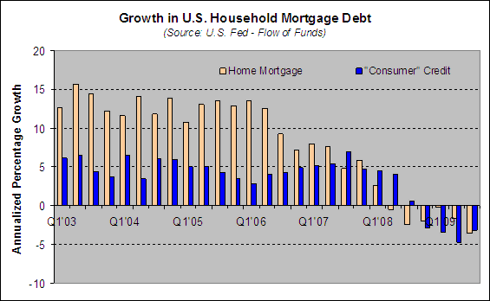 Demand for mortgages continues to wane. The above graph shows the quarterly growth in mortgage debt. Much like its more widely covered counterpart "Consumer Credit" this has seen negative growth for the last year and a half. Much has been written about the consumer deleveraging and Americans paying down their credit cards.
Yet, since Q1'08 the decline in credit growth for has been greater than that of consumer credit (credit cards, etc.). Given that the growth over the preceding five years was much more substantial in mortgage debt than in credit cards, it is possible that correction has a ways to go. Since Q1'08 Americans have reduced the outstanding mortgage debt by $1.07 trillion which is an amount greater than the total amount the Federal Reserve has purchased in mortgage backed securities ($0.97 trillion as of last week).
The overall housing market looks very weak with few reasons to be optimistic about sales figures, inventory levels, home prices or any of the other traditional measure. The best that can be said was that all the effort expended by the government to fix housing only brought us to a bottom. The recovery off that bottom was strong for a brief period and we now look to be trending sideways for some time.
This weak view on housing is not original but it is often combined with a forecast of increasing mortgage interest rates to 6% and beyond. This is where I differ. Housing is the only "source" of agency debt. While the demand from the Fed may be going away, it is possible that the supply declines as well. There may be an abundance of supply of U.S. Treasuries coming to market but the same can not be said for mortgage debt. When I figure out an efficient way to go short Treasuries (betting on rate increases) and long agency mortgages, I'll be sure to write about it.
Disclosure: No positions