My previous article on Actinium gives a more general overview of the company, and contained brief descriptions of major programs that constitute the company's pipeline. This article will be primarily focused on the Iomab-B development program, so I would recommend reading the old article if you do not know the company.
After an end of Phase II meeting with the FDA, Actinium Pharmaceuticals (NYSEMKT:ATNM) announced in a corporate update that Iomab-B was ready for a pivotal Phase III trial that could support a Biologics License Application (BLA) for FDA approval. As mentioned in the previous article this is a huge deal for the company, because Iomab-B is the most matured drug in the company's pipeline. It also helps explains why the company's stock is up 26% since my last article.
FDA approval of Iomab-B would not only generate a source of income, but it would fundamentally validate the technology that Actinium's drug candidates are based on. In particular, we can say that the success of the Iomab-B program would positive affect confidence in the company's second most important drug candidate - Actimab-A.
Iomab-B is a therapy based on the company's APIT platform technology, which combines an antibody with a radioisotope. What this does is that it directs the Iomab-B to the cancer cells through antibody-antigen interaction, which gives them disproportionate exposure to cell-killing alpha radiation.
Although it is based on very new & cutting-edge technology, Actinium Pharma and its collaborator (Memorial Sloan-Kettering Cancer Center (MSKCC) tested and measured the effects of APIT in hundreds of cancer patients by this point. The results of previous trials have allowed them to accurately determine the maximum tolerated dose (MTD) - which can be thought of as the maximum dose that an average patient can receive without experiencing unacceptable side effects.
Efficacy of the drug has also been measured, and data up to this point has been positive. The drug appears to have a profound impact on 2-year overall survival rates. The following graphs from the company's recent roadshow presentation present the most up to date figures gathered from the Phase I/II trial.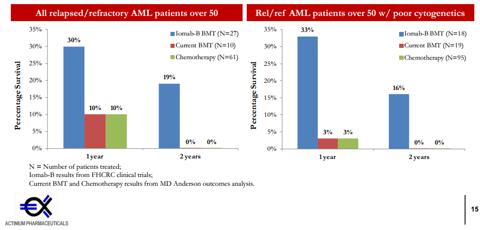 Design of the Phase III Trial
In the planned Phase III randomized trial, Iomab-B will be tested as a conditioning agent to prepare relapsed/refractory AML patients for bone marrow transplantation. Because the company is currently targeting older patients that cannot tolerate traditional conditioning regimens, patients enrolled will be age 55 and up. The bone marrow transplants will be from donors who are HLA-matched - significantly reducing chances of incompatibility complications such as graft-versus-host disease (GVHD), where implanted marrow recognizes the host recipient as foreign and subsequently generate an immune response, injuring the host instead of having intended therapeutic effect.
Actinium intends to enroll 150 patients into the study, with 75 patients in each treatment arm. One arm will use Iomab-B to prepare patients for the transplant, while the other will receive agents that are currently used.
The company is looking for a statistically significant improvement in complete response rates with a 6 month duration, and 1-year overall survival will also be measured as a secondary endpoint.
Financials
As mentioned last time, the company is in good shape although more cash needs to be raised to bring Iomab-B all the way through Phase III development. However, the company's quarterly losses of ~$1.5 M should not climb too much as the Phase III trial progresses because of the small size of the trial (n=150). Enrollment should also progress smoothly due to the support of top bone marrow transplant specialists/centers.
Timeframes and Outlook
Actinium estimates that enrollment will proceed throughout 2014, and the trial will be completed by 2016. At some point in the second half of 2016, the company will be able to submit a BLA for Iomab-B. FDA approval would then occur in 2017.
The next bit of new data (for Actimab-A, not Iomab-B) is expected at the next American Society of Hematology meeting, which will occur between January 17-18, 2014.
Disclosure: I have no positions in any stocks mentioned, and no plans to initiate any positions within the next 72 hours. I wrote this article myself, and it expresses my own opinions. I am not receiving compensation for it (other than from Seeking Alpha). I have no business relationship with any company whose stock is mentioned in this article.