In a recent review of the metals markets, Bill Haines, President and Owner of C&I Gold and Silver, said that the markets had seen a "Complete reversal from last week" with a significant increase in buying. Haines, supported by Dan Orsini, a metals trader, argued that the Janet Yellen testimony drove the buying.
"She's been painted as more accommodative than Bernanke, who gave us Quantitative Easing (QE) and a quadrupling of the Fed balance sheet," Haines said. Yellen outlined an ultra-loose monetary policy. Orsini said, "Yellen makes Bernanke look like a hawk." As Eric Sprott, John Embry and I have argued, QE policies are driving many people to buy gold and silver-assets the Fed cannot manipulate. Orsini said Yellen's statements meant that there isn't "going to be any immediate tapering of the QE program," so it "put a fire under gold…Squeezed out the shorts..and kicked the market up a little bit."
The other piece of news that Haines argued drove buying in the metals markets was that the Eurozone and Japan growth figures dashed hopes for a faster global recovery.
The European Central Bank also cut interest rates, indicating an even more accommodative monetary policy. "They are going to print money," Haines said.
The prediction by some analysts that in the third quarter the economy should start to take off and would not need any more QE, has turned out not to be the case. Globally, Haines said, we are seeing weak economic reports. Therefore, there will be "no tapering…and $85 billion [a month of buying by the Fed] is going to become a permanent part of the economy." If anything, Haines said, there will be a debate about how much to increase QE in order to revive the economy.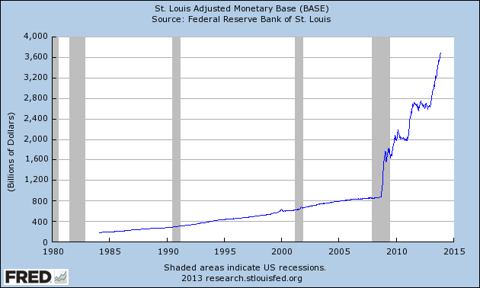 As Sprott, and I have argued, Haines said that Fed's easy money policy has sent the stock market soaring. Haines, however, warned against investors selling metals to invest in stocks. He expected stocks to "go higher, hitting new highs in 2014," but then expected a "speculative blow off." Therefore, he predicted that it would be "a dangerous move to jump to stocks." He explained that "When actual prices are higher and become evident and can't be concealed by government statistics, that's when the man on the street will turn to metals, and we'll see a big increase" in the metals markets.
Haines points to a coming huge oil and gas boom in the United States that could be a key to the future growth of the US economy. In the Dakotas, Shell (NYSE:RDS.A) has found huge gas reserves and many predict that the United States will soon become a larger gas producer than Saudi Arabia. Haines said that "European companies are publicly bemoaning how much cheaper energy is becoming in the United States."
Haines explained that Europe latched onto the Green movement, which forced the construction of expensive wind and solar generating plants. Yet now new oil and gas discoveries are lowering the cost of carbon fuels, including clean burning natural gas, "revealing the dangers of central planning."
Like Haines, Orsini sees major investment flows rushing into equities. Orsini also saw signs that the "little guys are starting to come back in, which is kind of scary." He warned that when you see the man-on-the-street start to "Move into stocks, [it means that] we could be approaching the blow-off phase."
Orsini argued that the commodity markets are having difficulty attracting "the money flows that are required to tweak them higher…to have a sustained rally of any kind."
The CFTC released data that showed that "the trend amongst speculators…hedge funds…has been to sell rallies in the metals." In the past week, hedge funds were about 32,000 contracts to the short side in gold. A similar trend is occurring in silver and copper. Given that big hedge funds are net short in gold, silver and copper, you don't see big rallies in any of those markets. Orsini said the hedge funds "are looking to sell rallies." Hedge funds, however, are still net long on the gold market. In silver, they did go to the net short side for a short time.
In gold, the hedge funds, Orsini said, if they are long, generally are waiting for a rally and then they lighten up, as well as institute fresh short positions. "That's why it's difficult for gold to break through these resistance levels…Until you see some sort of change in sentiment, where these guys are going to want to buy dips, you aren't going to see a sustained up trend."
In the silver market, which has hovered around $20.60 to $20.40 for two months, there has been some buying whenever it dips down, especially by value-based, long-term buyers. Orsini said, "You need that momentum crowd to get it moving." The value-based crowd does not buy trends. There has not been any momentum buying yet, when prices go above $22 or $23. "That's why the silver market is sort of mired."
One concern for Orsini is that "It looks to me like the highs in this market are coming down, with lower highs….It concerns me when I see a market that doesn't have higher highs, but it comes into selling at a somewhat lower price." It means, he said, that "Sellers are taking control of the market…I would not want to see silver lose support at around $20.40, if you did, I think you'd see a plunge down to the $20 level." He warned that silver might even fall to $19.50, which could signal a major move down.
The information in the Market Commentaries was obtained from sources believed to be reliable, but we do not guarantee its accuracy. Neither the information nor any opinion expressed therein constitutes a solicitation of the purchase or sale of any futures or options contracts.
Trading Derivatives, Financial Instruments And Precious Metals Involves Significant Risk Of Loss And Is Not Suitable For Everyone. Past Performance Is Not Necessarily Indicative Of Future Results.
Disclosure: I have no positions in any stocks mentioned, but may initiate a long position in AGQ, GLD, SLV, SPY, NGS over the next 72 hours. I wrote this article myself, and it expresses my own opinions. I am not receiving compensation for it (other than from Seeking Alpha). I have no business relationship with any company whose stock is mentioned in this article.