Solar stocks have been on a tear in 2013 with improving industry fundamentals leading to a very strong rally. One of the main reasons for the stock upsurge has been the depressed valuations of the solar stocks. As the industry reeled from massive losses in the last two years, stocks went into a tailspin with many stocks trading for values as low as 0.2 P/B. With modules prices increasing and demand surging from Asia, solar stocks have made a sharp comeback. However, it will not be easy for investors to make the same spectacular returns now as the valuations have become more reasonable. Some stocks are trading on the higher side in my view. Investing inthe solar sector is not easy as the industry is still in the nascent stage. Investing in Suntech (NYSE:STP) or LDK Solar (NYSE:LDK) would have been a very bad idea last year. I had warned investors about investing in the "zombie" like companies earlier. But it looks like ReneSola (NYSE:SOL) has still got more potential for appreciation. The stock has not rallied as much as the solar panel stocks such as Trina Solar (NYSE:TSL), Jinko Solar (NYSE:JKS) etc. The reason is that the company still gets a lot of revenue from the sale of polysilicon and wafers. The upstream segment has not seen the same price increase as solar panels in 2013, despite operating at near capacity. I think that prices of the upstream segment will start to increase as well and this should benefit ReneSola more than others.
Why ReneSola is Still a Good Bet
i) Upstream Segment should see a Price Increase
ReneSola is one of the lowest cost producers of polysilicon and solar wafers in the industry. The company has managed to substantially reduce its polysilicon cost over time and has reached a low 20 dollar range. The company is building a new 10,000 polysilicon plant which will further reduce its poly costs. There are only a few companies left in the polysilicon business, as the solar downturn has been brutal for high cost firms. Even the lowest cost poly producers such as GCL Poly are making losses. This situation is unsustainable and I expect the prices to increase, as capacity expansion has halted in the upstream segment. Some price increases in wafers have already happened and there is even a possibility that polysilicon may see a supply shortage in 2014. This will be bullish for ReneSola as it is the only top 10 Chinese solar panel supplier with an in-house polysilicon plant.
ii) Stock Price has Underperformed in recent times
I had earlier said in 2013 that it was a good time to buy Chinese solar stocks which were heavily underperforming the USA solar stocks. It turned out to be a good call as Chinese solar stocks have given fatter returns than the US ones. In fact Canadian Solar (NASDAQ:CSIQ) has turned out to be the best performing stock in 2012. Note ReneSola, Jinko Solar and Canadian Solar were the best performing stocks in 2012. This year ReneSola has not done as well as the other two, despite showing improving fundamentals and sharp growth in shipments.
SOL Total Return Price data by YCharts
iii) Marketshare Gains
ReneSola has sharply increased its global footprint and marketshare in 2013. The company did not even play in the solar panel segment four years ago and now is one of the biggest solar panel shippers in the world. ReneSola is also the 2nd biggest supplier of solar wafers after GCL Poly having overtaken LDK Solar .
The fastest-growing module supplier of the first half of the year was ReneSola, another leading Chinese company. Compared to the first half of last year, the company's merchant shipments more than tripled in the first six months of 2013."ReneSola is sold out for 2013 and is already preselling its 2014 production," Jin noted.

Source - IHS
iv) 2014 could be Another Good Year for Solar Panels
ReneSola has become a complete solar panel company having successfully diversified into selling solar panels, inverters, mounting systems etc. It is being expected by market research agencies that 2014 will be another strong growth year for the solar industry with estimates of solar demand ranging between 40 to 50 GW. With solar companies not expanding capacity aggressively, further solar panel price increases are expected. This should benefit ReneSola which has become a major solar panel player. The company has also been more aggressive in expanding marketshare, so expect a higher than industry growth in revenues for ReneSola. The polysilicon plant should be completed and should be operating at full capacity with low costs. This will give good returns if polysilicon prices start to increase in 2014.
ReneSola Risks
Solar Panel Oversupply persists - The solar panel oversupply persists with some of the old capacity coming back online with improving pricing. The Chinese government is not letting the old capacity die, as Suntech's factories are still operating despite its bankruptcy. The Suntech meltdown has been extremely messy but the bottom line is that the factories are still churning out solar panels. Governments are notorious for going back on their subsidy and FIT commitments and if Japan/China reverses its policy, then we could see another period of low solar panel pricing.
Polysilicon Plant -

ReneSola is building a new 10,000-MT polysilicon plant and it will take some time for the company to reduce the costs as it ramps up the production. Polysilicon prices are very low and if the company fails to lower the costs, then the polysilicon segment will eat away at its margins in the solar panel and system business.
Valuation
ReneSola's valuation remains far lower than the top valued solar companies such as Sunpower and Canadian Solar. I think that ReneSola will see its multiple expand to reach at least those of the top solar companies. The company's P/B is just ~1.3x which should go up substantially as the company starts making profits. I had earlier given a price target of at least $8, when the company was trading at $2. I think that the target should be revised to at least $10, given the relative valuations of other solar stocks are much higher at the current moment of time.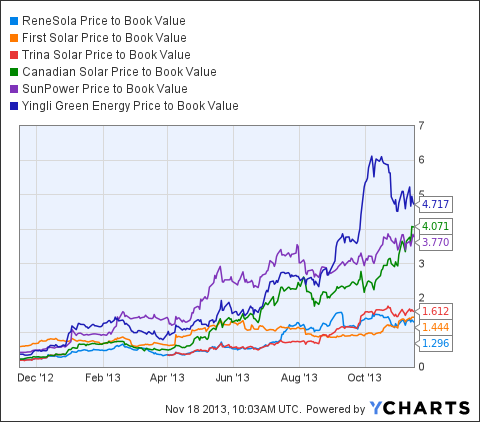 SOL Price to Book Value data by YCharts
Summary
ReneSola remains one of my favorite picks in the solar energy sectors given the company's rapid marketshare gains, integrated supply chain, global footprint and a good management. The company's stock price should at least double from here as the valuation is still quite cheap, compared to the rest of the sector. Some of the other picks such as Jinko Solar and Sunpower (NASDAQ:SPWR) have already done quite well, along with the ones that I do not like (SolarCity (SCTY)). The worst ones such as LDK Solar and Suntech have done abysmally. I would look to add to my holdings in ReneSola and keep it as a long term holding.
Disclosure: I have no positions in any stocks mentioned, and no plans to initiate any positions within the next 72 hours. I wrote this article myself, and it expresses my own opinions. I am not receiving compensation for it (other than from Seeking Alpha). I have no business relationship with any company whose stock is mentioned in this article.